Drupal is the higher education industry's favourite content management system (CMS). An impressive 71% of the world's top 100 universities use it, including MIT, Stanford, the University of Oxford, and every Ivy League School.  
Why? Drupal is uniquely suited to overcoming the unique digital challenges faced by higher education institutions. This includes everything from managing multiple sites and complex content, to meeting the needs of diverse stakeholders and audiences. 
What's more, Drupal's continuous innovation supports digital transformation in the higher education industry, helping institutions to remain competitive, leverage opportunities, and keep up with students' expectations. 
Read on to learn about the key benefits of Drupal for universities, colleges, and other academic institutions—including relevant features from the latest major version, Drupal 10. 
1. Customization
Drupal's flexible architecture and modular design make it simple to add new features, extend functionality, and create custom content types and layouts. This is ideal for higher education institutions that have a wide range of content types that need to be showcased in different ways—such as course descriptions, faculty bios, research, and events. It also allows departments, faculties, and sub-organizations to tailor their digital presence to drive their unique goals. Drupal even includes core support for multilingual content, enabling institutions to customize their communications for international students and campuses. 
Thanks to Drupal's open source model and vast community of contributors, users have access to a library of 50,000+ ready-to-use modules. Drupal 10 users can easily search and select modules without leaving the admin UI by using Project Browser. And because there are no licensing fees, expanding your site costs significantly less than it would on a proprietary platform.
Case study: Learn how we used Drupal core and contributed modules to create a customizable timeline, interactive family tree, and engaging event landing page for Princeton University's Industrial Relations Section (IRS).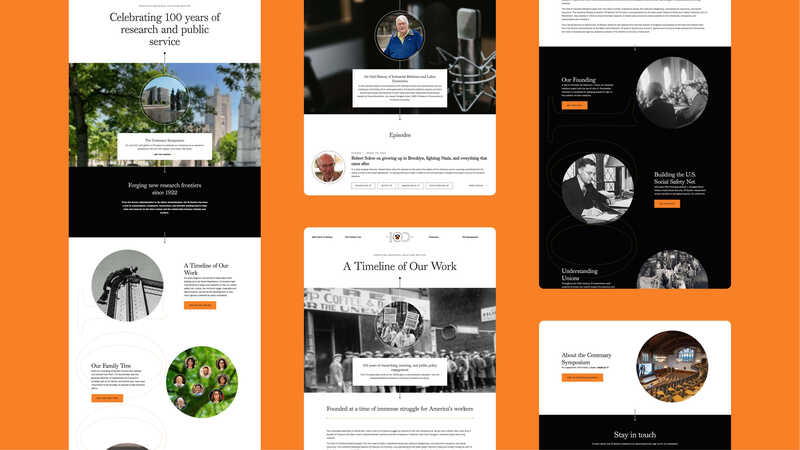 2. Usability
Drupal's user interface (UI) is easy to use for new and non-technical users. This is particularly important for universities, where various staff—including busy academics—need to be able to update their department or faculty's website. 
Content editors can easily create and preview pages using LayoutBuilder, a core module that provides powerful drag-and-drop functionality. What's more, Drupal 10 has transformed the content editing experience with its modern default admin theme, Claro, and its upgraded WYSIWYG editor, CKEditor 5. You can even enhance CKEditor 5's functionality with contributed modules.  
3. Permissions 
Drupal has advanced user permissions for unlimited roles, which is ideal for higher education institutions with large teams, multiple sites, and a wide range of website stakeholders. Limiting who can view, edit, customize, and publish content—and on which pages and websites—is essential to protecting your institution's brand and digital reputation. Creating roles also makes it easier to manage workflows within teams and across your wider organization. 
Creativity needn't be stifled by these limitations, however. There are still plenty of ways that content editors can get the most from their higher education CMS within its existing constraints. 
4. Multisites 
It's common for higher education institutions to have multiple websites for different departments, faculties, programs, and initiatives. Drupal's multisite feature allows you to create multiple websites from a single installation. The sites can be managed centrally—by the institution's web team for example—as well as by each department, faculty, etc. This gives institutions more control over their digital brand while also enabling sites to be independently updated. What's more, you can update the version of Drupal across all your sites at once, saving you time and resources. 
Case study: Learn how we developed a new website for York University's Markham Campus, which stands alone yet connects to the University web ecosystem, giving students a cohesive digital experience.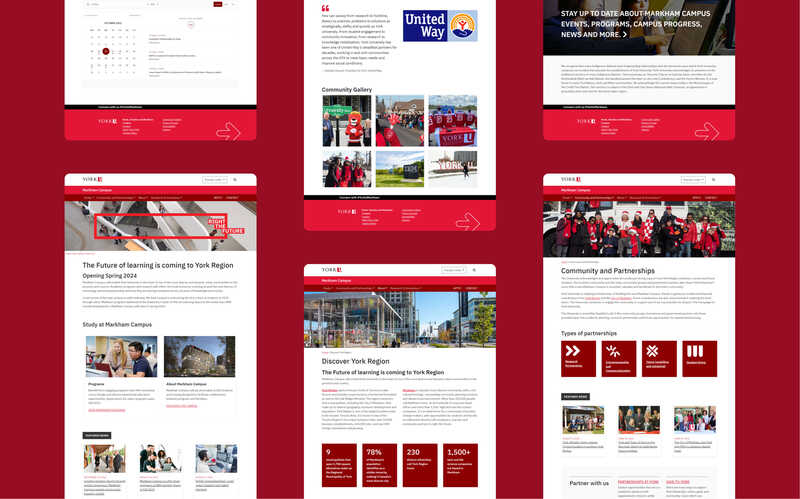 5. Third-party integrations 
Drupal has long provided dependable support for REST, JSON, and GraphQL APIs and enables integration with a wide range of third-party applications. This allows higher education institutions to create efficient workflows by connecting their sites with social media platforms, student information systems, learning management systems, and other services. 
6. Security
Institutions have a responsibility to protect student and faculty data with a CMS built on security best-practices. This in turn protects them from legal action and damage to their reputation. Drupal is well-known for its security and stability, making it a popular choice for universities as well as banks, governments, and other providers of mission-critical services. 
Drupal has a dedicated security team with a track record of 15+ years that regularly releases security updates and patches. More than a million developers worldwide contribute to its maintenance, meaning there are many eyes scrutinizing potential risks. Security problems are usually nipped in the bud by Drupal's strong coding standards and strict community code review process. 
Plus, running security updates just got a lot easier thanks to the Automatic Updates module in Drupal 10. It allows you to update Drupal core simply by clicking a few buttons.
7. Accessibility
Web accessibility is a critical consideration for any higher education institution. It ensures your content can reach and benefit a diverse audience, including users with disabilities. It's also the law for many organizations. In Canada, your institution may need to meet provincial accessibility acts in Ontario, Manitoba, Nova Scotia, Quebec, and British Columbia. In the US, many universities and colleges have had to pay fines or settlements from 20,000 USD to over 100,000 USD for failing to comply with accessibility legislation. 
Drupal has several core accessibility features, including support for alternative text, captions, and transcripts for multimedia content. The latest version introduced Olivero, Drupal's most accessible default front-end theme yet. Named after a lauded accessibility champion, the theme offers out-of-the-box WCAG Level AA compliance from the ground up. 
There are also many Drupal contributed modules that can help institutions to make their sites more inclusive and to customize the digital experience for users with disabilities. 
Watch: 5 Keys to Success for Using Drupal in Higher Ed
Discover how leading universities and colleges leverage the full potential of Drupal. Learn about:
The importance of creating reusable patterns
Why you should prototype before you scale up
How to balance flexibility with limitations
Content governance for content editors and site owners
The benefits of being involved in the open source community