Students are back to class this Fall, motivated to enjoy the best parts of life on campus like in-person classes, social activities, and those late-night study sessions at the library. Amidst all the bustle and excitement, it's crucial to recognize that most university campuses look and operate differently now. And digital transformation is a big part of that.
At Evolving Web, we recognize the impact of the extraordinary economic, social, and technological changes that our roster of higher education clients has undergone in the past few years. Now that the effects of digital transformation are embedded within the university culture, workforce, and student services, let's see how your institution can turn what was once a challenge into an opportunity.
What is Digital Transformation in Higher Education?
Digital transformation (Dx for short) is an evolutionary process that encompasses and affects every aspect of university life from student recruitment to daily operations to strategic leadership and innovation.
With the incoming flux of students born after the millennium, universities had to adapt to their digital consumption habits and transform at an accelerating pace while mindfully balancing legacies, traditions, and innovations.
With a buzzword like digital transformation, it's easy to jump to the flashiest ways that technologies have been introduced onto campus:
Libraries have been clearing shelves to incorporate more study areas with charging stations

Campus dining halls and gyms have been implementing biometric verification like retina scanning and digital fingerprint recognition

The mass adoption of online and hybrid learning solutions that were accelerated by the global pandemic
But what about digital transformation that's not as obvious? Think about it. How did all those students get recruited, apply, and pass through all the steps to enrollment?
From recruitment to graduation, university student experiences and procedures are increasingly paperless and digital. Believe me, my 4-hour doctoral defense took place entirely online and I never even had to print my dissertation before submitting it!
Assessing the Need to Digitally Transform
In higher education, digital transformation isn't just about flipping a switch to the most technological option. It's about implementing the easiest and best solution for the future of your institution.
When transitioning from material to digital services and experiences, universities need to ask themselves if they're digitally transforming for the right reasons. After all, integrating new software and tools requires an investment in IT resources and training for your digital communications teams to optimize their workflows, stay up-to-date and compliant with best practices and standards, and keep your institution's reputation on the radar for prospective students.
Ultimately, digital transformation in higher education should benefit stakeholders and students alike, and this is the opportunity lies to make technology work for the utmost benefit.
Three Examples of How Digital Transformation can Help Solve your Institution's Challenges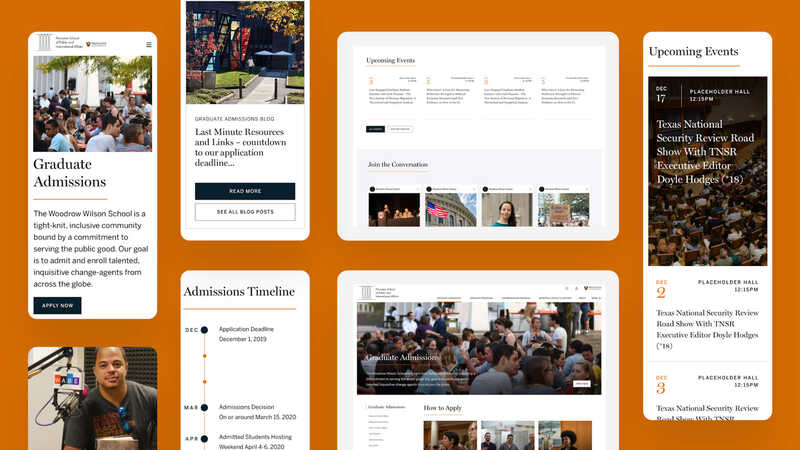 Gone are the days of glossy booklets in mailboxes. Today, your website is where prospective students land when weighing their options, and you can use it to make a strong impression. But how are you making sure that prospective students are making it to your digital front door?
Look at your Analytics to Inform SEO Efforts
SEO (Search Engine Optimization) is the catch-all phrase to boost site traffic from organic search, but when you look at your site's analytics, what does the data tell you about your audiences? What pages are bringing in the most traffic?
One way to make sure you are collecting the right information is to look at how integrated your analytics are with third-party tools like customer relationship management software (CRM), Google Analytics for event-tracking, or social media management tools, just to name a few. By centralizing information about how users engage with call-to-actions and forms on your institutional website, you will see a more detailed picture of your audiences and their needs. This will inform your next steps to improving your SEO strategy.
With the right SEO strategy, you will increase your chances to stand out to your prospective students who are looking for the right fit.
If you're working in a Drupal-based environment, here are our favorite modules to improve your SEO.
Humanize your Chatbot
Maybe your website has a powerful information architecture that makes search and findability seamless, but did you know that most users choose to type their query directly into a search engine over sifting through pages of content?
That's where chatbots come in. They're a phone operator that's been digitally transformed into an AI-powered search assistant.
You've probably seen a pop-up search assistant in the bottom right-hand corner, and most users expect to be interacting with a pre-programmed chat flow - but what if there were actually a human at the other end?
In the case of chatbots, digital transformation can create a unique space for human interaction to reassure and alleviate the user on the other end.
While chat flows can cover a range of questions, more nuanced queries can offer an option to connect with a representative at the university. For example, some universities hire students to manage the other end of the chatbot to facilitate peer-to-peer interactions with prospective students.
Chatbots are not exactly high-tech, but they're useful to keep user search queries on the website instead of bouncing users to an external search engine. When implemented wisely, chatbots are an excellent example of digital transformation that can be instrumental in facilitating a more human connection.
Govern your Online Campus Strategically
When the pandemic obliged learning institutions to adapt to remote and hybrid learning solutions and services, communications and workflows became more digital than ever before.
Envisioning your institutional website as an extension or proxy of your campus creates an opportunity to digitally transform and communicate your services to students with different needs and in various stages of their learning journey.
Consider taking a note from universities that champion online and hybrid program options as a baseline of their institutional offerings. For example, Athabasca University in Alberta, Canada is a public university that is fully online which means that their website is essentially their campus.
Athabasca University prides itself in being "Canada's Open University," and their emphasis on openness facilitates a flexible and digital-first approach through features for prospective students like the "What's your student profile?" page. On this page, users can identify three different student scenarios that present immediate next steps to browse program options and learn about the application process for them.
Royal Roads University in Victoria, British Columbia is another institution that embraces online and blended learning as a core component of their offerings. In their program search tool, prospective students can search for their preferred program delivery, and results are clearly displayed and tagged as "blended" or "online." From there, users can get a quick glimpse of their options and learn more about the specifications and expectations of those programs.
York University's Future Students website is another example of using personalization to help users locate content that is directly relevant and helpful to their needs. Their cohort finder displays seven different student personas so that users can immediately recognize themselves and engage with content and information that speak to their specific circumstances.
Personalized pathfinding features are yet another way that one-size-fits-all approaches have been transformed to enable prospective students to browse programs and course offerings that are best suited to their learning backgrounds and goals.
On your website, this means that prospective students have the tools to start mapping out their studies and projecting themselves into the culture of your institution. With personalized and timely information at their fingertips, prospective students can weigh their options and even decide to apply before setting foot on a physical campus.
With more flexible curriculum and offerings, post-secondary websites are ever more vital, yet complex to manage. Teams managing a website full of time-sensitive and personalized content need web governance plans to keep the content relevant and consistent across an institution's digital ecosystem.
By staying strategic and realistic about your websites and content strategy, your digital messaging will stay purposeful to your institution's brand, and the workflows for your web communication teams will be more sustainable to boot. Who doesn't love a win-win?
Have you watched our panel-style webinar on Digital Governance?
Keeping Your Content Relevant with Digital Governance
Digital Transformation will Keep Transforming
Are you feeling empowered yet? Get in the driver's seat and hold onto your hat, because more digital transformation is inevitable. At Evolving Web, we're here to help your teams stay equipped and on top of your game.
Want to hear more about Digital Transformation? Watch our on-demand webinar