Website Development for NGOs
The majority of non-governmental organizations (NGOs) have limited budgets, making a website build a costly investment. A well-built website can create a strong online presence and can be a cost-effective way to reach your audience.  A well-developed NGO website should:
Increase donations
Build awareness for your cause and the impact you're making
Engage the community and grow membership
Garner loyalty and trust
Image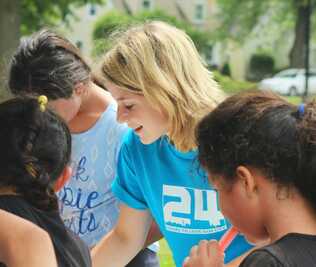 NGOs We've Helped
Evolving Web has worked with the following organization to increase their impact:
Image

Image

Image

Image

Image

Image

Image

Image

Featured Case Study: Looking Forward
A mobile-first, assistive website for recovering cancer patients
A questionnaire for patients to build their own recovery roadmaps anonymously
More streamlined, more available information for users
Seamless experience, with an instantly loaded interface
Compliance with accessibility standards
A visual design that explores colour to evoke change, energy, hope, and joy
Featured Case Study: Pierre Elliott Trudeau Foundation
New visual identity
Mobile-friendly navigation and responsive layout
Flexible landing pages that can be easily created and customized by content editors
An administrative interface optimized for content editors
Fully bilingual content and navigation
Intranet to give members access to value-added resources
A workflow that guides potential scholars through the application process
Donations
Increase donations with form builders and payment integration to give you the ability to accept online donations for your initiatives.
Event Enrollment
Integrate event registration, ticket purchases, video conferences or live feeds on your website to bring people together.
Member-Only
Connect to your community with members-only areas that include content such as newsletters, forums and events.
Amplification Through Digital Content
Clearly written content that is designed for online consumption and social media sharing will expand your efforts and extend your reach.
Providing regular content updates such as blog posts and newsletters will keep you top of mind to members, will ensure they see the impact you're making and encourage repeat donations.
Having engaging content and powerful stories will empower your members, inciting them to share content on your behalf and become ambassadors for your cause. 
NGO Insights
Let us help you raise awareness, build trust and maximize your impact.
Amplifying Your Web Presence
Your non-profit website should build affinity for your cause, raise money, coordinate events and find volunteers.
To ensure the return on your investment, it needs to:
Draw the audience in, quickly explaining your cause
Provide value through education
Focus on Join Us and Donate features
Have content that drives action, with strong visuals and clear calls to action
Provide members access to connect, contribute and give back
Offer sharable content to empower members to become ambassadors
Evolving Web can help you achieve your goals.
We will work alongside you, building your presence, spreading your message and providing you with tools to make your website work harder.