York University enlisted Evolving Web to design and build a new website for its new Markham Campus, which is scheduled to open in the spring of 2024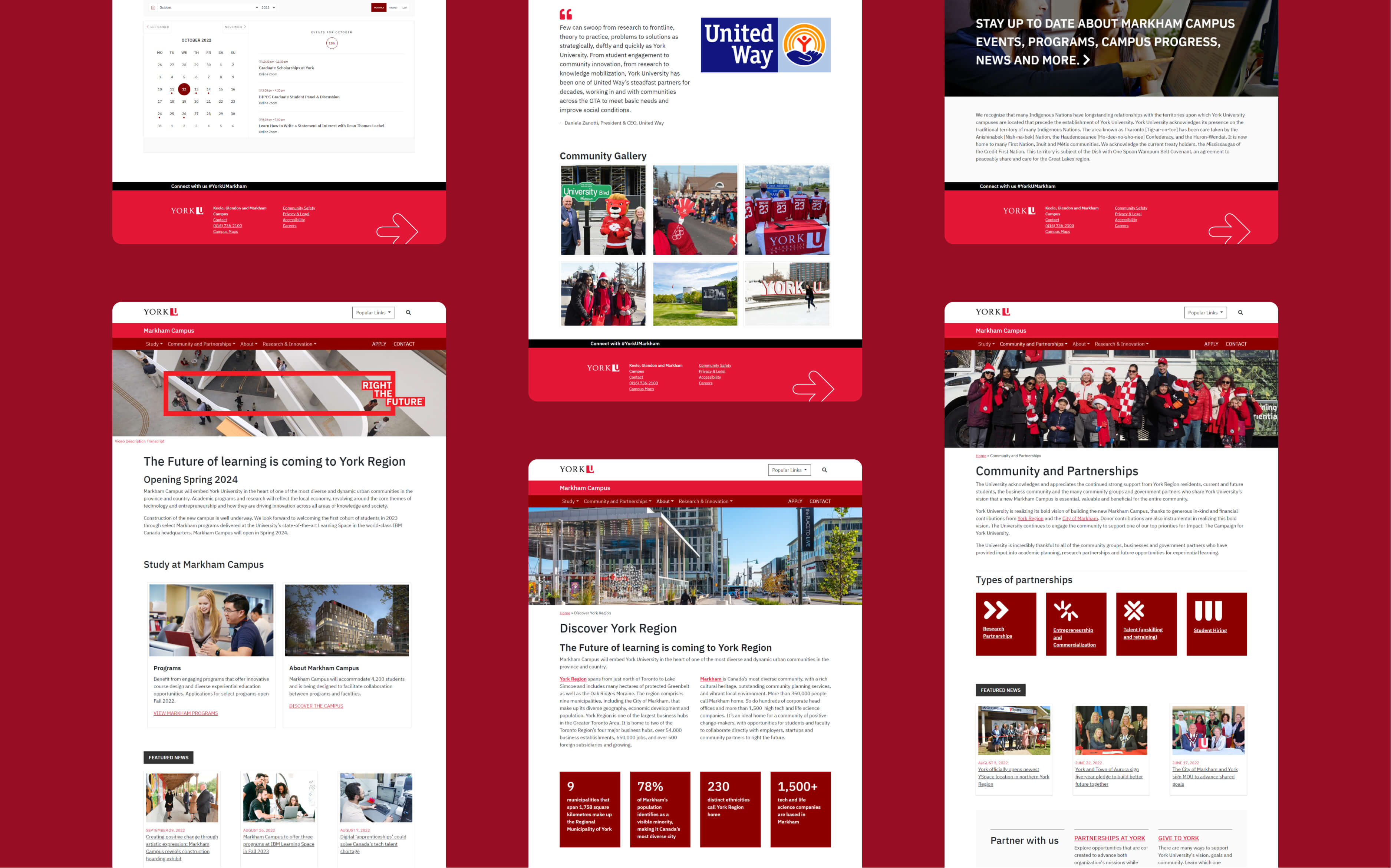 York University is a public research university situated in Toronto. It is Canada's fourth largest university, with around 55,700 students, 7,000 faculty and staff and over 325,000 alumni worldwide, as well as 11 faculties and 28 research centres.
York University offers most of its programs at Keele Campus, the university's main campus, located in northern Toronto. It also operates Glendon Campus, a bilingual liberal arts facility in Midtown Toronto, as well as satellite facilities in the downtown core for its business and law programs. Construction of a third campus in the City of Markham began in 2020.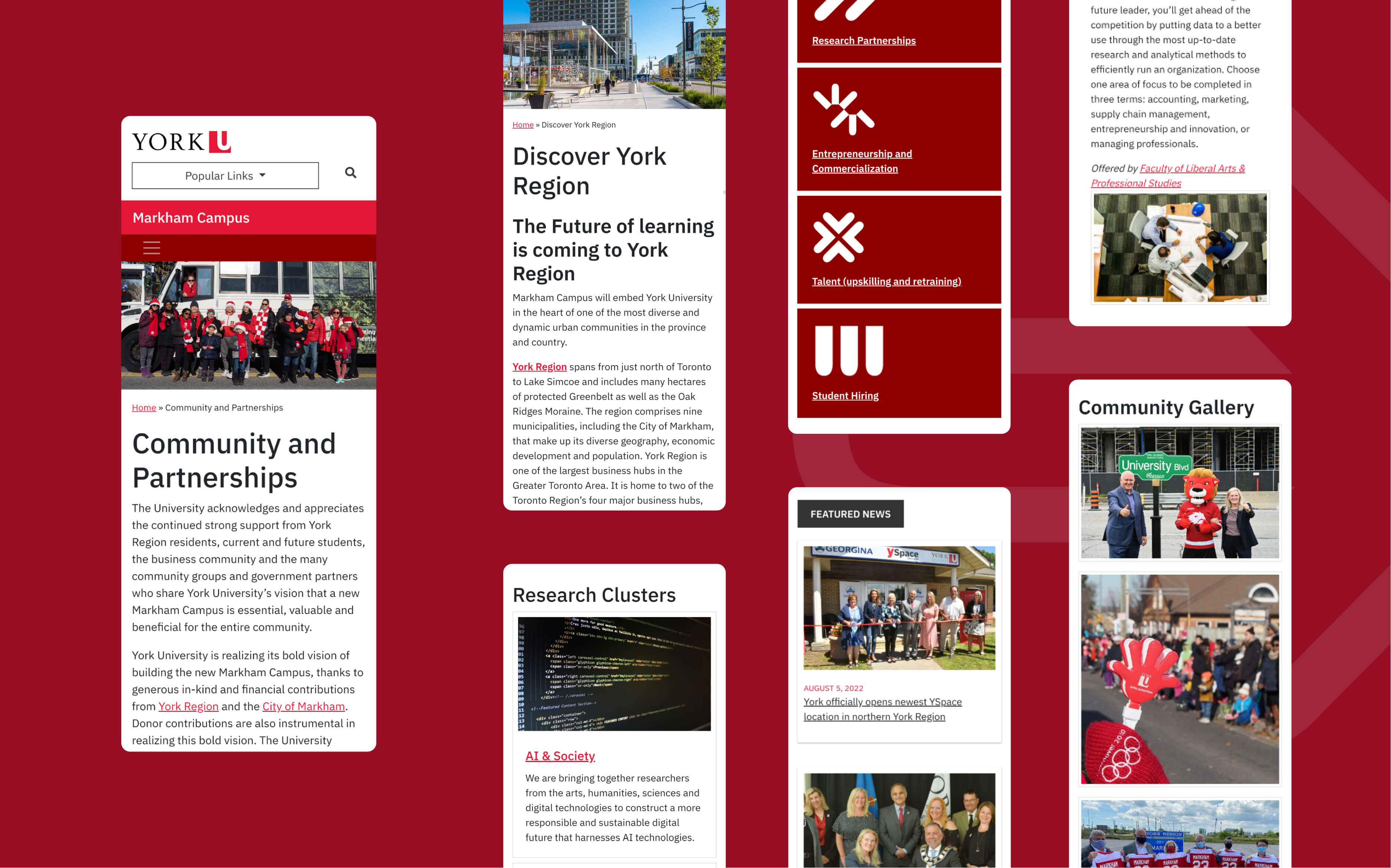 The goal of the website is to promote York University's new soon-to-open Markham Campus and the services it will provide. It is particularly important to the client that the site highlights the role the new campus will play to the community of Markham – the fourth largest city in the Greater Toronto Area and a major hub for multinational companies.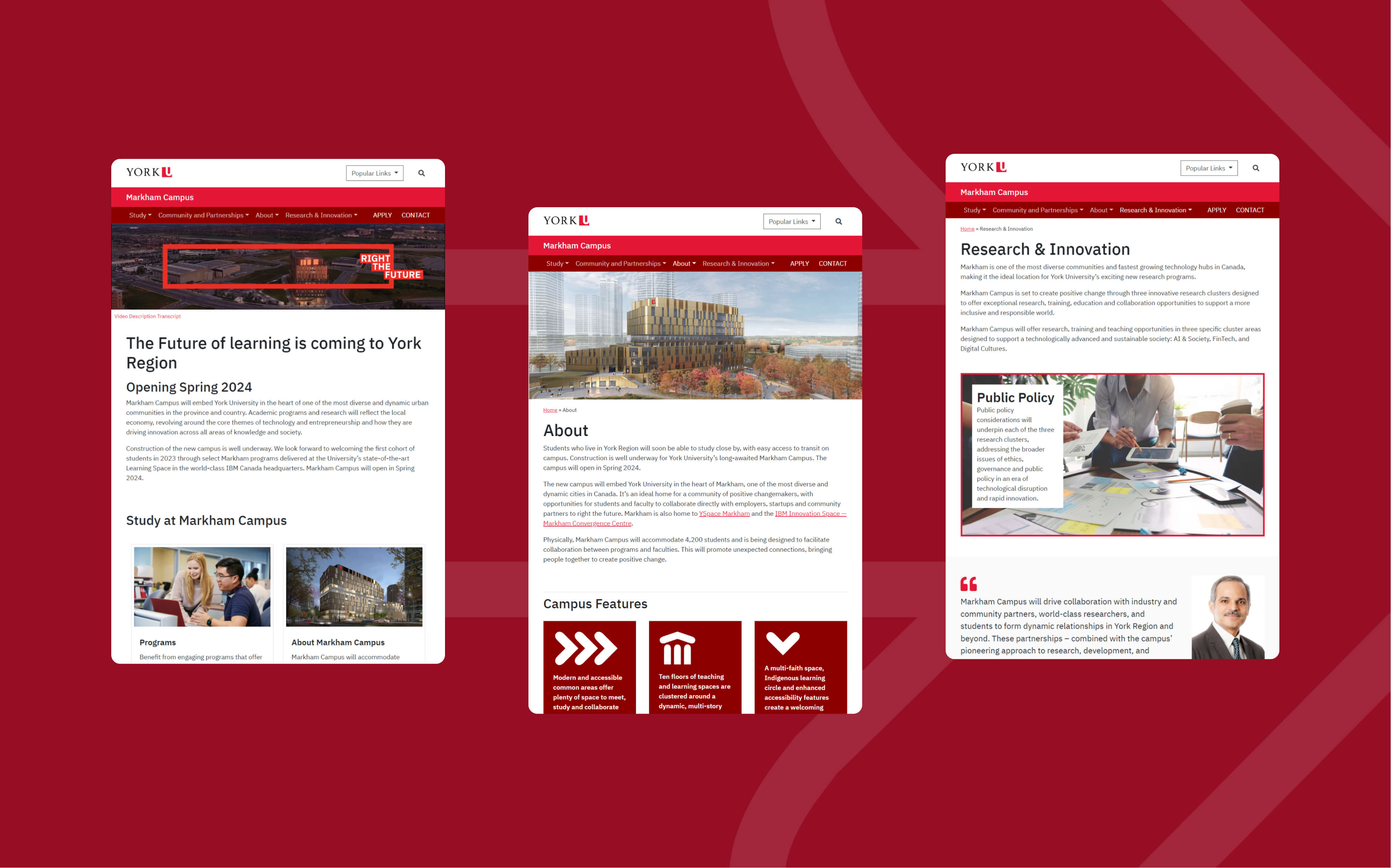 Figuring out how to position the Markham Campus vis-à-vis the other York campuses (Glendon and Keele) as an alternate student experience was a challenging process that required looking at a lot of other universities with secondary campuses to see how they market these. It was also a challenge to balance the desire not to duplicate content on this campus site that exists elsewhere in the York digital ecosystem while also providing a cohesive experience for potential and current students wanting information about studying at Markham Campus.
Another challenge was finding a way to incorporate the community of Markham as a primary stakeholder. Because the campus is expected to be a cornerstone of the City of Markham, it's important that the needs of community organizations and Markham residents be represented on the site. The timeline was also a challenge in this project. The university's aim was to have the site live ahead of the Ontario Universities' Fair (OUF) in October 2022, and competing demands resulted in a delay between the competitive analysis and the UX design process.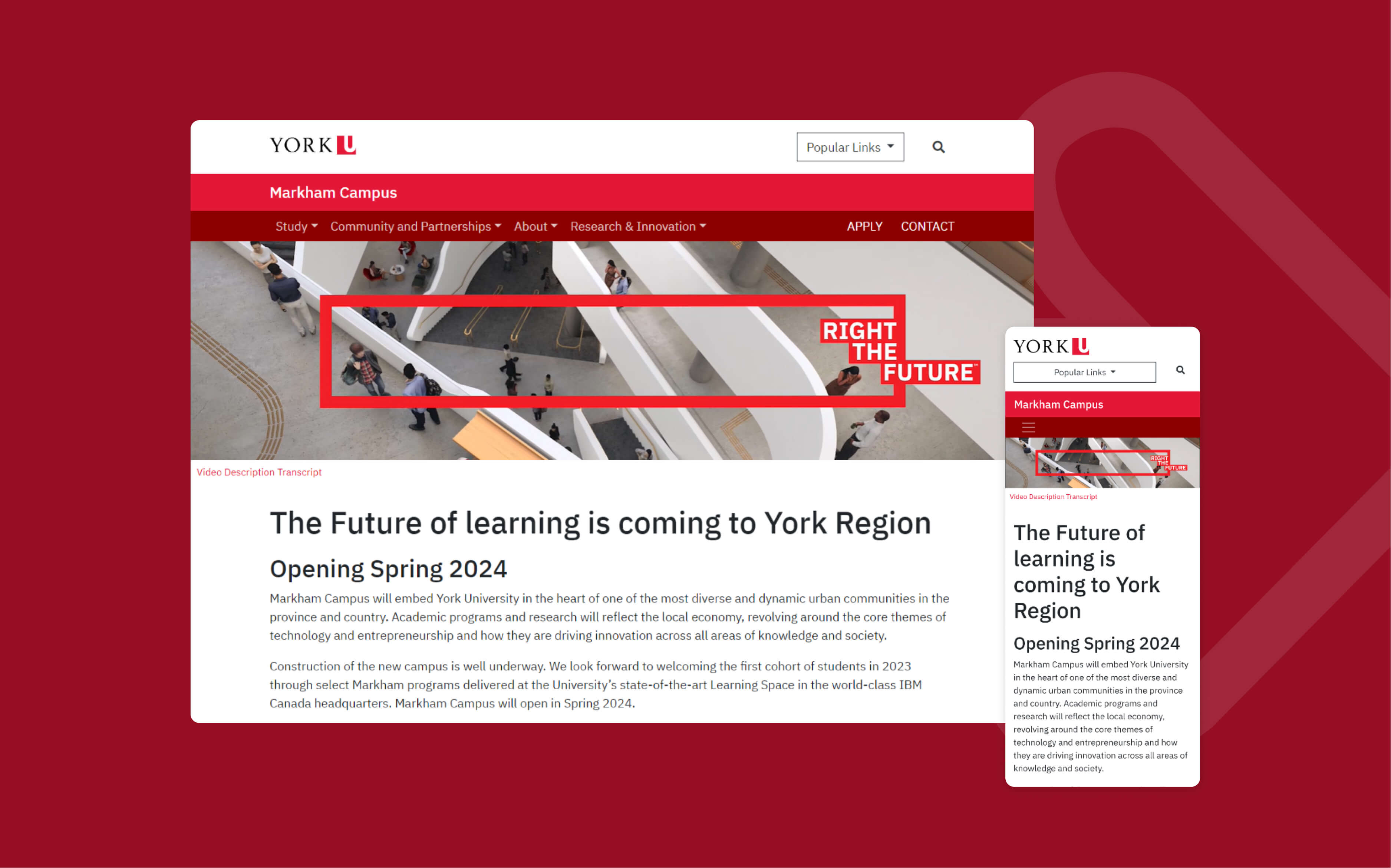 We began the project with a competitive analysis, in which we looked at other universities with secondary campuses to see what types of information they display on their corresponding websites. Based on this study, we were able to give the York team recommendations and then design a sitemap and a series of preliminary wireframes.
We then conducted a series of user interviews to create personas. These included the usual post-secondary personas – prospective students, current students, faculty and so on, but in this case, also included a "community of Markham" persona. This persona was based on multiple interviewees – people interested in renting campus facilities and equipment, representatives of companies offering student co-op programs, potential research partners, employers looking for employee training opportunities and so on.
The York University team provided content for the new site while the Evolving Web team took care of user experience design. We provided ongoing coordination of content writing and review of content as well as adjustments to content to improve WCAG compliance and ensured that content followed SEO best practices and that proper analytics and event tracking were in place.
Specific project deliverables included:
Competitive analysis

Content governance plan outlining recommended governance structure, roles and responsibilities and workflow

Content creation templates outlining types of content needed, including metadata

Training for content editors and maintainers to apply SEO and content best practices

Testing of the website for functionality, content accuracy, SEO and WCAG AA compliance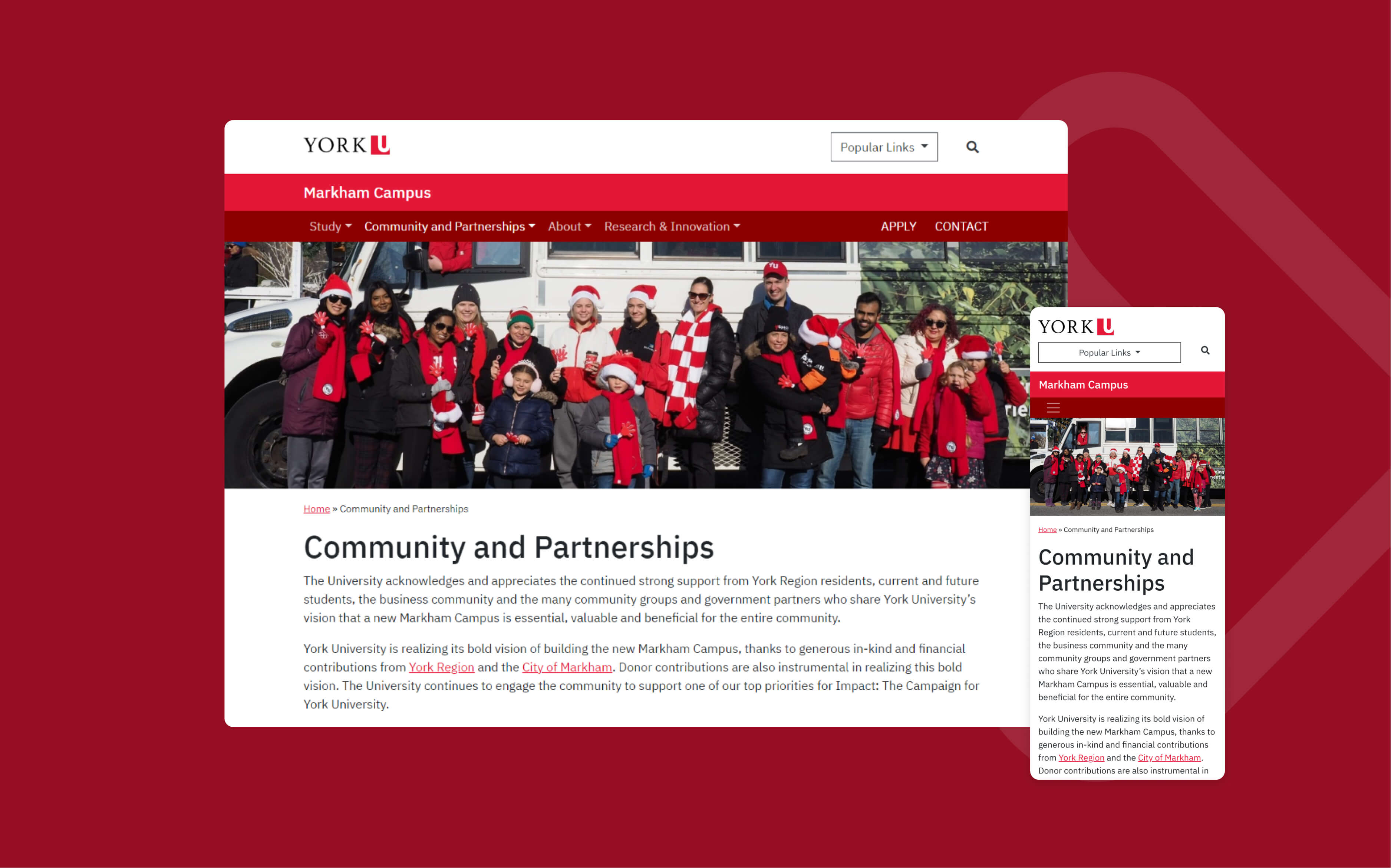 The results are a clean, modern-looking website that while retaining the York University brand aesthetic and messaging still functions as its own entity. The Community and Partnerships section is front and centre on the horizontal menu, directing community members to various opportunities to partner with the university through the campus.
The website is replete with photos and other imagery (including an animated hero highlighting the architectural contours of the new building), making for an engaging user experience. The site features a community photo gallery as well as a news blog post and links to popular resources within the York University web ecosystem.
With the Markham Campus still more than a year away from opening, the website serves as a powerful promotional tool for the new campus for prospective York students as well as members of the community of Markham for the foreseeable future.
Evolving Web was a key partner in our success. The team kept us on track, and made sure we were meeting deadlines with our website project, ensuring we were hitting all the main milestones in a timely manner.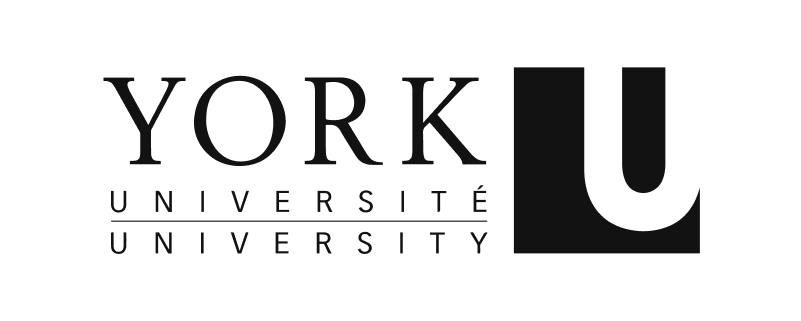 Jason Miller
Digital Marketing Manager
York University