Drupal is famed for its flexibility and scalability. Any user can extend their website with an impressive array of contributed modules (nearly 50,000 at the time of writing!) thanks to Drupal's modular structure and its thriving community of contributors.
But there's a flip side to this abundance: selecting the right module can be a daunting task. It hasn't helped that, until now, searching the full repository meant grappling with a long list of inconsistent descriptions on drupal.org. It's a time-consuming process that intimidates new users and frustrates the seasoned ones (yes, even us!). And while search engines and recommendations helped, they often failed to give enough exposure to the newer and more niche modules. 
The opportunity was clear: users needed a fast, painless way to pick from the vast 'candy store' of contributed modules. 
We're excited to say that the solution has finally arrived! Drupal users, meet Project Browser.
Project Browser: Your One-Stop Shop for Drupal Modules
Project Browser is a simple but powerful tool that will let you easily search, filter, review, and download the best modules for your needs. It's currently in Beta, but the module is under active development and compatible with Drupal 10. 
Project Browser promises to be an essential add-on for site builders, web managers, developers, and anyone else who wants to leverage the full potential of Drupal.
Below, we explore the features and benefits of Project Browser that we're most excited about.
Search Modules Without Leaving Your Site
With Project Browser, you can search the entire repository of contributed modules directly from your Drupal admin dashboard. Once you've installed it, simply go to the Browse tab that'll appear on the Extend page. 
Project Browser is connected with the Drupal.org API using a decoupled approach to ensure content is updated in real time.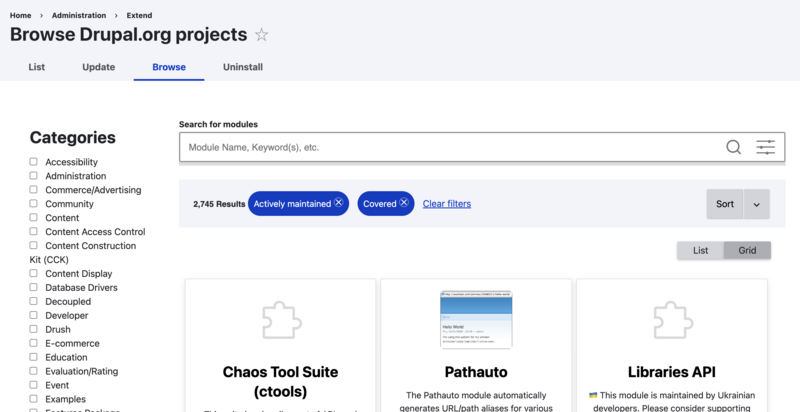 Project Browser streamlines the process of selecting and downloading modules. Credit: Drupal.
Compare Modules at a Glance
Project Browser has a clean, user-friendly design that makes it easy to compare modules side by side. It displays your search results as tiles and lets you view them in list or grid mode. The tiles also feature category tags and a security policy icon.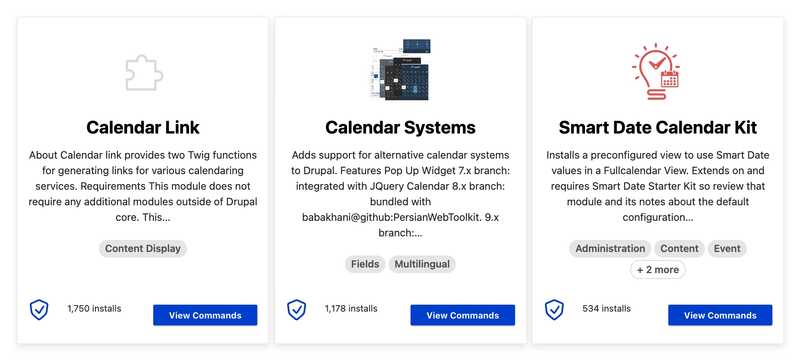 The modern, intuitive design makes it easier to review and compare a selection of modules. Credit: Drupal.
Only See Modules for Your Version of Drupal
The search results you see in Project Browser are automatically filtered by the version of Drupal you're on. That way, you won't waste any time reviewing modules that aren't compatible with your website. 
Use Filters to Find the Perfect Fit
Project Browser applies default filters to ensure you only see maintained projects that are covered by a security policy – although you can remove these filters if you want. You can also filter by a wide range of categories such as accessibility, e-commerce, events, and location to name a few.

Narrow down your search results by applying filters. Credit: Drupal.
See Projects by Popularity
By default, Project Browser sorts your search results by active installs. This means you'll see the more popular modules first, helping you find high-quality solutions faster. 
Get Clear Steps for Installation
Once you've found a suitable module, you can hit 'View Commands' to get instructions commands to download it via Composer and install it with Drush.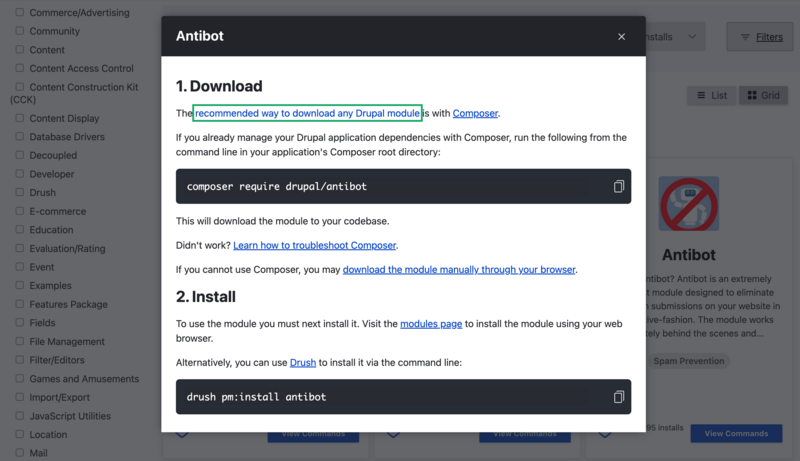 Project Browser simplifies the installation process. Credit: Drupal.
Expect Even Easier Installs in the Future
Users will soon be able to download modules automatically with Composer running behind the scenes. An experimental version of Project Browser has been set up to develop this functionality. You'll be able to hit "Download and Enable" on your selected module and let Project Browser do the rest.
Want to Master the Fundamentals of Drupal?
Join our upcoming Drupal for Content Editors training session. Our expert instructors provide hands-on exercises, live demos, and actionable advice to help you excel in your role. You'll come away from this session with a solid understanding of how to implement a strong content strategy and use Drupal's content publishing system effectively.