Using plain language is crucial to clear, simple communication. It helps you to create content that's readily understandable, straightforward, and useful to your audience. When you follow plain language guidelines, readers will require fewer clarifications and make fewer mistakes when, for example, they fill out a form or apply for any kind of service.
In this article, we'll provide plain language guidelines, examples, and tools that are useful for writing inclusive digital content. By following them, your readers will:
Find the information they need.
Understand your message as soon as they read it.
Use your message to address their needs.
Why plain language matters
Plain language is so important that the U.S. and Canadian governments have both mandated the practice for all public-facing communications. The U.S. Plain Writing Act of 2010 defines plain language as
Writing that is clear, concise, well-organized, and follows other best practices appropriate to the subject or field and intended audience.
A wide variety of individuals make up 'the general public.' These individuals come from many different backgrounds, with a broad range of educational opportunities, fluency in English, and even learning or cognitive skills.
This diversity presents a number of communication challenges, including illiteracy. According to ABC Life Literacy Canada, 48 percent of adult Canadians are estimated to have literacy skills below high school level, while one in every six Canadians is considered functionally illiterate. This means that 17% of the adult population in Canada isn't able to fill out forms, follow written instructions, or read maps.
In the US, the National Center for Education Statistics (NCES) reports that approximately half of the adult population can't read a book written for eighth-graders. Additionally, in its 2006 report (PDF), the NCES further found that 36 percent of the US. population achieved only Basic or Below Basic health literacy, substantially limiting their ability to understand and use commonly presented health information.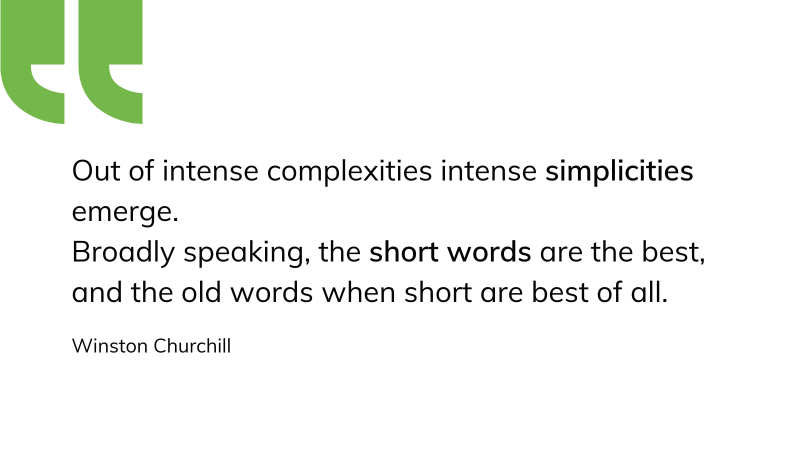 Beyond illiteracy, long and complicated pieces of information that are hard to follow can impact how we make decisions in our daily lives. You probably can relate to situations where information overload resulted in problems. As plain language expert Deborah S. Bosley explains, "people have a right to understand information that affects their life."  If you need to make a case for it, you won't waste your time watching her presentation "Demand to Understand: How Plain Language Makes Life Simpler" at TEDxCharlotte.
Without question, plain language should be your approach whenever you create inclusive content for broader audiences. It allows a greater share of your audience to access, understand, and use the information they need.
Before you start typing
Before you start writing or editing, there are a few other steps you must take. 
Understand your subject
If you don't understand your subject, your audience won't either--plain language will not save you. Be sure to research thoroughly, keep a checklist of what needs clarification and, if needed, check-in with specialists who can help you grasp your topic.
Know your audience
Who are your readers? Are they students, educators, senior citizens, patients looking for help, or immigrants applying for residence? As 'general' as your public may be, you're probably writing for a group of people searching for a specific kind of information. Knowing who they are and what they need from you makes your job easier.
Determine your goals
Before you write, ask yourself why. Answering this is easier after completing steps 1 and 2, since you'll already have a clear idea about what you're writing and for whom. Now identify what you want your audience to accomplish by reading your content. This is your why.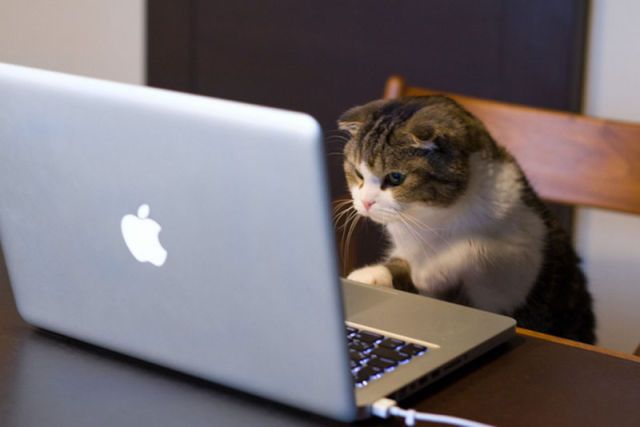 Writing in plain language
Now that you're ready to start writing, it's time to go through some plain language techniques. We'll also provide 'before' and 'after' examples to show you how to create simple, straightforward content for your audience.
Use everyday words
As writers, words can be a sumptuous buffet that is hard to resist. It is tempting to showcase our expertise by choosing unconventional words. While that may work with some audiences, writing in plain language demands a simpler, more common vocabulary. Simple, common words ensure that the public will understand you more easily, regardless of their literacy or fluency in English.
Examples

❌Before

✅ After

facilitate

help, make possible

in the absence of

without

owing to the fact that

because, since

meet one's obligation

pay, make payment

convene

meet

designate

name, choose

disclose

show

implement

start, carry out
Make it conversational
Address readers as if it was a one-on-one conversation, so you can keep them interested and engage with them more easily. Use 'you,' 'yours,' and other pronouns that imply a one-on-one conversation. Also, insert questions ('Not sure what to do?', 'Any queries?', etc.) to encourage feedback and ensure that you are serving their needs.
Examples

🤖 Before

🙂 After

Proof of school enrollment must be provided.

You must provide proof of school enrollment.

Financial information will be reviewed to ensure that procedures have been followed.

We review your financial information to ensure that you followed our procedures.

Submission of applications.

How do I apply?
Write short sentences and paragraphs
>When you break down long sentences into shorter ones, you go straight to the point, avoid distractions and excess detail, and make a stronger impression on the reader. What's more, you improve your content's readability, making it easier for people to assimilate your ideas.
Examples

😴 Before

🤓 After

Once the candidate's goals are established, one or more potential employers are identified. A preliminary proposal for presentation to the employer is developed. The proposal is presented to an employer who agrees to negotiate an individualized job that meets the employment needs of the applicant and real business needs of the employer.

Once we establish your goals, we identify one or more potential employers. We prepare a preliminary proposal to present to an employer who agrees to negotiate a job that meets both his and your employment needs.

This paragraph establishes the rules for the admission of foreign students that are valid until Spring 2022.

This paragraph establishes the rules for the admission of foreign students. These rules are valid until Spring 2022.
Avoid verb-noun phrases
>Some phrases combine a noun and a verb to convey an idea that, in most cases, you can express by using just one verb. So, the next time you see 'take into consideration' or 'make an inquiry' while editing a text, go for 'consider' and 'inquire.'
Examples

🥴 Before

😉 After

ensure maintenance of

maintain

provide an improvement to

improve

proceed with the cancellation

cancel

carry out an examination of

examine

provide guidance for

guide

effect modifications

modify, change
Always prefer the active voice
The active voice ('We will analyze the issue' instead of 'the issue will be analyzed by us') makes sentences clearer and prevents your text from becoming too wordy or difficult. Active voice also makes for a faster narrative, which increases reader engagement.
Examples

🥱 Before

✌ After

The application must be completed by the applicant and received by August 31st.

We must receive your application by August 31st.

From the moment your information is received, it will be processed and analyzed by our team in no more than 2 weeks.

Once we receive your information, our team will process and analyze it in a maximum of 2 weeks.
Go for the present tense
The present tense is the simplest, strongest form of any verb. It makes your writing simpler, more straightforward, and more impactful. Other verbal forms, such as future tense and conditional, can make it harder for your readers to understand your message.
Examples

🐌 Before

🎯 After

These sections describe types of information that would satisfy the application requirements as it would apply to this grant program.

These sections tell you how to meet the requirements for this grant program.

We will be sending out email appointment reminders to patients with booked appointments in our Nursing Station.

We send out email appointment reminders to patients with booked appointments in our Nursing Station.
Split your content in chunks
Most online readers skim and search for the information they need instead of reading the text from top to bottom. So don't pack your text into long paragraphs. Instead, split up your topics into sections and separate them by using eye-catching headings and bullets.
Examples

🤦‍♀️ Before

🙋 After

Infants and children who drink water containing lead in excess of the action level could experience delays in their physical or mental development. Children could show slight deficits in attention span and learning abilities. Adults who drink this water over many years could develop kidney problems or high blood pressure.

Lead in drinking water can make you sick. Here are some possible health effects of high lead levels in your drinking water:

Children:

Delayed growth

Learning disabilities

Short attention span

Adults:

Kidney problems

High blood pressure

Applicants are required to file a notice about the start of their operations in a local newspaper before they begin.

Do I need to publish a public notice?
You must publish a notice of your operations in a local newspaper before you begin.
Be positive
Prioritize affirmative sentences over negative ones. Too many 'nos' and 'don'ts' can confuse readers, especially if they need to follow instructions. If rewriting the sentence is too hard, highlight the negative elements to avoid any misinterpretation.
Examples

👎 Before

👍 After

Enter the information in no more than one file.

Enter the information in one file only.

The form should be completed no later than June 30th.

The form should be completed by June 30th.
Explore the inverted pyramid
This notion is crucial in journalism and very helpful for any writing, especially for the web. Make sure you create a lead, meaning the most relevant information is at the top of the text. Also, start with the shortest, clearest statement you can make about your subject.
Design elements for plain language
Besides words, plain language is also about organizing information and designing a logical, good-looking page. Here are some visual elements that make your content easier to understand:
Explore design features

, such as lists, headers, and tables to simplify information.

List relevant items in bullets

, so readers can find them more easily on the page.

Provide open space

around headings, lists, and boxes to draw attention to them.

Create contrast

in your visuals to lead your readers through the page.

Use generous

font sizes, whitespace, and colour contrast for easy readability.

Choose simple typefaces

according to your format. While classic serif typefaces like Times New Roman are ideal for print, the

Bureau of Internet Accessibility

says that sans serif fonts--simple fonts without 'tails' or other decorations--are preferred for on-screen reading. 
How to assess plain language
Find Your Voice (and Tone)#plainlanguagehttps://t.co/wVBpzQAzyh

— plainlanguage.gov (@govplainlang) July 13, 2021
Now that you finished creating your content, you'll want to assess how readable or understandable it is. Let's see some plain language tools and tests that can help you.
One way to evaluate plain language is by using spellchecking and editing tools, such as Hemingway. This is a free, user-friendly app that checks spelling and style, giving your text a higher readability grade when you make it simpler and clearer.
Grammarly is another editing app that grades your content according to the goals you set for it. You can choose it to be formal or informal, friendly or respectful, knowledgeable or general, etc. The downside: most features are for paid subscribers only.
A more traditional way of assessing plain language is by running readability tests such as Flesch–Kincaid. Created in 1975 for the U.S. Navy, it's one of the most common ways of measuring how easy or difficult a text written in English is to read.
In the Flesch-Kincaid test, the higher the score, the simpler the text. For example, a score between 90 and 100 means it would be understood by an average 5th-grader. Between 0 and 10, it would be more accessible to university graduates.
Plain language centers the reader
Following a plain language guide to create digital content means you'll accomplish many valuable things:
You'll provide better customer service

.

You'll create a more relevant user experience

.

You'll rank higher

on Google and other search engines.
---
If you're involved in creating an accessible website with Drupal, Evolving Web's Content Creator Track will enable you to make great user-centric content that ranks well on search engines and provides value to your audience.
Plain language is about having a reader-centered content strategy. It's about putting people first.