The Yukon Government reached out to Evolving Web with a need to rapidly move the Yukon Courts website and its nearly 7,000 court-related documents from an obsolete, unsupported platform to Drupal. This project's major challenge was its time-sensitivity: because of the deprecated state of their existing infrastructure, the organization had significant concerns regarding security and potential data loss.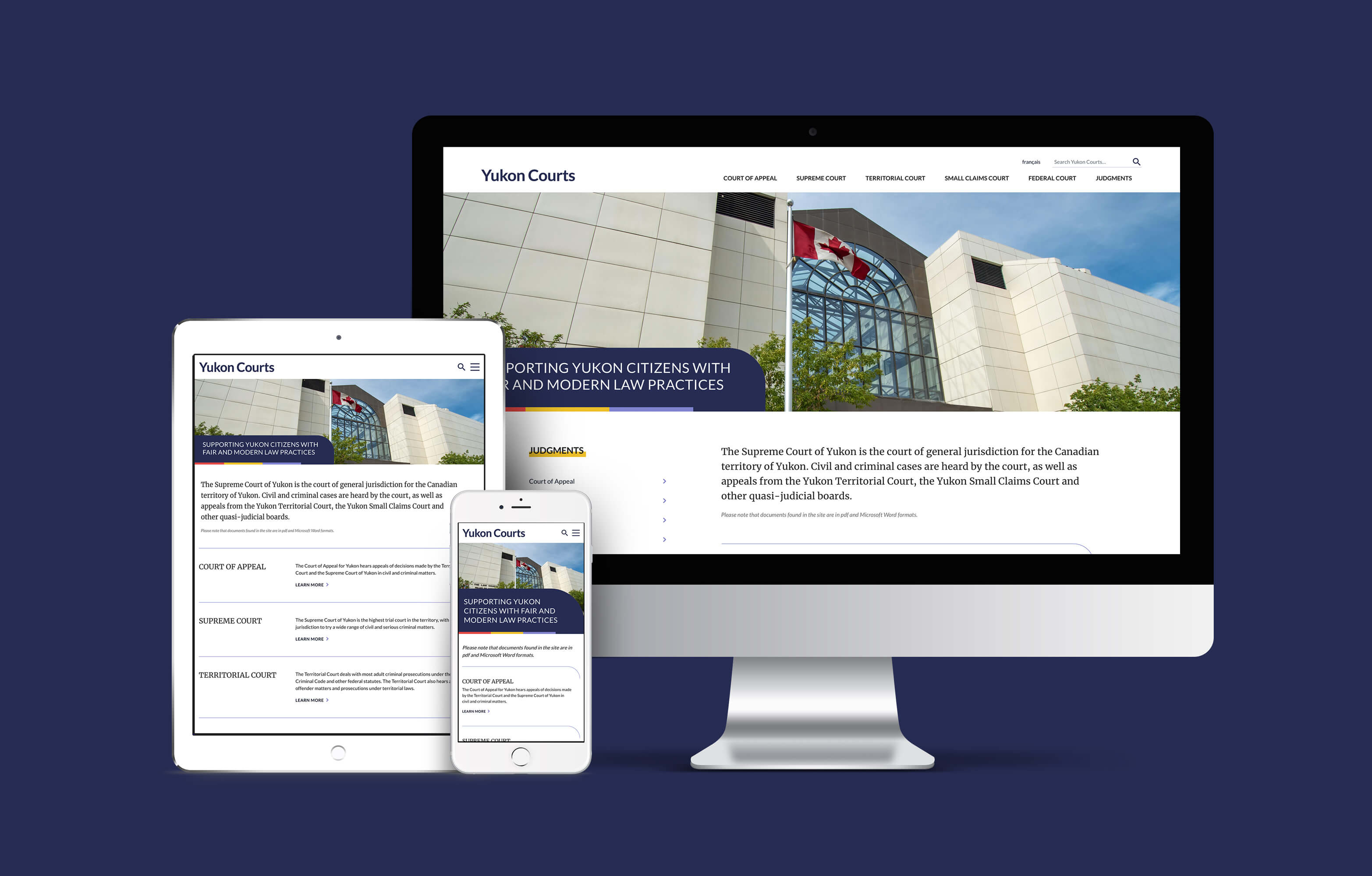 Yukon Courts is a critical government body that oversees all levels of the judicial system in the Canadian Yukon territory. It comprises the court of appeal, supreme court, territorial court, small claims court, and federal court, and its website stores a wealth of critical documents and forms used by both legal staff and the general public.
The old Yukon Courts website was built on a now-unsupported CMS and had not been updated in many years. Due to concerns that the site's architecture would someday simply crash and render the site and its contents inaccessible, Yukon Courts reached out to Evolving Web with a race against the clock to migrate the site's content before it became unusable and unsalvageable.
The site's structure is straightforward enough; its complexity lies mainly in the sheer volume of documents it contains, namely court decisions dating back decades and dozens upon dozens of forms destined for citizens and jurists alike, all in both PDF and Microsoft Word formats.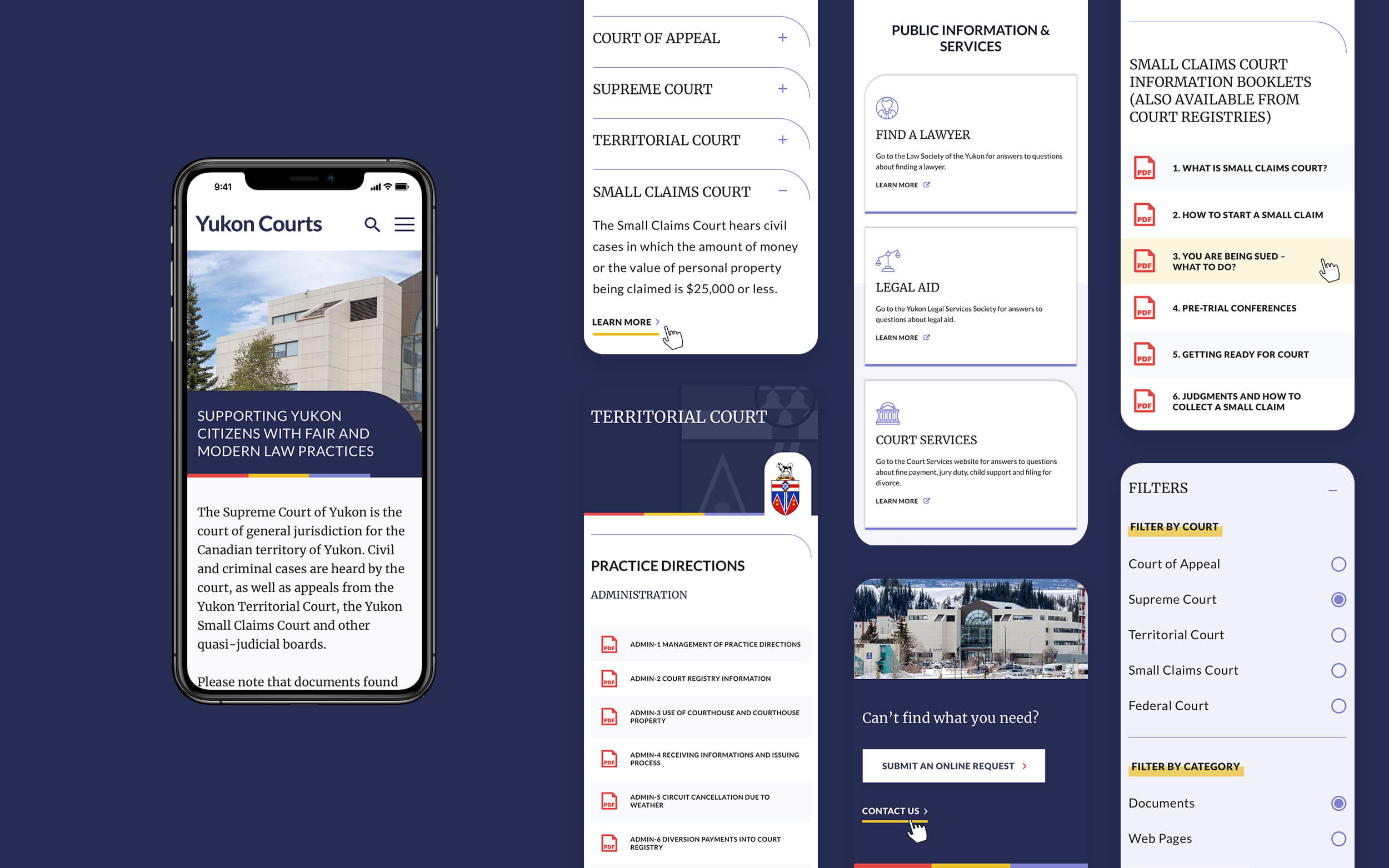 Judicial assistants found that the original site was difficult to navigate and that they'd like a better site search functionality. At the same time, project stakeholders wished to maintain the minimal visual style of the original site and focus on providing citizens with easy access to content.
Migrate to Drupal
Conduct a content audit of existing pages and documents
Automatically add metadata to documents so they are searchable 
Provide a clear path for accessing documents, forms, and resources to Yukon citizens
Ensure the security and maintainability of the site
Provide an easy-to-use content management solution for staff
Implement custom site search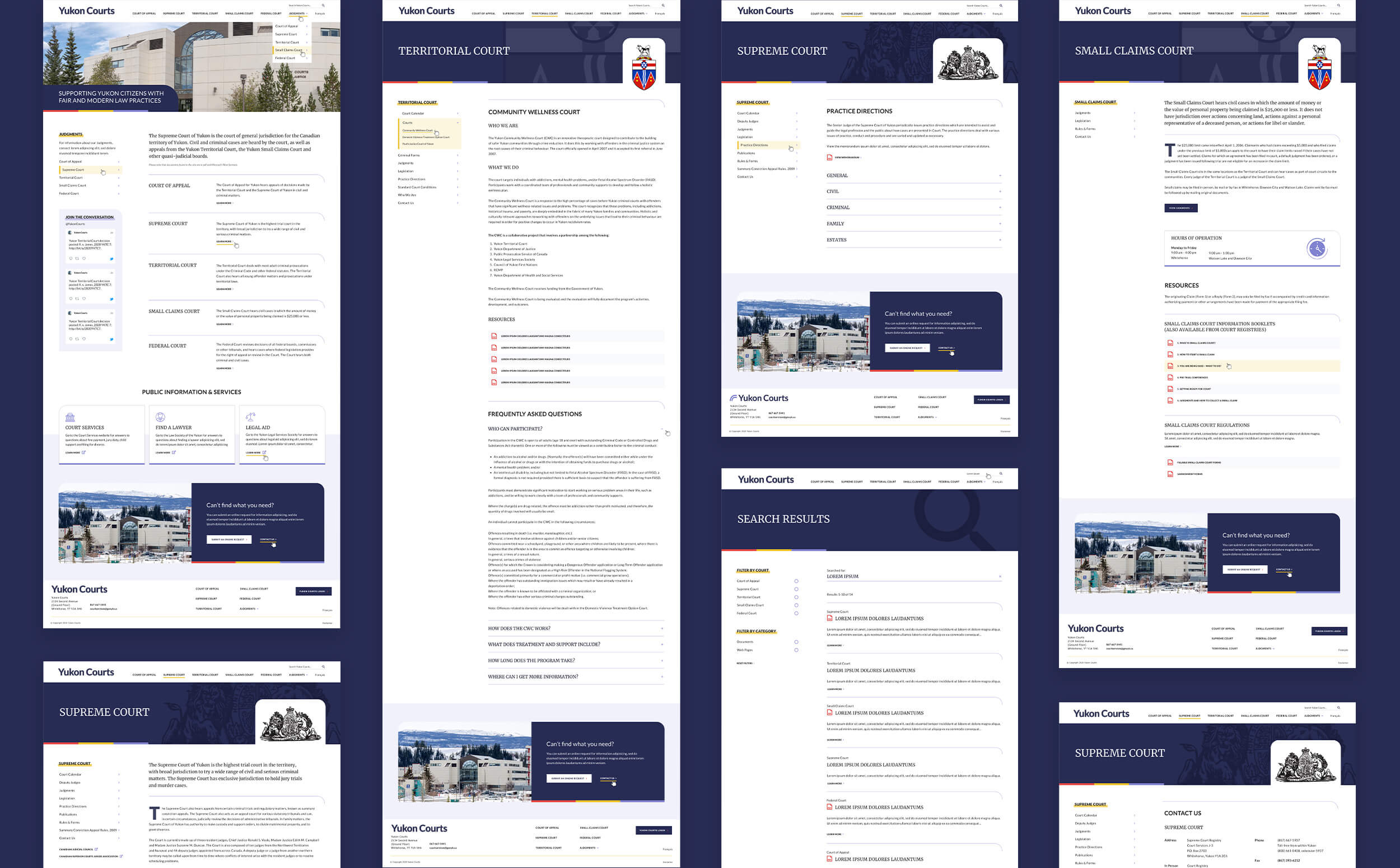 The existing website contained thousands of documents, many of which were found in unexpected 'nooks and crannies' of the existing content ecosystem. The Yukon Government is standardizing on Drupal, and so the main goal was to quickly migrate the content from an unsupported, deprecated CMS to Drupal. In total, we only had around three months to complete this massive migration task along with the redesign.
This was no easy feat, as the legacy site could not provide any mapping information. Our team had to manually scrape and map the site's content using a set of automated scripts, and found numerous unexpected pieces of content during the process.
Once migrated, the large number of court PDFs and Word documents also needed to be available using a filtered search solution.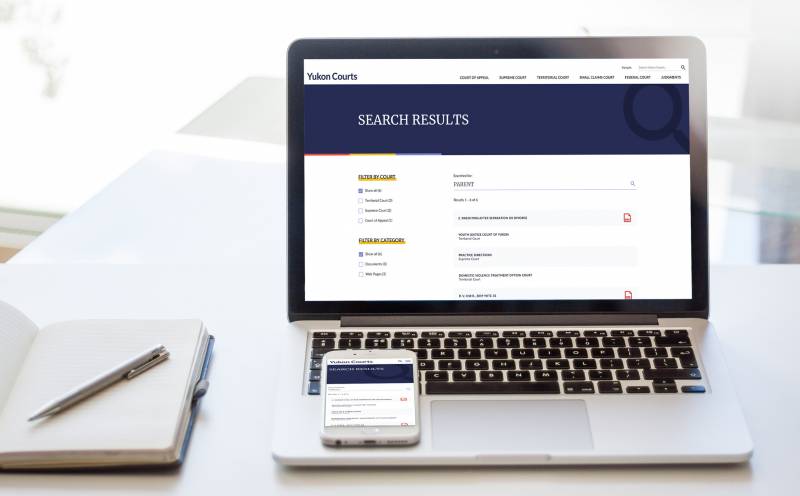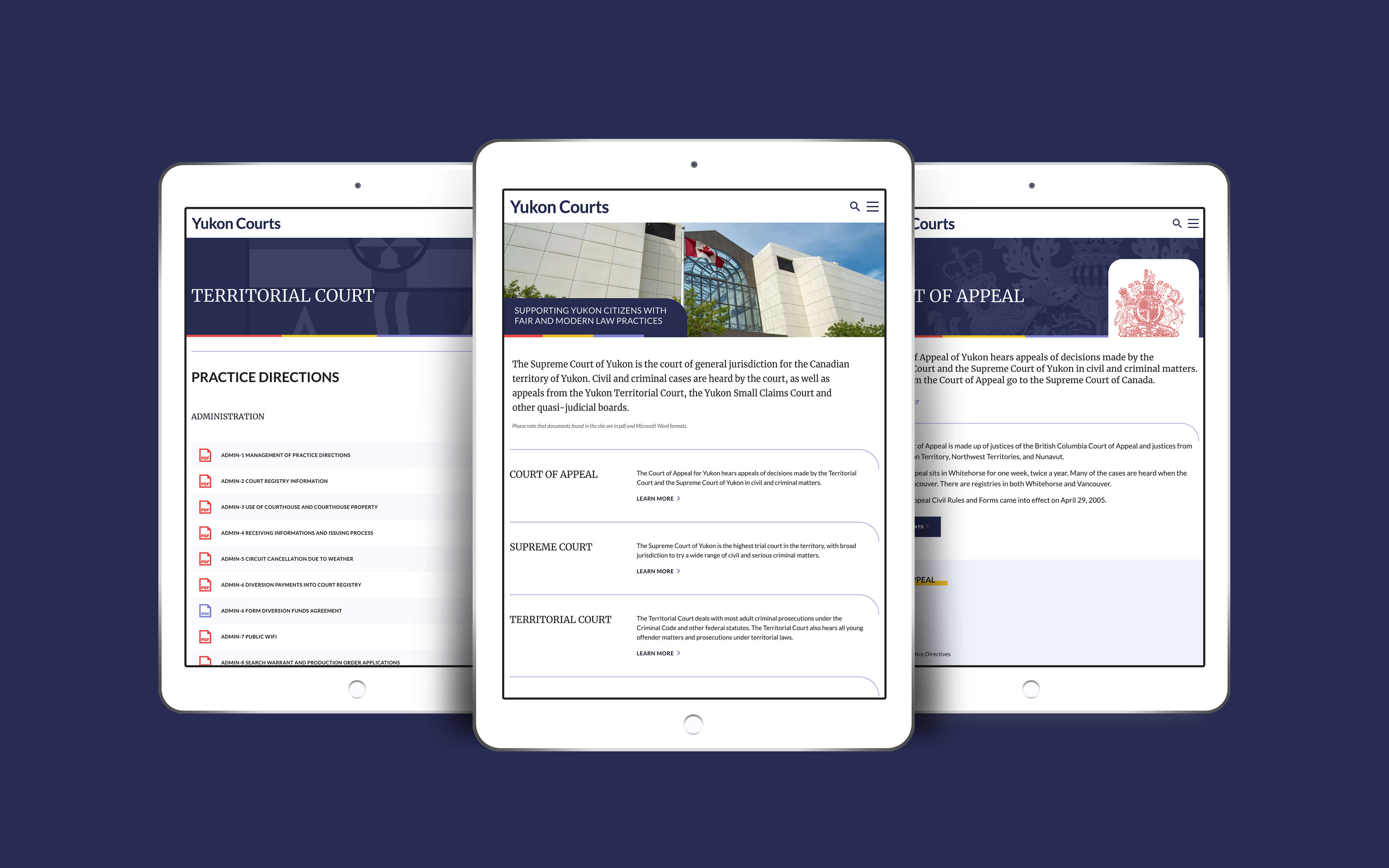 In three months, our team created a refreshed design and a modern, brand new website for Yukon Courts with full multilingual support. We interviewed staff from each court and held a UX workshop in order to understand how to best reorganize the content. We also replaced the previous site's standard Google search integration with a fully-indexed custom search engine featuring filterable results and the ability to search the full contents of uploaded documents.
Once the new CMS was in place, we conducted training workshops with Yukon Courts staff to ensure they were comfortable entering, publishing, and modifying content and taxonomies, and working with custom components such as buttons, text fields, and collapsible lists.
The redesigned website features:
A new digital design
Simple branding elements to replace the previous plain-text-style website design
Modernized information architecture and navigation to enhance the user experience and content accessibility
Accessible web content, following WCAG AA standards 
Tools for translating all content 
Advanced search using Apache Solr, including fully indexed searching within the 7,000 documents
Enhanced password requirements for content editing and document access 
Ability to easily replace all visual assets such as images and icons to keep the site fresh
Custom search interface designed around user needs
Set of fully styled content components, which can be used in any combination to build new pages including a document viewer, listings of court documents, and embedded form

The new website's public-facing identity features a cohesive, understated design and simplified user experience, making it much easier for citizens to find the crucial legal information they require—things like custody documents, court rulings, or small claims court forms. It meets stringent WCAG AA guidelines for web accessibility, ensuring that all members of the public are able to benefit from the service. A fully-integrated search engine supports the redesigned information architecture to maximize findability throughout a vast library of forms and legal archives.
Content editors and court staff now enjoy a streamlined WYSIWYG interface for uploading, publishing and modifying all types of content, and can easily use taxonomies to keep large volumes of data well-organized. Thanks to a library of styled content components such as custom views and blocks, editors have the freedom and flexibility to build and rearrange pages and layouts as they need to, saving time and maximizing consistency.