2021 was an eventful year for the Drupal community. In April, we celebrated Drupal's 20th anniversary and participated in a month-long Drupal Fest. We also launched Discover Drupal and other initiatives to make Drupal more inclusive. We marked the end of life of Drupal 8 and the growth of Drupal 9 adoption with it. And as the Drupal Association launched Drupal's certification program, we saw the growing maturity of the Drupal ecosystem and solidifying of Drupal's role in the enterprise space.
So if you slept through 2021 and want to know what you missed, here are the highlights!
Celebrating Drupal's 20th Anniversary
On January 15, 2001, Dries Buytaert released Drupal 1.0.0. What started as a project of an individual developer in a university dorm evolved into an innovative digital platform used by some of the biggest organizations around the world.
Drupal's 20th anniversary was celebrated throughout 2021. In his blog, in January, Dries reminisced about the early days of Drupal and also shared three "birthday wishes" for the platform:
Never stop evolving
Amplify Drupal's ease-of-use
Build economic systems to sustain and scale open source
"I was 22 years old (in 2001) and had just finished college. At the time, I had no idea that Drupal would someday power one in 35 websites and impact so many people globally."

— Dries Buytaert, Drupal Founder and Project Lead
Fun fact: 2021 is also the 20th anniversary of Wikipedia and the 30th anniversary of both Linux and the World Wide Web. A big year for open source celebrations, indeed!
Drupal 8 End of Life and the Easiest Upgrade Ever
When Drupal 8 was released in November 2015, it brought some high-impact changes and improvements. However, in November 2021, six years after its launch, Drupal 8 reached end of life. It means the Drupal community stopped supporting it with security updates, to leave more time to focus on improvements to Drupal 9.
The good news is that upgrading to Drupal 9 is fairly straightforward. It's similar to a feature upgrade (like upgrading from Drupal 8.8 to 8.9), with a couple of extra steps. The upgrade documentation is available on Drupal.org. So if you haven't already upgraded, now is the best time to get started!
A Big Year for Drupal 9 Migrations
Speaking of Drupal 9, we at Evolving Web have worked on several large-scale Drupal 7 to 9 migrations since the release of Drupal 9 in June 2020. If you're still using Drupal 7, you should know that Drupal 9 offers some major improvements: a more streamlined user experience for content editors and administrators, an API-first approach, better multilingual functionality out-of-the-box, more built-in features for content modelling and site-building, improvements to accessibility, and a more sophisticated framework for caching to improve page-loading time. Drupal 9 also opens the door to many additional features that will be released in the near future.
In 2021, Evolving Web led several successful Drupal 7 to 9 migration projects and supported teams taking on large-scale migrations themselves. One example is our collaboration with the University of Waterloo. We helped the university's web services team plan their migration of 950+ websites from D7 to D9. In 2021, our team built a set of migrations, which Waterloo U is using to systematically move the bulk of their web content to their new Drupal 9 platform.
Like many universities, Waterloo is taking advantage of Drupal's Layout Builder to give their content editors more flexibility in building pages. Our work helped the university automatically migrate their content to Layout Builder without site owners having to recreate each page from scratch manually.
In 2021, we solidified Evolving Web's remote training program. In addition to our public learning pathways, we also provided many teams with private Drupal training, emphasizing accelerating their migration to Drupal 9. For example, in early 2021, my talented colleagues Kevin Porras, Dharizza Espinach and Franz Vanderline put together a training program for McGill University's Web Service Group, giving them the skills and knowledge to migrate approximately 1,000 websites and 500,000 distinct pieces of content from Drupal 7 to Drupal 9.
"We knew enough to know we had a significant challenge ahead to get up to speed from Drupal 7 to 9. That's why we looked for expert trainers, and now we're comfortable working with and migrating content to our Drupal 9 environments."- Matt Corks, Senior Web Developer Analyst with Information Technology Services, McGill University
Drupal Events: Keeping the Community Strong
Although the pandemic is still a challenge, 2021 included many opportunities for the Drupal community to connect and share. At DrupalCon North America, Dries shared his perspective on the future of Drupal and the roadmap for Drupal 10.
The Evolving Web team was present at many community events: presenting, training, and contributing. We were able to attend events around the world since they were all virtual: DrupalCon Europe, Drupal GovCon in DC (where we discussed Drupal's role in the future of content management), MidCamp in Chicago and DrupalCamps in Costa Rica, Colorado, Oslo, and New York. We love having the chance to connect with so many Drupalers and to get various perspectives from people using Drupal in different ways and contexts.
Drupal Also Means Diversity
Diversity and inclusion were clearly important to the Drupal community in 2021. The community came together to hold the very first Drupal Diversity & Inclusion (DDI) Camp, hosted by Drupal Diversity & Inclusion (DDI). This team of Drupalists provides a safe space to discuss diversity and support underrepresented people in the tech industry.
We also launched Discover Drupal, an initiative that provides training and mentoring to underrepresented people interested in starting a career in Drupal. It aims to remove some of the barriers the underrepresented students face when starting their careers in open source. Evolving Web is proud to be a founding training partner of Discover Drupal and is excited to see the program grow in 2022.
We also helped create a community-led training curriculum for newcomers to Drupal. "Get Started with Drupal" training events were held at three Drupal camps, and the curriculum is available to anyone to use at their own events.
A Focus on Accessibility
Accessibility was another big topic for Drupal in 2021. Our team has had many conversations around building more accessible experiences with Drupal.
We believe today's web designers and developers have a much clearer notion of what accessibility is about. As my colleague Firat Ikiler says, building accessibility through Drupal means not falling into the trap of blindly applying rules from some list of best practices. As more and more projects require to be accessible and Drupal supports better accessibility out-of-the-box, the community as a whole is better equipped to deliver accessible experiences than ever before.
You can learn more about how Drupal helps you build accessible websites from this presentation at DrupalCamp Colorado.
Promote Drupal: The Power of the Brand
While Drupal has been very successful as a platform and a community, it's also a global brand with a diverse set of ambassadors around the world who use and support Drupal every day. However, there are some distinct challenges to building a brand for an open source project.
Promote Drupal is an initiative that aims at growing Drupal's adoption and creating better marketing materials for decision-makers. This year, our group focused on creating personas for Drupal evaluators based on user research and creating targeted materials for Drupal.org that demonstrate the benefits for Drupal to these distinct groups of users. We also started creating more material about Drupal's strategic initiatives to better communicate the innovative features on the roadmap for Drupal 9 and 10. Watch out to see the results of this work on Drupal.org in 2022!
Promote Drupal is always looking for new volunteers. So if you're a marketer, designer, or writer who loves Drupal, get in touch so we can start collaborating.
What's Coming Up in the New Year?
The most important event for Drupal in 2022 will be Drupal 7's end of life in November. We know that many organizations plan to migrate from Drupal 7 to Drupal 9. And with Drupal 7 behind us, future versions of Drupal will become less critical, and we'll see a greater emphasis on continuous improvement through feature releases.
With that said, the launch of Drupal 10 is currently planned for June. According to Dries Buytaert, upgrading from Drupal 9 to 10 will follow the same "easy upgrade" approach we saw for upgrading from Drupal 8 to 9.
In 2022, we expect to see major developments in new features in Drupal core, including Automatic Updates, Decoupled Menus, and continued improvement to the Drupal admin UI. We're excited about Drupal's new default theme Olivero and the great impression it will make on first-time Drupal users.
Finally, we can't wait to see our fellow Drupalers at DrupalCon North America next April. We'll be offering our Migrations training there, and I'll be presenting on the Future of content management and using Drupal as a content strategy platform. Assuming that the pandemic doesn't alter our plans, we hope to get a chance to see you there in person.
We look forward to contributing to Drupal in 2022 and wish you all the best for the new year!
---
👩‍💻 Need support to migrate your website to Drupal 9? Download our D9 migration eBook now!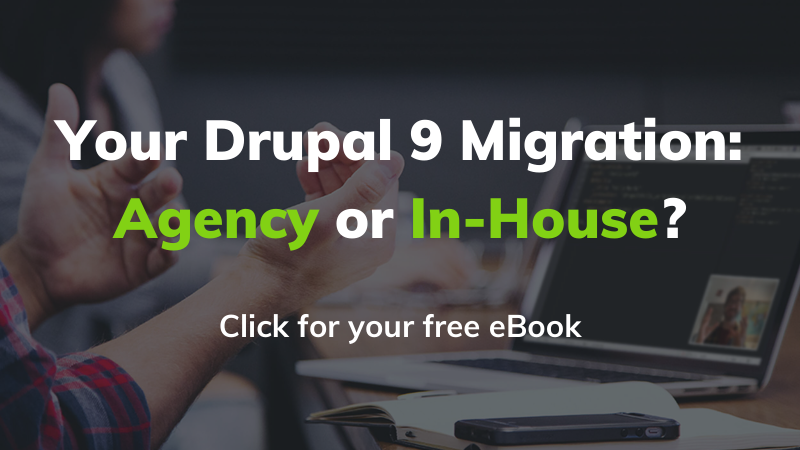 ---