No one wanted to be left behind when the internet was gaining popularity in the 90s. Everyone was creating websites and experimenting with online communication—yet few really knew what they wanted to get out of it. The same thing is happening now as generative AI is taking hold. 
We're on the cusp of a technological paradigm shift and everyone is clamouring to get ahead of the curve. But we can't foresee all the opportunities AI will unlock, or all the new problems that it will bring. As a result, many people are acting and investing without clear direction. 
Over the past five years I've seen an increase in clients wanting to integrate AI into their apps and sites. Yet few of them have specific goals for AI to help them achieve. Instead, they're operating under the misconception that innovation is always good.
Meanwhile, investments have created a technology bubble where growth happens for growth's sake. Investors are keen to buy into AI startups (which require significant capital to purchase GPUs), as well as SaaS companies (which are moving to the cloud with the promise of infinitely scaling up).
All this means that innovation is being driven by the emerging technology itself, instead of by society and people. And that's a problem. 
How the Open Web Can Help Vet and Harness AI
As technologists, we have a responsibility to stay on top of new technologies. To read stack overflow, listen to technology podcasts, and try things out on GitHub. We also have a responsibility to question new ideas. To hold them up to the light and see if they bring enough value for the price. 
Both the appraisal and application of innovative technology can be done more effectively through the open source community. Why? Because it provides a diversity of perspectives and expertise, which enables us to hold technology to a higher standard.
Drupal's Open Web Manifesto speaks directly to this desire to use technology for good. With support from the Drupal Association, the Drupal community has the capacity to make AI technologies more accessible, impactful, and safer for everyone. It can tackle the big picture questions that individuals alone can't. Things like how to close the privacy gaps in an AI integration and how to evolve Drupal's functionality to take advantage of AI. 
Your Drupal website is improved each time you update the platform. Sometimes these improvements allow you to leverage technology you didn't even know you needed yet. For example, Drupal is interoperable and provides a JSON API—a feature that most Drupal websites don't yet use, but can in the future.
"I do think that AI can be the ultimate user experience for a lot of people."

– Dries Buytaert, Founder of Drupal & Acquia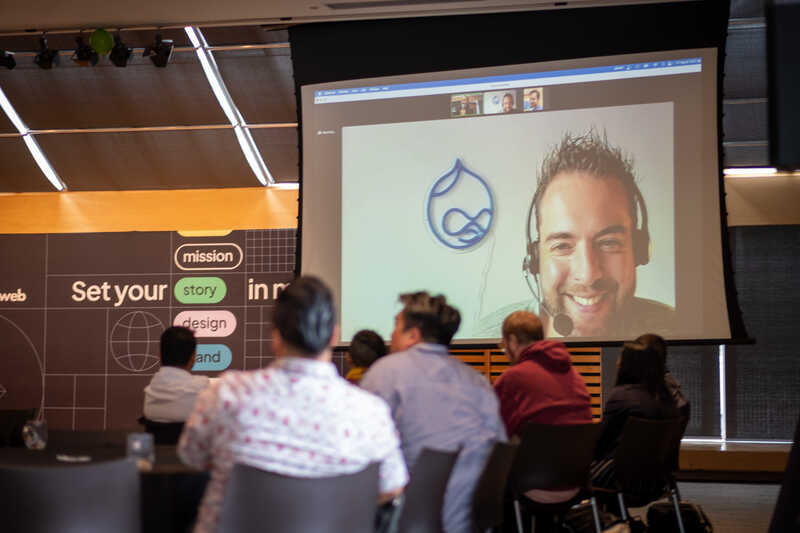 AI Will Transform the User Interface, Says Drupal's Founder
Earlier this month I interviewed Dries Buytaert, the founder of Drupal and Acquia, at EvolveDrupal Toronto. He talked about the opportunities he sees for Drupal to leverage AI in the short, mid, and long term. 
Short-term
Dries spoke about immediate opportunities to use generative AI to help with content creation. He noted that Drupal already has a few solutions in this area, including the OpenAI module—which allows you to generate content with ChatGPT directly within the Drupal UI, as well as do things like auto generate taxonomy or translate your content into multiple languages. Dries also noted that there may be possibilities to automatically generate images or short videos.
Mid-term
In the medium term, Dries sees AI being used to help people navigate sites and search content. "I believe AI tools can help assist users with finding the information they're looking for. It can make it more accurate and also more intuitive to find the information." Dries noted that this is already becoming a reality with enterprise search tools.
Long-term
The longer term "is where it gets really interesting, but also unclear", says Dries. He believes there is potential for AI to become the new user interface for experience creation. Today, building engaging content still requires a fair amount of knowledge, skills, and clicking. But Dries predicts that in the future, users will be able to tell AI in human language to generate full pages and components in specific styles. 
"It will figure out what modules you need and maybe do the initial configuration. Then a  developer or a side builder can come in and fine tune it, because I'm sure it won't be perfect." 
"Maybe it's a big vision, but I think that's where we're going. I don't know exactly how we'll get there, but I do think that AI can be the ultimate user experience for a lot of people. That's why I think it's important for us to pay attention." 
Psst… want to attend talks like this in person? See our upcoming EvolveDrupal events!
What's Next for You? 3 Ways to Evolve With Drupal
If you're using Drupal, you're already part of a community that can help you leverage innovations—including AI tech—in a thoughtful and effective way. I think there are three ways that we can all proactively innovate with Drupal:
1. Build new things with Drupal
An example is my team's recent work with McGill University to create Data Homebase, the first web application of its kind in North America. It's revolutionizing the housing industry by standardizing circular housing data and using data visualization to champion sustainable homebuilding. 
2. Innovate alongside Drupal
Because of its composable nature, we can integrate adjacent innovative tools into our technology stack. We built the Bibliothèque et Archives nationales du Québec (BAnQ) website with Drupal as its CMS because of its ability to seamlessly integrate Acquia Cloud for hosting, Azure AD for employee logins, API-connected Drupal forms, and Google Custom Search. This allows archivists, researchers, and the public to take full advantage of the vast resources of one of Canada's most prominent cultural hubs. 
3. Improve Drupal itself
Our team regularly contributes to Drupal—for example, we recently helped convert Olivero components into Single Directory Components and proposed enhancements to LayoutBuilder at the EvolveDrupal Toronto summit. We encourage everyone to try their hand at contributing, no matter their skill level or background! Check out the Drupal AI Community Initiative to see what Drupal AI solutions have already been created and what projects are currently underway.