I recently returned from DrupalCon Pittsburgh 2023, where Dries Buytaert (the founder of Drupal) spoke about deliberately moving towards radical transformation—the kind that Drupal has experienced only a handful of times before. 
Wondering how a shift of this scale will affect you? Or how you can help shape it? This article provides key takeaways from the 2023 Drupal Con Pittsburgh Driesnote, along with my own insights on what it means for you. It's relevant for anyone who uses Drupal or is considering:
Drupal is Gearing Up For the Next Leap
Dries set out the Drupal Association's plans to accelerate innovation and allow Drupal to jump to the next "S-curve." 
An S-curve describes the adoption of a radical innovation over time. It starts slowly, led by early adopters. Momentum picks up as the masses catch on. Finally, the curve levels off sharply as adoption reaches saturation. After that, there's nowhere to go but to jump to the next S-curve.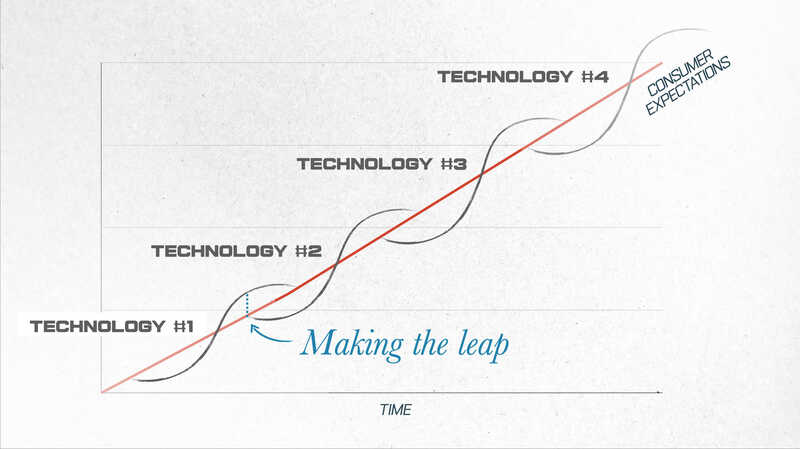 Moving from one radical innovation to the next requires a jump. Image credit: Driesnote 2023
The jump is necessary as it'll ensure Drupal stays valuable to its users. Nevertheless, taking the leap can be polarizing and scary. It means taking risks and leaving the familiar for the unknown. For example, the move from traditional TV to streaming platforms dealt a blow to advertisers as viewers can now skip ads. But the innovation was unstoppable, and the industry has had to adapt. 
Drupal has already successfully transitioned through a couple of previous S-curves. While we can't know what the next one will look like, the Drupal Association aims to facilitate it by harnessing the power of its community and empowering more people to innovate. 
So what does all this mean for you? Radical innovation will greatly benefit those using Drupal. It'll bring you more possibilities while helping you keep your digital presence relevant. In adapting to changes in Drupal, you're also adapting to changes that are happening in the broader digital world. For example, Drupal has made changes in order to be API-first, which has often required changing the content structure of the websites we build, but it has also led to the Drupal websites we build being more modern and easier to integrate with other systems
What's more, you have a licence to influence Drupal's future! The Drupal Association is making it easier than ever to get involved—learn more in the section below. 
Not currently using Drupal? It's worth considering whether your current CMS can keep up with the momentum of the digital ecosystem. Drupal has considerable advantages in its prevalence and community, which has contributed more than 50,000 modules to date.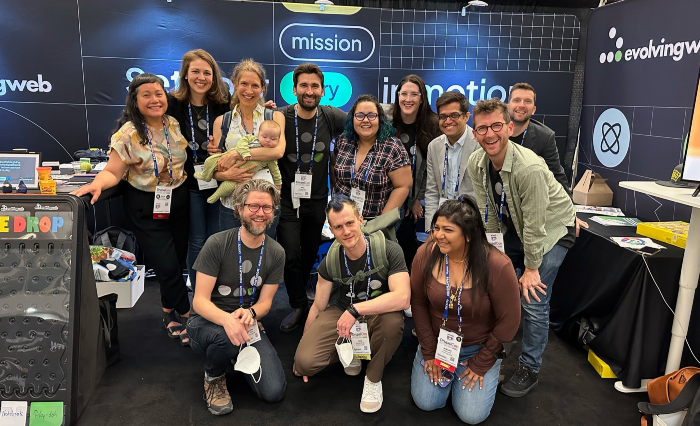 Evolving Web proudly sponsored DrupalCon Pittsburgh 2023 and sent 15 of our team members to the event.
Drupal Needs You (Yes, You!) to Push Innovation
The 2023 Driesnote identified four factors that are needed to make the next S-curve jump happen. Below, I've summarized each factor and explained how you can make a difference. 
1. Purpose and vision 
Drupal already has a clear purpose: to be a public good that enables the open web and makes it accessible, safe, and secure for all. 
This mission compels people to contribute to Drupal and shapes the direction of their contributions. A great example is Olivero, Drupal 10's default front-end theme. The idea began in a hotel lobby at DrupalCon Seattle 2019 and evolved into a Drupal core initiative. Olivero reflects Drupal's commitment to accessibility: it's WCAG Level AA compliant and named after Rachel Olivero, a lauded accessibility expert. 
Could you influence the direction of contributions like Olivero? As laid out in the Open Web Manifesto, Drupal is an open source software, anyone can download, use, work on, and share. Contributions from the community are encouraged. The third principle of the Drupal Values and Principles is to foster a learning environment because every individual can make a difference, which brings us to our next factor.
2. An individual 
Dries pointed out that the next S-curve is unlikely to be started by an "innovation council". Radical innovation is grassroots, often starting with a single person or very small group of people. 
Dries gave the example of Oskar Barnack, who invented the first commercially successful 35mm analogue camera. Oskar initially built the portable camera for himself, as he couldn't lift heavy glass plate cameras due to a health condition. Oskar was able to commercialize his invention thanks to support from his manager—a crucial aspect that leads us to the next factor.
3. A supportive environment 
It only takes one idea to generate an S-curve, but the vast majority don't. There may be a thousand ideas or more ideas before one shifts the paradigm. Which is why the Drupal Association aims to encourage as many people as possible to create, share, and experiment. 
Drupal already has a fantastic environment for fostering innovation. Its open source licence means that anyone can inspect, use, and modify Drupal, and share their modifications. This means that Drupal's direction is largely driven by the community's needs and interests. A great example is the openai_ckeditor module, which was contributed by Kevin Quillen. Kevin's interest in AI led him to create the module, which allows users to run ChatGPT commands directly within CKEditor 5 (Drupal 10's default WYSIWYG editor.) 
More than 10,000 people are actively contributing to Drupal. Anyone can get involved—including project managers, writers, designers, marketers, bug reporters, QA testers, front-end and back-end developers, and more.
There's lots of existing support for contributors, including: 
But it doesn't stop there. Dries identified two key ways to increase contributions to Drupal:
Making Drupal even more attractive. Drupal needs to be so compelling that everyone wants to innovate on it. This means continuing to deliver great new features and soliciting feedback from the Drupal community. Dries himself mentioned at DrupalCon Pittsburgh that he has never seen a minor release like Drupal 10.1 with so many new innovations. Switching to Drupal 10 can really help to unlock some revolutionary features resulting from the continuous innovation of Drupal. 
Removing friction from the innovation process. For example, the Gitlab Acceleration Initiative aims to streamline Drupal's process for contributing code. It has already made great progress and is looking for strategic partners to support the ongoing work. 
4. Time to grow
Generating an S-curve won't happen overnight. In the meantime, the Drupal Association is ramping up its efforts to highlight great innovations and nurture the best ideas. 
Project Browser gives new and niche modules more visibility than ever before. This new tool lets people search, filter, and review Drupal's entire repository of contributed modules from within the admin UI. In the future, Project Browser may have additional functionality that allows relevant modules to be 'featured'—much like apps in an app store.
Drupal Recipes will also bring innovation to more Drupal users. It aims to share a collection of site-building recipes for core and contributed modules. Recipes will make it easier for site owners, managers, and builders to leverage the full power of Drupal. 
Finally, recognition and philanthropy will go a long way to nurturing innovation and promoting contribution. The DrupalCon Pittsburgh Driesnote ended with the Pitch-burgh Innovation Contest, where a total of $108,000 in funding was awarded to six winning pitches.
The Drupal community has long shared the saying, "The drop is always moving," which celebrates a commitment to embrace change.
Be Part of Drupal's Innovative Future 
I hope this article has inspired you in some way—whether that means switching to Drupal, upgrading to Drupal 10, or becoming a contributor. 
If you have questions we can help. Our digital agency is a Drupal Certified Platinum Partner and deeply rooted in the open source community. Get in touch today.