We're thrilled to have been name the winner of the  "Most Impactful Fusion Teams Experience" category in the 2023 Acquia Engage Awards for our work on the BAnQ website! 
The Engage Awards are held annually to celebrate the best digital experiences created by Acquia's customers and partners. The 2023 winners were announced at Acquia Engage in Boston on November 14–15. 
There were 26 categories this year. "Most Impactful Fusion Team Experience" is awarded to a cross-functional team that's shown excellence in creating flexible, open solutions to overhaul the user experience. 
Acquia selected us as a winner for our outstanding collaboration with Bibliothèque et Archives nationales du Québec (BAnQ). We partnered with this prominent cultural institution to create a more user-centric website that drives BAnQ's mission to democratize knowledge. 
Our work resulted in a 15% boost in the number of BAnQ's website users, a 56% increase in pageviews per session, and a drastic 71% reduction in the bounce rate!
Read on to see how our multidisciplinary team—including creatives, developers, strategists, and project managers—leveraged Drupal and Acquia Cloud Platform to achieve impressive results. 
Connecting the Public with Culture and Knowledge
BAnQ is a Québec state-owned enterprise that strives to gather and preserve documents published in Quebec and important Quebec historical archives, as well as promoting democratic access to culture and knowledge. The institution offers its services online and in 12 public facilities in Québec including the National Library, the National Archives, and the Grande Bibliothèque (Great Library)— (the largest French-speaking library in North America). 
BAnQ approached us with the goal of improving its digital experience for a diverse audience. It wanted to empower researchers and the general public to fully benefit from the rich cultural resources and knowledge materials that are available to them. 
We set out to build a revamped website Drupal 9 and deploy it on Acquia Cloud.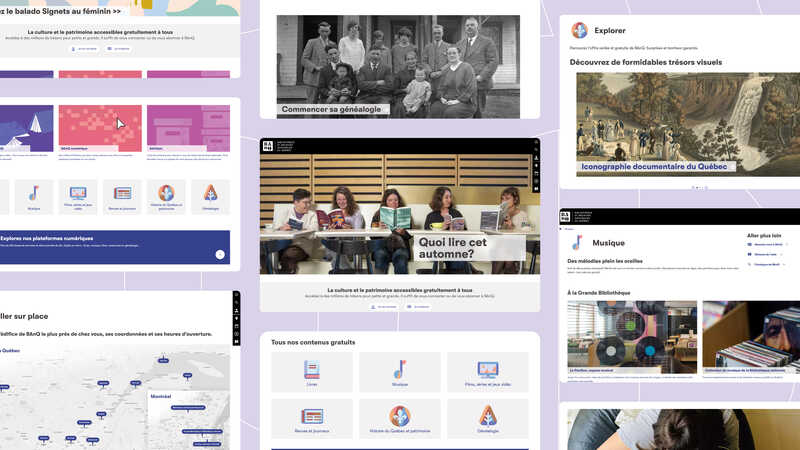 Keeping Collaboration at the Forefront
As a digital agency with deep roots in open source, we believe collaboration is at the heart of our success. Our team worked closely with BAnQ from kickoff to launch and beyond. 
We began by holding a general discovery workshop where we reviewed the pre-existing UX work, explored the client's content workflow needs, and brought the project requirements inline with the technical scope. Then we conducted technical discovery workshops to identify integration points and infrastructure needs for authentication. 
We collaborated closely with the BAnQ technical and design teams, defining clear roles and responsibilities. We also fostered their digital independence through training on content entry, SEO, and governance best practices. This empowered BAnQ to take over ownership post-launch and continue to build high-quality content.
Giving BAnQ the Power to Create 
We transformed the website admin UI to allow BAnQ's staff to curate and update content easily and often. Our team developed 17 custom components and 14 content types in Layout Builder. We then enabled Layout Builder for content editors so they can create flexible, engaging, and visually appealing layouts. We also integrated a sustainable workflow for content creation and site management. The BAnQ team can now manage and deploy content quickly and sustainably as a result.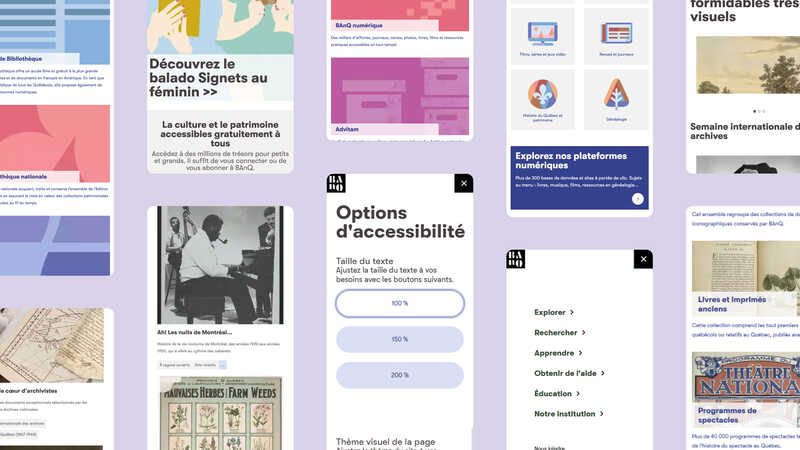 Opening Access to a Wider Audience
Our team vastly improved the accessibility, searchability, and navigability of BanQ's website. We integrated accessibility tools and WCAG-compliant features—including an accessibility widget that allows users to easily adjust the text size, customize colors and contrast, and select default captions for videos. We also overhauled the information architecture and search functionality to empower users to easily navigate the site and find what they're looking for quickly.
Leveraging Acquia Cloud Platform
As well as migrating BAnQ's website from dotCMS to Drupal 9, we moved it from on-premise hosting to Acquia cloud hosting. This means that the client no longer had to maintain servers. It also allowed us to leverage Acquia GFS storage to accommodate certain modules—such as Plupload, which required access to the temporary folder on both hosts at the same time. 
We were able to ship features faster, and with confidence, thanks to continuous integration and regular deployments through Acquia's development, QA, staging and production environments. It also enabled us to copy the production database to any environment for testing, which was a major time saver.
As a longstanding partner of Acquia, we recognize the powerful support it provides to our clients—from refined hosting environments, to global support and expertise, to transforming the user experience through enhanced customer journeys and personalization. Acquia is also the only open-source digital experience platform on the market today, and the only one designed solely for Drupal.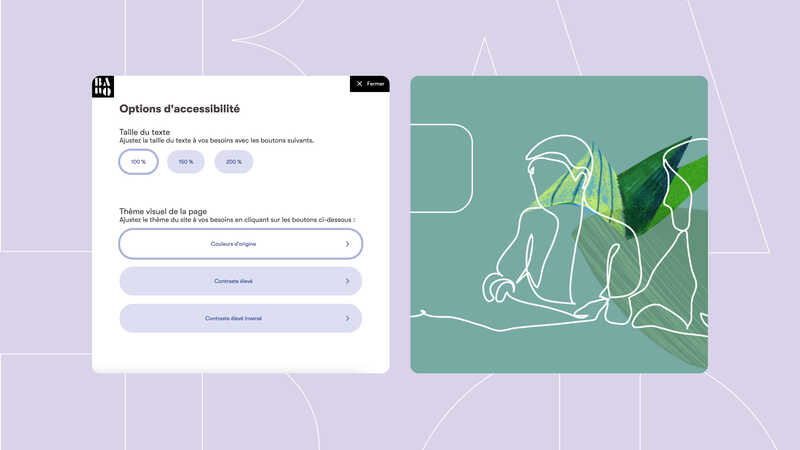 A Million Views Per Month
The new BAnQ website is visually engaging, easy to navigate, accessible, and built for growth. It promises to facilitate democratic access to knowledge and highlight the cultural richness of the institution for years to come. Powered by Drupal and Acquia Cloud Platform, the new site sees an average of more than 350,000 visits and one million views per month. 
See the full BAnQ case study here.