Work from home is here to stay, even in a post-pandemic world. When COVID made companies figure out new processes to deal with remote operations, it uncovered new ways of staying productive and balancing work and life effectively. The result is that, while offices are reopening, many businesses are giving their workforce the option of being remote for part of the week or even going WFH indefinitely.
We at Evolving Web have WFH in our DNA. Most of our staff is thousands of miles away from our offices, working seamlessly with other teams and clients to deliver top-notch results. To achieve that, we resort to a few tools for remote teams that keep everyone connected, engaged, and integrated into projects and organization culture. Wondering what these are? Let's check some of our team's favourite work-from-home tools.
A quick note about app integration
Before getting into our specific tools, we should stress that one thing that makes remote collaboration more intuitive is good integration between apps. Like many organizations, Zoom and Slack are our communication workhorses. By selecting a suite of tools that integrate with our core communication apps, we created a workflow and collaboration platform that replaces passive "show-and-tell" with hands-on engagement across internal and client teams.
Figma
The days of flat mockups and abstract wireframes are over. Figma is an incredibly powerful, collaborative design tool for designing websites, components, and apps. It produces vector-based graphics for tiny file sizes and infinitely scalable assets and has inspired a large ecosystem of templates and plugins.
Using Figma, our teams and clients can work together remotely in real time to brainstorm, plan, adjust designs, provide and collect feedback, and demonstrate user experience. As designs evolve, Figma supports creating design systems and component libraries to help keep things structured and consistent. And when a design is ready, there are customizable options for exporting code information to hand off to developers for faster integration into apps and themes.
Miro
We've talked about Miro before, in our Guide to Remote Working from last spring. Now let's get back to it to provide you with more details.
Miro is another collaboration tool that simulates organic, in-person collaboration—and integrates nicely with Figma. It features digital sticky notes and whiteboards, allowing for freestyle doodles or a wide range of templated diagramming to accommodate your team's preferred brainstorming style.
Assets can be linked and added to projects in Miro, tying together everyone's contributions and organizing them in context. Along with Figma, Miro integrates smoothly with other vital tools like Zoom, Jira, Slack, Google apps, Airtable, and Adobe Creative Suite.
At Evolving Web, we've found Miro to be an invaluable tool for remote UX workshops. The format keeps clients engaged and interacting, and feedback has been extremely positive.
Make your next meeting a Miro + @Zoom meeting.

Jump on a board, share ideas, solve problems, and bring the team together. No tool toggling required. 🙌

Learn more: https://t.co/OucT02HV7k pic.twitter.com/PBxdgR8xyz

— Miro (@MiroHQ) July 26, 2021
Otter
Speech-to-text software has been around for a long time, with varying degrees of transcription quality and usefulness. So, when we work from home and tons of things happen in video calls and written messages, a good dictation tool can be a huge timesaver.
Otter is an Evolving Web favourite in this category. In video calls, it offers live-streaming transcription with speaker ID attribution, and notes are searchable with relevant text, audio, keywords, and even images. In addition, Otter features smart technology that can learn to recognize voices and specialized vocabulary, and, of course, it integrates with Zoom and other common calling tools.
Slack
You know Slack, of course. At its most basic, it works as a pretty straightforward chat-based application. However, Slack is packed with features that can make your workday run more smoothly. Here are a few quick tips to make the best out of Slack:
Break up conversations into project channels and private group chats to better organize your team interactions.
Schedule reminders and find frequently sought information quickly with easy-to-create Slackbots.
Use the Do Not Disturb mode to keep distractions away from your deep work—or, for geographically spread-out teams, from sleeping time.
Automatically set your Slack status by syncing the app with your Google calendar.
Don't forget to have some fun! At Evolving Web, we keep a #random channel just for goofing off and sharing personal hobbies, etc.
Get closer to colleagues with Donuts, an app that matches people across teams randomly for virtual watercooler chats, peer mentorship, and more.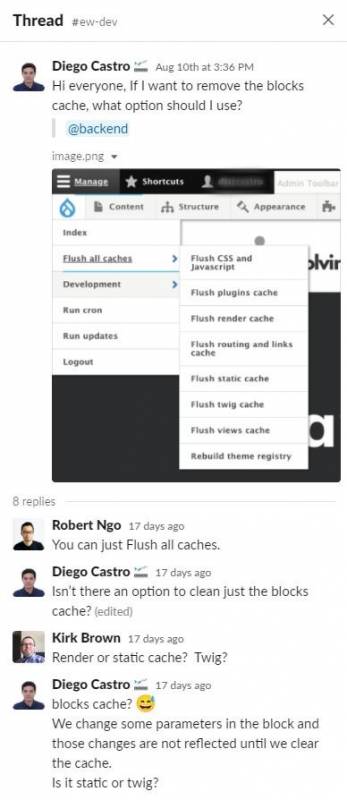 Zoom
Last but far from the least, we come to Zoom. It's been around since 2011, but it became a true icon of the COVID pandemic when work and school suddenly went remote. Like Slack, Zoom is conceptually straightforward since... well, it's video calling. But there are tools and features that you can use to get more out of it and have a better connection with your teams:
Clean up your calls with Krisp, a standalone app that uses AI to remove background noise like barking dogs, typing, or other household members from both ends of a call.
Set a virtual background to add a dash of professionalism or personality to our little box on the screen and, more importantly, to preserve privacy in small or shared spaces. Check out this list of free sources for high-quality Zoom backgrounds.
Use breakout rooms to break up large meetings into smaller group discussions and then bring everyone back to regroup.
Use screen sharing and desktop control for smoother demonstration, troubleshooting, and collaboration.
Take advantage of integration with a long list of popular applications, like the other ones we've talked about above.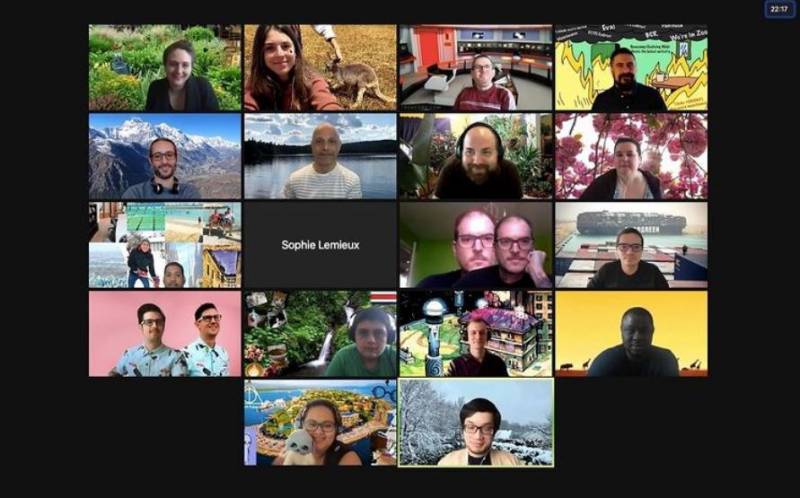 Excellent Tools for Excellent Results
Surely, remote work could be a harrowing prospect for some at the beginning of the pandemic, when all seemed like uncharted territory. However, the work-from-home tools we presented here are proven solutions for many roadblocks you might find, like side distractions, less-than-ideal workspaces, or difficulties integrating teams.
These remote collaboration tools were fundamental in some of our mid-pandemic achievements. One was reimagining the Pierre Elliott Trudeau Foundation's digital presence, with a complete website redesign and information architecture revamp that attracted more members. Or the digital rebranding of Sollio Cooperative Group, implemented across desktop, tablet, and mobile channels to provide corporate and intranet users with a seamless online experience.
In addition, these tools for remote teams enabled us to keep our training program up and running during the pandemic. Before COVID, our courses were mainly presential, but with the lockdown, Zoom made it possible to conference with our trainees through high-quality live video. We also have a dedicated Slack workspace for our trainee community, where they can ask questions, ping trainers, and get support before, during and after the courses.
In both cases, we at Evolving Web were able to rethink our approach and pivot at the right time to deliver outstanding results, despite the disruptions caused by the virus. This is at the reach of anyone working from home now or in the future. Picking the right tools and leveraging them to the max is certainly a huge step to get there.