With 2023 already well underway, the race is on for marketing teams to ensure they have Google Analytics 4 in place by the end of June. With the old UA sunsetting on July 1st, there is a pressing need for organizations to validate that the right metrics are tracked and continue to collect the data needed to inform their digital strategies. 
And Google Analytics 4 isn't the only change on the horizon. 
With Google's plans to phase out third-party cookies from Chrome in 2024, a 'cookieless future' is another hot topic in the industry. 
While this may be a huge change in the advertising industry, it is a great opportunity for brands to rethink how they interact with their audiences. Chrome currently represents more than 60% of the browser market share. That's 60% of global web traffic forecasted to go cookieless in the near future. 
In this article, we'll cover what a cookieless future means for organizations and how to keep marketing strategies relevant without the level of personalization currently enabled by third-party cookies. 
What Are Cookies? And What Are They Used For?
When we say 'cookieless future', we mean a reality where companies are not able to track your activities online unless you consent. 
But what are cookies, anyway? Cookies are small snippets of text sent to your browser by a website you visit. They help a website remember information about your visit, keep you logged in, or know your language preferences.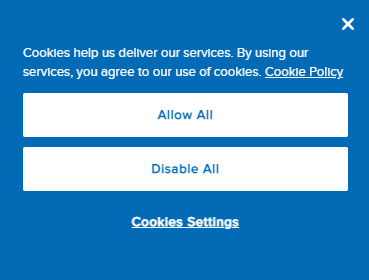 Cookie settings pop-up, prompting the reader to allow or disable.
Sounds like a good thing from a user experience perspective, right? Not always. 
Good Cookies vs Bad Cookies
How do you tell the difference? Let's use a culinary analogy since we're talking about cookies. 
You know how there are good and bad fats? First-party cookies are like good fats that your brain needs to function properly. Site owners use website cookies to maintain sessions, remember what's in a cart, etc. 
Bad fats, however, can be the cause of cardiovascular disease and other conditions. In the digital world, intrusive third-party cookies behave like bad fats, and in this case, threaten consumer privacy.
How? Third-party cookies can mask privacy concerns because they are often delivered without consumer consent. In addition, some cookies follow you from one site to the next, allowing third-party organizations you have yet to share your data with to track where you go online.
The Road to Data Privacy
To encourage a more responsible and transparent management of personal information by public bodies and businesses, governments are setting new frameworks and implementing new laws to protect consumers' rights to privacy. The Government of Quebec, for example, introduced Bill 64, a modernized framework applicable to the protection of personal information. Some of the Bill 64 provisions are already in effect since September 2022.
"76% of consumers report being frustrated when brands suddenly appear to market to them because they searched online about the brand or a similar one." Acquia CX Trends Report, 2022
Tech companies are also tackling this issue. Apple took action to protect its users' privacy by introducing the IOS 14 update. And Google followed this trend by announcing its plans to remove third-party cookies from Google Chrome.

"83% believe their data will be more private when web browsers phase out tracking cookies."  Acquia CX trends Report, 2022
Today, the tech giant even offers an add-on to help visitors control what data Google Analytics tracks when they browse the internet.

In a previous blog post, we covered how Google addressed the growing concern over data privacy by sunsetting Universal Analytics (UA) to give place to Google Analytics 4 (GA4). GA4 is a new and improved tool for collecting data from websites and apps, including privacy controls such as cookieless measurement. 
Starting July 1st, standard Universal Analytics properties will no longer process data. So remember to export your historical reports before then. Check out this Google guide if you need help determining which version your organization uses.
More Tips on Getting Ready for Google Analytics 4
Coming Up With A First-Party Data Strategy
To keep offering personalized content to audiences, organizations must figure out a better way to segment their customers and understand topics of interest, their preferred channels and the purchases they've made. Your organization could: 
Set up a lead generation strategy and capture opt-in emails to enrich your customer database 
Send out surveys to learn about your audience's needs
If you use Drupal to power your website, start looking into tools like Acquia Personalization to enable teams to design personalized experiences across multiple channels based on customer data explicitly shared with you
Take advantage of walled gardens (walled gardens are tech giants like Google and Facebook that provide segmentation for businesses buying ads on their platforms)
Be transparent about how your organization uses cookies
For site owners, start looking into cookie alternatives such as first-party data like permanent web IDs and tools like Google's Privacy Sandbox.
Personalization In The Era Of Little To No Cookies
Not too long ago, we saw how content creators who've spent years building an audience on Twitter panicked as Elon Musk took the reigns of the social media company. With rumours that the company might shut down, most started asking their community to subscribe to their newsletter. Why? Many use Twitter as their only channel to sell products, communicate, and engage with their communities. 
You can see how this is risky. Relying on social media platforms or any other third-party tool as your only channel to reach your community is the same as depending on third-party cookies to know your customers' preferences. Social media platforms can be a great tool to broaden your audience and reach new people. But the priority must and should always be your own channels. 
We Can Help
Today's consumers demand more transparency from brands about managing their data. They also expect a personalized and intuitive digital experience. Organizations' ability to build consumers' confidence will be critical for success as effective personalization will depend on the data customers care to share.
If you're interested in offering personalized content without third-party cookies, our marketing team can help you set up a solid first-party data strategy. Look at our content strategy and SEO services to learn more about how we can work with you.