Search Engine Optimization (SEO) is the art of positioning your website in top results when users search for keywords linked to your business. SEO helps increase website visibility and is crucial to any good digital marketing strategy. In this blog, we will explore a few SEO techniques and share tips on how mastering the art of writing for the web is key to reaching the right audiences.
Why is SEO important for your Higher Education website?
When looking for information, 91% of users do not go past the first page of Google's results. It's not different for potential students. When searching on the internet for "engineering programs in Canada" or "best higher education institutions in North America" they will only look at the first results. With that in mind, it is easy to understand the importance of appearing on page one of Google's results. It is every marketer's dream to achieve this.

Let's say the first goal of your higher education admission website is to attract traffic and be seen by potential students in a highly competitive market. Implementing an SEO strategy is one of the best methods to drive traffic to your website in the long run compared to spending money on ads, which will only work for a certain period. Plus, SEO also helps you improve the user experience, and gives your overall website visibility on the internet in the long term.
In short, SEO helps attract the right audience to your website which means more opportunities to increase admissions. It's also a valuable tool for brand awareness, building relationships, and positioning yourself as an authoritative and trustworthy higher education institution.
Here's everything you need to know about how SEO strategies and why it's vital to succeed in today's digital world.
SEO goals and solving problems
The main goal of SEO is to solve problems users are facing.
Potential students have specific needs when they look for higher education institutions online. They might be asking themselves which course or degree is right for them or which school, college or university to choose. The right SEO strategy will help you get seen and maybe picked among other universities.
In North America, there are 1893 recognized higher education institutions. Your strategy will help your school stand out from the masses, increase the visibility to the right audience and even help some students find programs they didn't know existed.


I like to take an example of a grocery store to explain why it is important to be on the top in queries in a competitive market.
If you are looking to purchase a product, and the store has 20 different brands for the same product, which one are you looking at first? The one right in front of you. It is the same thing online. When you type a keyword on a search engine, the first thing you see is the websites listed on the top and 70 % of people click on the top 5 websites.
👩‍💻 Read More: Building Awareness and Reputation for Your Admissions Website
More visibility, more admissions
It is not a secret that the more visibility your website has, the more chances you have to increase applications. Now let's look at 4 ways to increase your visibility on search engines.
1. Optimize and improve your technical SEO
Search engines have hundreds of ranking factors helping them understand your content and thus display it in response to the right queries. By optimizing your website and servers to be easily crawlable by search engines, your website will tend to rank higher.
2. Keywords and search intent
Your content should answer the searcher's questions. To drive the right audience to your website, you need to carefully pick keywords that reflect the mindset of searchers. What are users searching for by typing a specific query? Analyzing the search intent is key to your strategy, knowing what students are looking for and how the information should be displayed must be your top priority.
3. Craft your content strategy
Once you've identified the search intent, you can select and work on the content, a key component of your strategy.
I always like to say, you can have the most beautiful and optimized website, with the right keywords and search intent, but without high-quality content, your website will fail to help you achieve your admissions goals.
Let's take an example. When building the new OCAD admissions website, we sat down with the admissions team to understand their needs and goals. As result, we rolled out a content strategy that included suggestions for topics to highlight. These topics all support the most commonly searched queries. The SEO and Google Analytics strategy resulted in a 21% increase in visitors and a 15% increase in applicants, after the website launch in September 2021.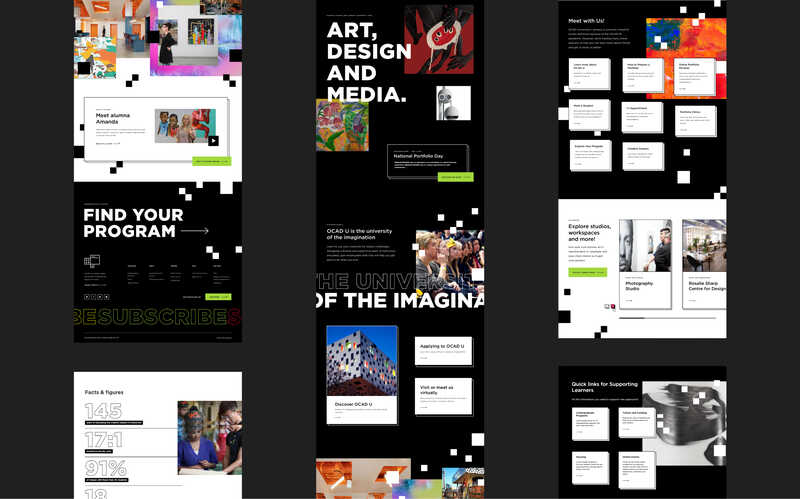 👩‍💻 Read our case study: A Student-Centric, Boldly Designed Admissions Website
4. Understand your data
When Google Analytics and Google Tag Manager are correctly installed and configured to track your admission website goals, you can have a clear picture of the pathways that lead to key events (clicks, form submissions) to make more nuanced decisions for your website.
Understanding how users interact with your website will help optimize the UX and your funnel, which are important ranking factors.
By reviewing your analytics and using tools like Google Search Console, you can identify the most valuable content for visitors interested in applying to your school. These data are crucial to improving your SEO strategy. Having the ability to know which content is performing the best will help you understand the user mindset and implement an efficient strategy.
In our work with the OCAD admission website, we first reviewed analytics of the university's main website to identify valuable keywords and content. Our improvements to the analytics implementation resulted in better tracking of CRM interactions via a centralized analytics dashboard.
We also identified relevant KPIs as part of our initial strategy work and set up events in Google Tag Manager to make recommendations leading, not only to SEO optimization but also to identifying effective content types, social media campaigns, and landing pages to improve those KPIs.
👩‍💻 Read More: Getting Ready for Google Analytics 4
SEO improves your paid campaigns
If you are running campaigns with Google Adwords, you already know that advertisement on higher education keywords is a non-negligible marketing cost. An appropriate SEO strategy will help you drastically reduce your campaign cost or at least allow you to allocate your budget to the most competitive keywords.
If your website is already ranking at the top for a particular keyword and receiving qualified traffic, you won't need to spend money on the same keyword. In some cases though, if the keyword has a high conversion rate, is highly competitive and is strategic for your business, keeping some budget behind it might be the right decision.
SEO is a long-term investment
SEO is an art to be mastered and something to invest in in the long term. Using shortcuts or unethical tactics to increase a site or page's rank can hurt your website and your marketing efforts. At Evolving Web, we advocate for approved search engine optimization tactics to ensure that your website remains in top positions in search engines in the long run.