At Evolving Web, we love getting people excited about using Drupal. If you know someone who's about to take their first steps with our favourite open-source CMS, we want to help you help them get started!
Our newest ebook is the perfect introduction to what Drupal is all about and what you can build with it, complete with a practical glossary and a list of essential resources to learn more. We also have a ton of videos, articles, and other content you can share with your favourite Drupal beginners—plus some tips on in-depth training. Here's an overview.
Why did we put together our Get started with Drupal guide?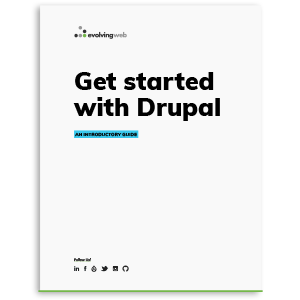 There are lots of great Drupal resources out there, and ours certainly isn't the only beginner's guide around. However, we really did our best to make our Get started with Drupal ebook as straightforward and value-dense as possible.
The guide was originally created as a supplement to the Getting the most out of Drupal session hosted by our co-founder Suzanne during MidCamp 2021, and it stands alone as a practical and accessible Drupal 101 that covers all the essentials.
---
---
Who is it for?
Get started with Drupal is an ideal starting point for virtually anyone who wants to, well, get started with Drupal—even people with no development experience.
If your organization is looking to adopt Drupal, for example, your developers aren't the only ones who'll be affected—web managers, marketers, content creators and more should all have a good understanding of the system's basics.
What's inside?
Get started with Drupal introduces all the key concepts and terms required to start building a deeper understanding of Drupal.
Here are the book's main sections:
Why not build a website from scratch? A quick intro to the concept of content management systems and the balancing act between flexibility and ease of use.
Drupal 101. This section should definitively answer the "what is Drupal, anyway?" question.
Overview of Drupal functionality. A look at the real-life things you can do with Drupal.
Key Drupal terminology. The essential dictionary of Drupal: all the niche terms you'll come across when reading about the system.
Planning your Drupal project. Tips and best practices to set yourself up for success before you start to use Drupal on your live site, including a role-based list of skills your team will need to succeed.
Adopting Drupal. Valuable lessons we've learned over the years by helping organizations use Drupal to its full potential. 
Resources. Some fodder for your bookmarks folder. 
What if we need more in-depth training?
We can help with that, too! One of our biggest missions at Evolving Web is to empower teams who work with Drupal, and one of the ways we accomplish this is by sharing our knowledge with the community.
First, be sure to check out our Resources page, where you'll find our growing library of on-demand webinars, ebooks, white papers, and more. Next, there's also our blog (and one of our side projects, the Drupal feed aggregator Drupal Sun) and, if you prefer watching your Drupal content, our YouTube channel.
Paid training
Sometimes self-directed learning has its limits. If you're looking for a more structured curriculum, take a look at our upcoming courses.
Our Drupal training programs combine live online learning and office hours with take-home exercises you can do at your own pace. Plus, completing one of our courses gives you an official Evolving Web Learn Drupal certification to officialize your new skills. 
Share your Drupal journey with us!
If you've successfully introduced someone to Drupal—with or without our handy beginner's guide—we'd love to hear from you. Send us a tweet @EvolvingWeb!