Overview
In this project, the University of Washington partnered with Evolving Web for a consultation on content strategy and the redesign of the College of Education's Drupal website. After conducting research with stakeholders and active students, our design team developed a more streamlined way to organize and present content.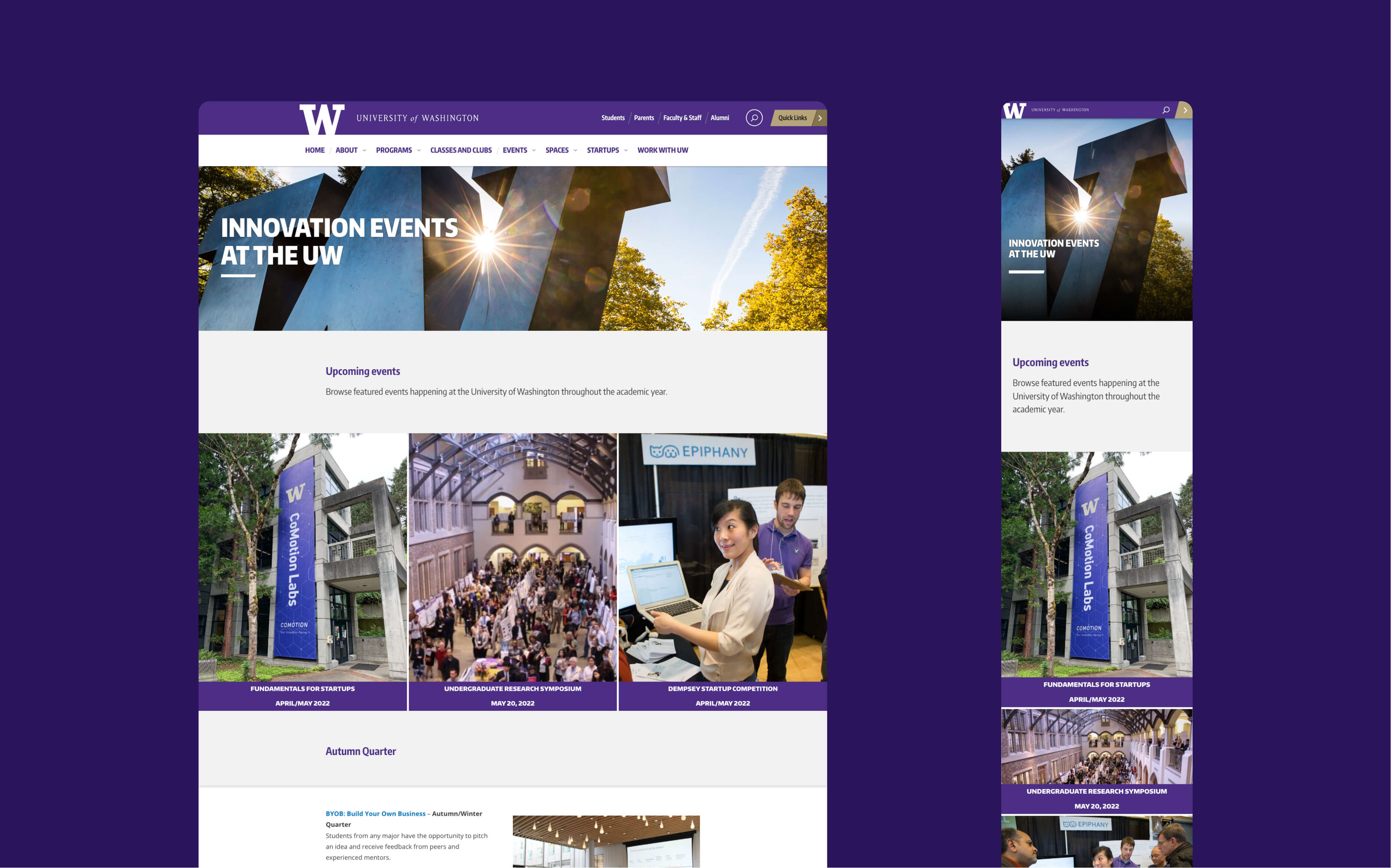 About the client
The University of Washington (UW) is one of the world's preeminent public universities with over 54,000 students enrolled annually. The College of Education at UW is deeply committed to preparing their future teachers to collaborate with poverty-impacted, culturally diverse schools to solve real-world challenges in education.
Delivering on this promise of diversity and community action, the College fosters over 300 partnerships with schools, non-profits, and communities, and 54% of their student population are of color or are international students.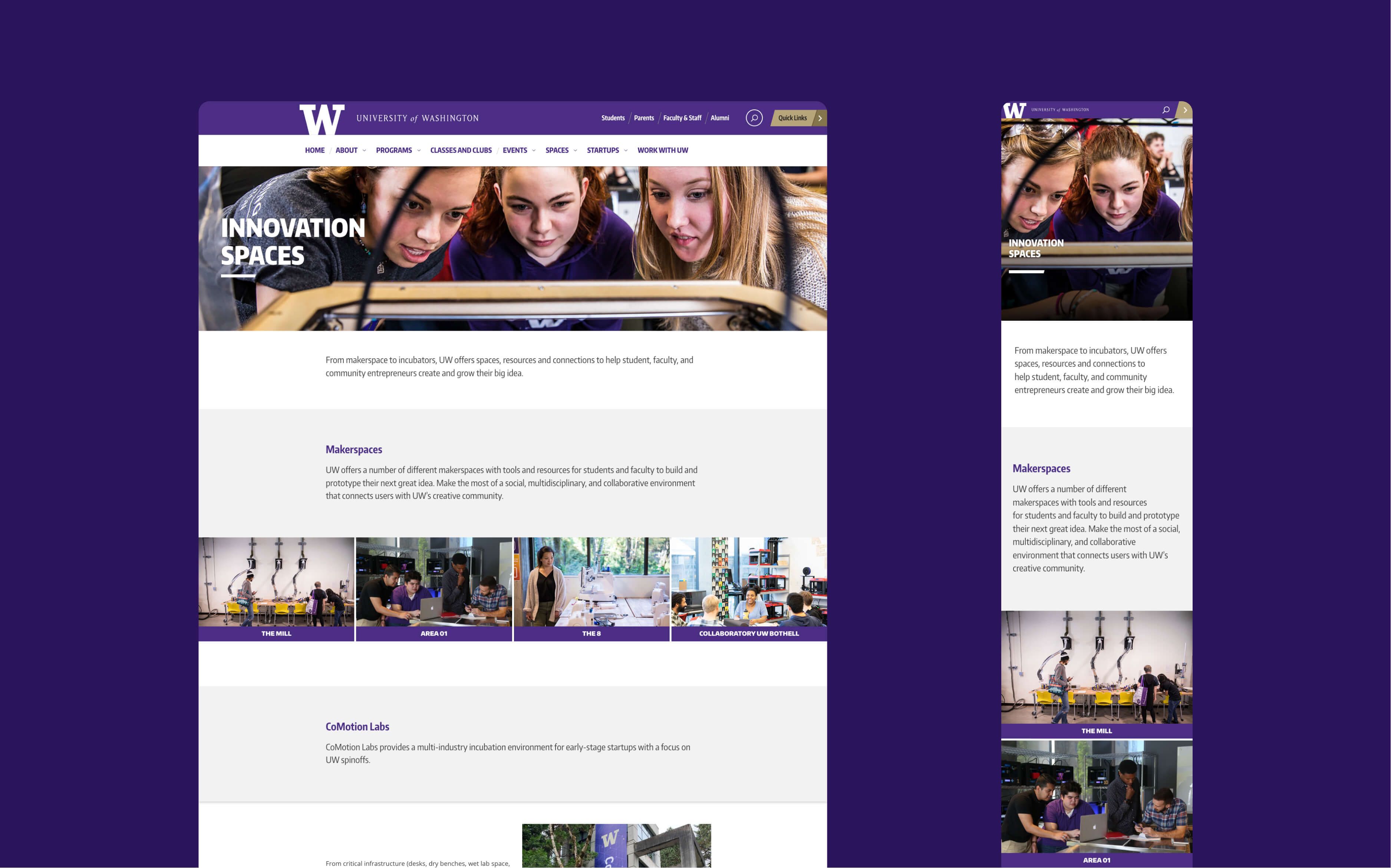 Goals
The College of Education's primary goal was to communicate their mission of transforming inequitable systems of education and to build awareness around the variety of their programs available. Our mandate was to conduct an extensive discovery process of the site's usability and to translate those insights into a redesign that is more user-focused and consistent with UW's larger brand strategy.
The website aims to build awareness around the College of Education's values and the variety of programs which lead to careers in education, beyond teaching positions.
By reconfiguring the search experience and content infrastructure on the website, the redesign:
Enables students to make an informed choice about the most suitable program for their career goals
Eases the pre-application process for prospective students
Spotlights access to information about funding opportunities
Improves the consistency of branding and information across the CoE programs
Increases engagement with content that is tailored to their diverse student population, like upcoming events, enrolment dates, and important announcements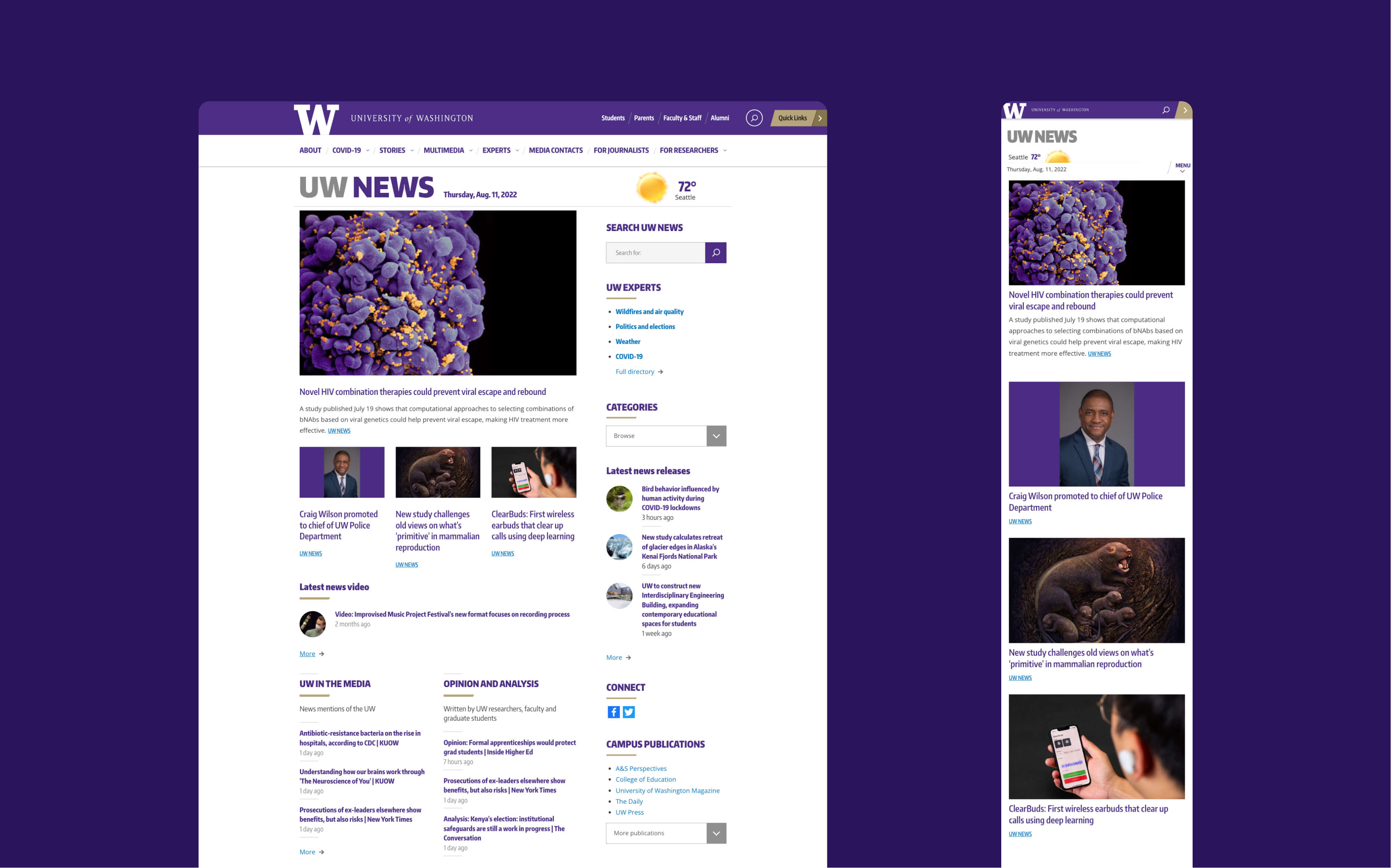 Challenges
The University of Washington's College of Education hosts thousands of students with diverse backgrounds and interests, and their website's content ecosystem reflects both the volume and variety of their students' active learning experiences. In order to highlight and feature their content and offerings in an accessible and engaging way, the main challenge was to redesign the site and its search experience by creating a fluid and intuitive journey for their different audiences including graduate, undergraduate, continuing education, international, and prospective students.
In addition to preparing future teachers to enter the workforce, there are over 32 different programs in the College of Education that prepare students for all kinds of careers within the Education field. The wide range of career preparation offerings adds the challenge of communicating the step-by-step requirements and expectations within each program of study.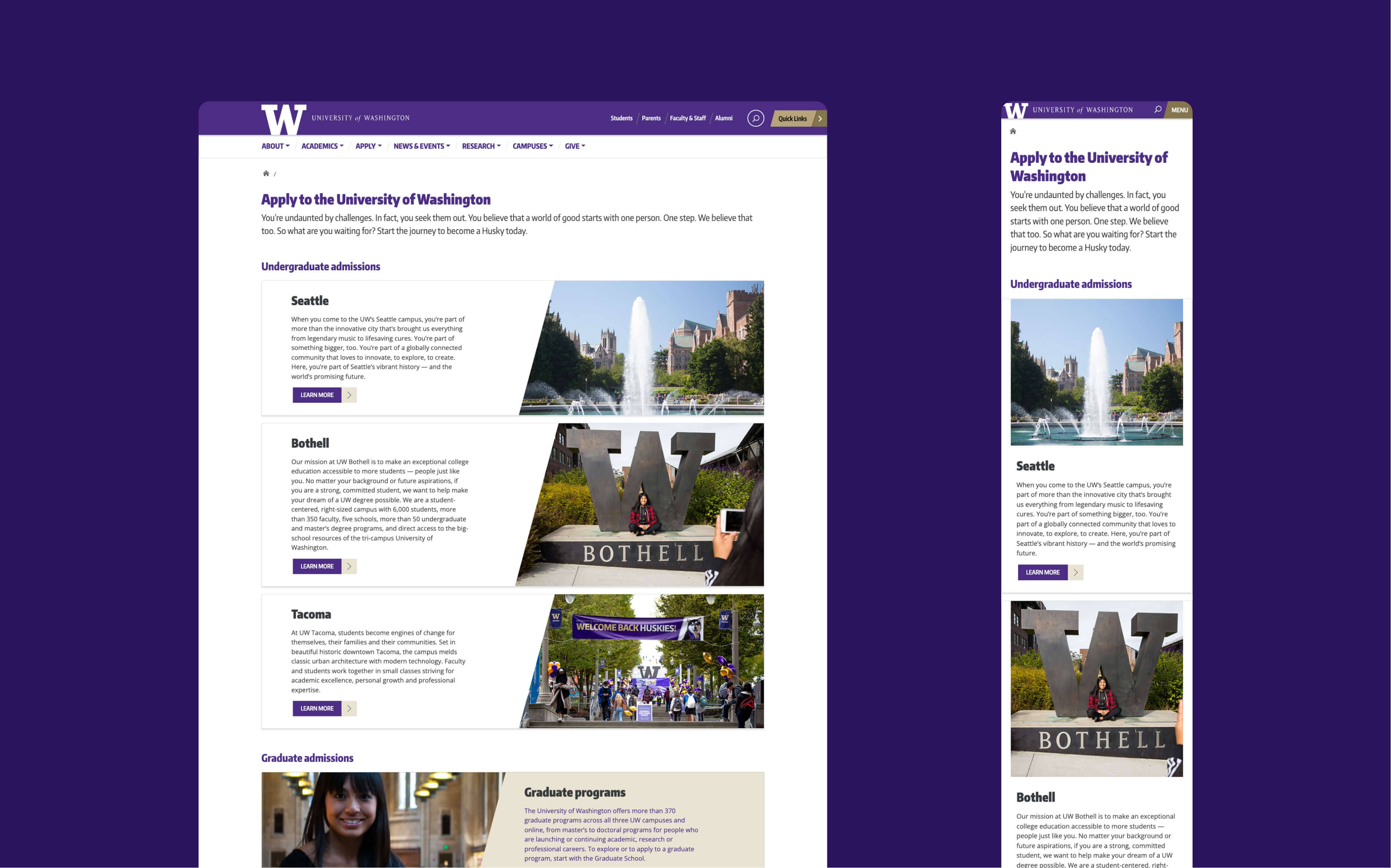 Solutions
To help the College of Education achieve their goals, we began with an extensive discovery phase to understand how their website's audiences could benefit the most from a content redesign that catered to their needs. Then, we created a new sitemap and wireframe prototypes that are plug-and-go and compatible with their Drupal-based website. Finally, we made sure to set their content managers up for success by providing recommendations and best practices for content strategy and governance to ensure a well-maintained and user-focused website.
Our work included:
Facilitating an extensive discovery phase including stakeholder interviews, questionnaires, user journey workshops, benchmarking, and drafting wireframes
Developing a strong brand strategy to emphasize the CoE's vision and added value on their homepage
Creating a new sitemap to reorganize UW's pages and content that is clear, findable by keyword suggestions, and relevant to the diversity of available programs
Launching audience landing pages that are specific to different user journeys in a "For You" sub-menu  
Implementing an action-oriented navigation by using hub pages instead of navigation sub-menus that guide potential students to their next steps
Overhauling the search-and-filter process for program offerings by showcasing careers in Education as a starting point to inspire prospective students to understand which pathways are the best fit for them
Enabling content consistency by creating a program page template that is customizable yet recognizable for prospective students
Easing the pre-application process by creating a one-stop page with general information like checklists, timelines, deadlines, and upcoming information sessions
Highlighting upcoming events by creating an event banner on the Homepage and showcasing events that relevant to specific programs on their pages
Designing prototypes and high-level wireframes that are compatible with Drupal and ready for deployment by UW's content staff
Providing UX best practices and recommendations to maintain effective content creation and governance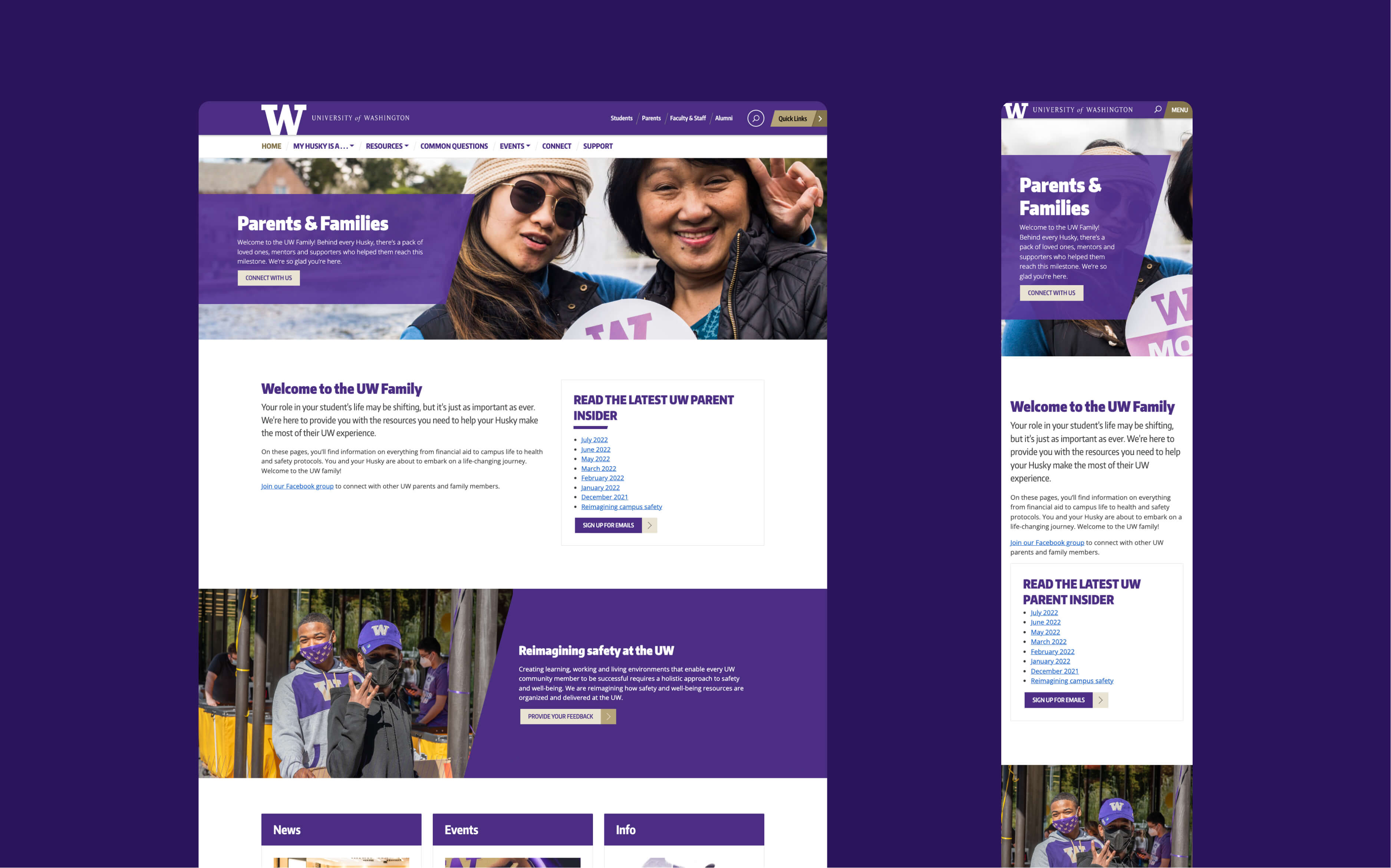 Design
Our design approach for UW's College of Education website emphasized a modern, lively, and colorful aesthetic while presenting content that is easy to navigate, welcoming, engaging, and representative of their mission of educational equity.
The results of our design work include:
A freshly reorganized sitemap that groups pages of content more intuitively
Wireframe prototypes with eye-catching banners, content blocks, and calls to action
A modern take on UW's existing branding by refreshing font style and incorporating bold icons and buttons to expand menus and prominently feature keywords in search
University-wide header and footer menus that are seamlessly integrated into the CoE's redesign
Eye-catching headlines and image-forward content blocks that inspire engagement, diversity, professionalism, and philanthropy in line with the CoE's mission and values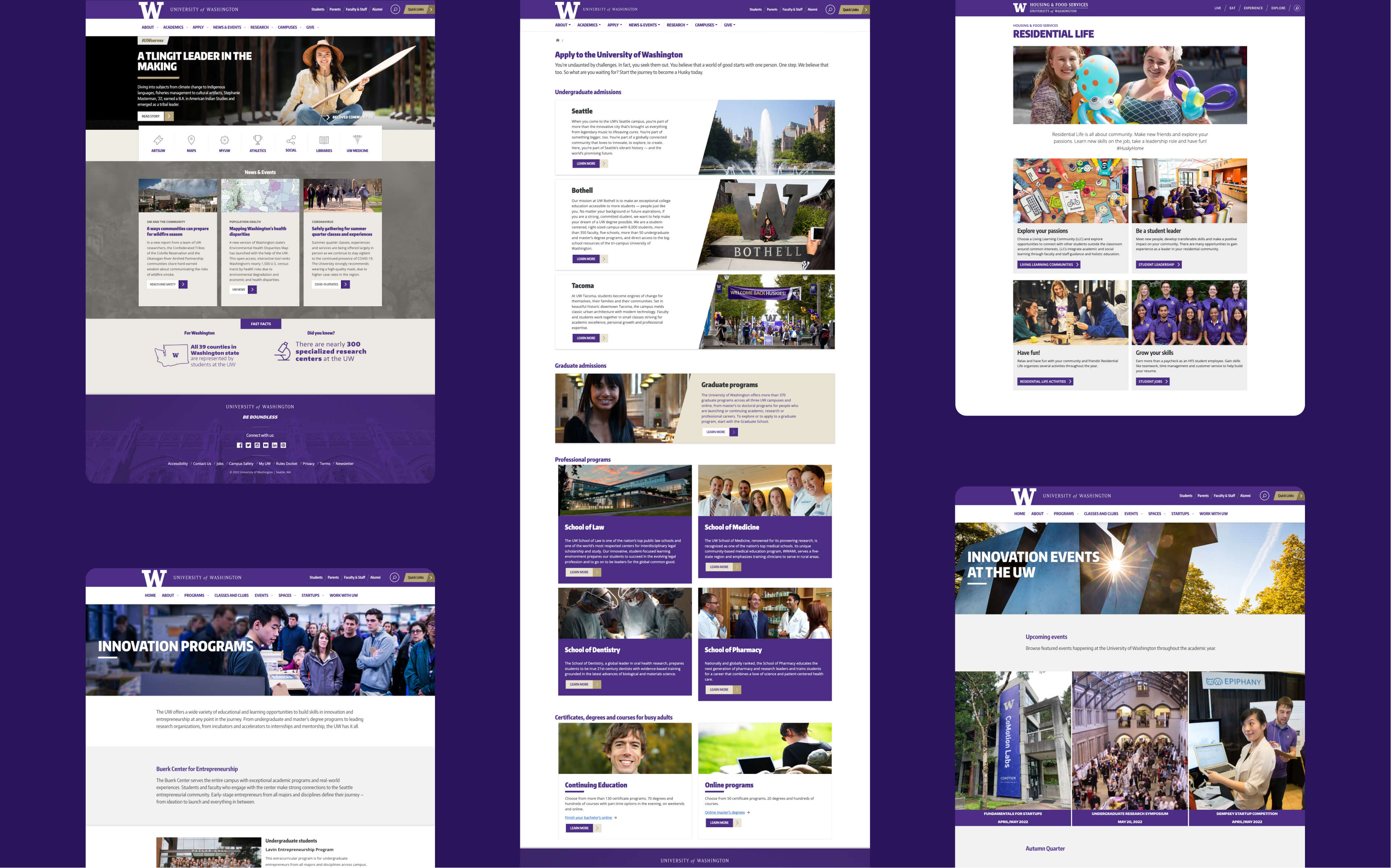 Results
The new design prototypes are fresh, bold, and ready for customization and input from their content creators and managers.
The prototypes enable the new website design to include:
A more intuitive and accessible UX to help diverse prospective students find necessary information about applying, programs of study, degree requirements, and time-sensitive deadlines
A bold, image-forward website design that highlights well-organized and relevant content for each user journey
An "inspiration first" program exploration feature that allows prospective students to discover the different programs of study in the CoE by imagining themselves in their end-goal career to inspire searching, filtering, and learning more about degree requirements, timelines, costs, and application procedures
Stronger search functionality by providing keywords and filters that sort and suggest content that is uniquely relevant to user's wayfinding
A "For You" menu item that customizes the user journey to the various types of students at UW (i.e., graduate, undergraduate, professional certificate, international students)
Landing page consistency across program offerings that are easy to navigate and compare for prospective students to weigh their options and make informed decisions