This summer our digital agency announced a company-wide competition called Evolve Us. It challenged our team members to ideate, research, prototype, and pitch innovative ideas—all with the goal of elevating the way we work at Evolving Web. 
We formed six multidisciplinary teams, gave them full creative licence, and set them loose!
Four weeks later, the teams pitched their ideas to our entire organization. Everyone had the opportunity to watch, ask questions, give feedback, and vote for their favourite. The members of the winning team got a bonus paid day off.
Over the coming months, we'll work on integrating some of these ideas into the way we work. I'm excited to see how it will help our staff take ownership of improving our organization as a whole!
In the meantime, we'd love to share the six ideas with you! We'll be publishing a series of blog posts: one for each Evolve Us pitch. We do this in the spirit of open source… and because we feel like showing off a bit!
Take a sneak peek at what's to come below. Plus, find out where we got the inspiration for Evolve Us and why things like this are a big part of our company culture.
Why We Asked Our Team Members to Evolve Us (Maybe You Could Too?)
The inspiration for Evolve Us came from DrupalCon Pittsburgh 2023 which 14 of our team members attended. They came away buzzing with excitement after hearing the Driesnote on radical transformation and watching people pitch ideas at the DrupalCon Pitch-burgh. 
A plan was born to hold our own internal ideathon at Evolving Web! We saw it as a golden opportunity to:
Discover ways to make our projects more efficient
Generate the ambitious, big picture ideas that clients come to us for
Energize team members with the chance to try something different
Allow people from different departments to connect
Encourage employees to develop new skills and showcase hidden talents
Show every team member that their input matters
Let everyone shine and flaunt their creativity!
Embrace the open source ideals that our organization was founded on: collaboration, knowledge sharing, and continuous improvement
Evolve Us is one of many initiatives that keep our team members engaged at Evolving Web. There's also internal training, mentorship, weekly knowledge sharing sessions, and opportunities to attend events—to name a few! Learn more about joining our team.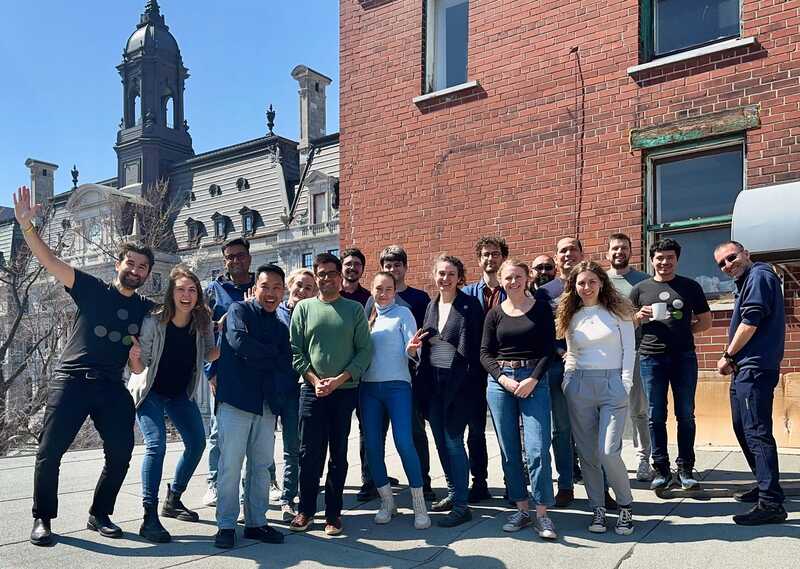 Just a few members of our 80+ strong team.
Explore the Evolve Us Pitches
Here's an overview of the six amazing pitches presented by the Evolve Us teams. 
Over the coming weeks we'll publish a blogpost on each pitch and reveal the winner! Sign up for our newsletter to stay in the loop. 
Creating a Unified Component Library With Storybook 
To be published
Component libraries help us hit the ground running and save us from reinventing the wheel each time we build a website. This Evolve Us team identified a gap between the components our designers see in Figma and those available to our developers. The team aims to streamline collaboration between our teams by creating a unified library of components with Storybook.
Doing More With SiteDiff 
To be published
SiteDiff is a tool that crawls plain HTML and is useful for comparing content. Our team currently uses it to validate migrations and upgrades, and to search a website for bugs. This Evolve Us team proposed improving and extending SiteDiff's functionality. How? By making it pluggable! 
Developing an AI Research Tool for Proposals
To be published
Our RFP team works hard to understand and address a prospective client's needs. This Evolve Us team suggested streamlining the process using an AI-driven tool. They evaluated existing tools and pitched the concept for our own—a tool developed by RFP teams, for RFP teams.
"I enjoyed meeting with and interacting with other team members who I normally don't work with." 

- Brittany Hambleton, Proposal Writer
Creating a Central Dashboard for Projects
To be published
Evolving Web uses an internal Wiki and Google Drive to store, share, and organize files. This Evolve Us team identified their need for a single source of truth for all stages of a project. They pitched a Project Dashboard that will bring together files, templates, and links in one place, provide clear progress measures and metrics, and allow for more accountability. 
Integrating Redmine, JIRA, and Slack
To be published
Our organization uses Slack to talk to each other and Redmine to track time usage and issues. Some of our teams also use Jira to better integrate with our clients' development teams. This Evolve Us team proposed setting up integrations between these tools to help our team work and communicate more effectively. 
"Brainstorming was very cool. It was great seeing managers, testers, and developers working together on the development of the idea." 

- Iskandar Mamadnazaroc, Front-End Developer
Enhancing Drupal's Layout Builder Module 
To be published
Layout Builder is a powerful module in Drupal core that provides a visual drag-and-drop page-building tool. But there are opportunities to make this tool even easier to use. This Evolve Us team pitched several solutions to take Layout Builder to the next level for content editors, developers, and the Drupal community as a whole. 
Find Out Who Won the Evolve Us Competition!
Stay tuned as we publish deep-dives into the individual Evolve Us pitches and reveal who won. Sign up for our newsletter to have them sent straight to your inbox, along with loads more valuable content!
Explore Careers at Evolving Web
We're often on the lookout for talented, innovative, enthusiastic professionals to join our team. Could you evolve us and your career at Evolving Web? Find out by learning more about what we do and how we do it.