Evolving Web has partnered with SkilledTradesBC (formerly known as the Industry Training Authority of British Columbia) to develop, launch and provide training for a new Drupal 9 website to replace the organization's previous Drupal 7 website.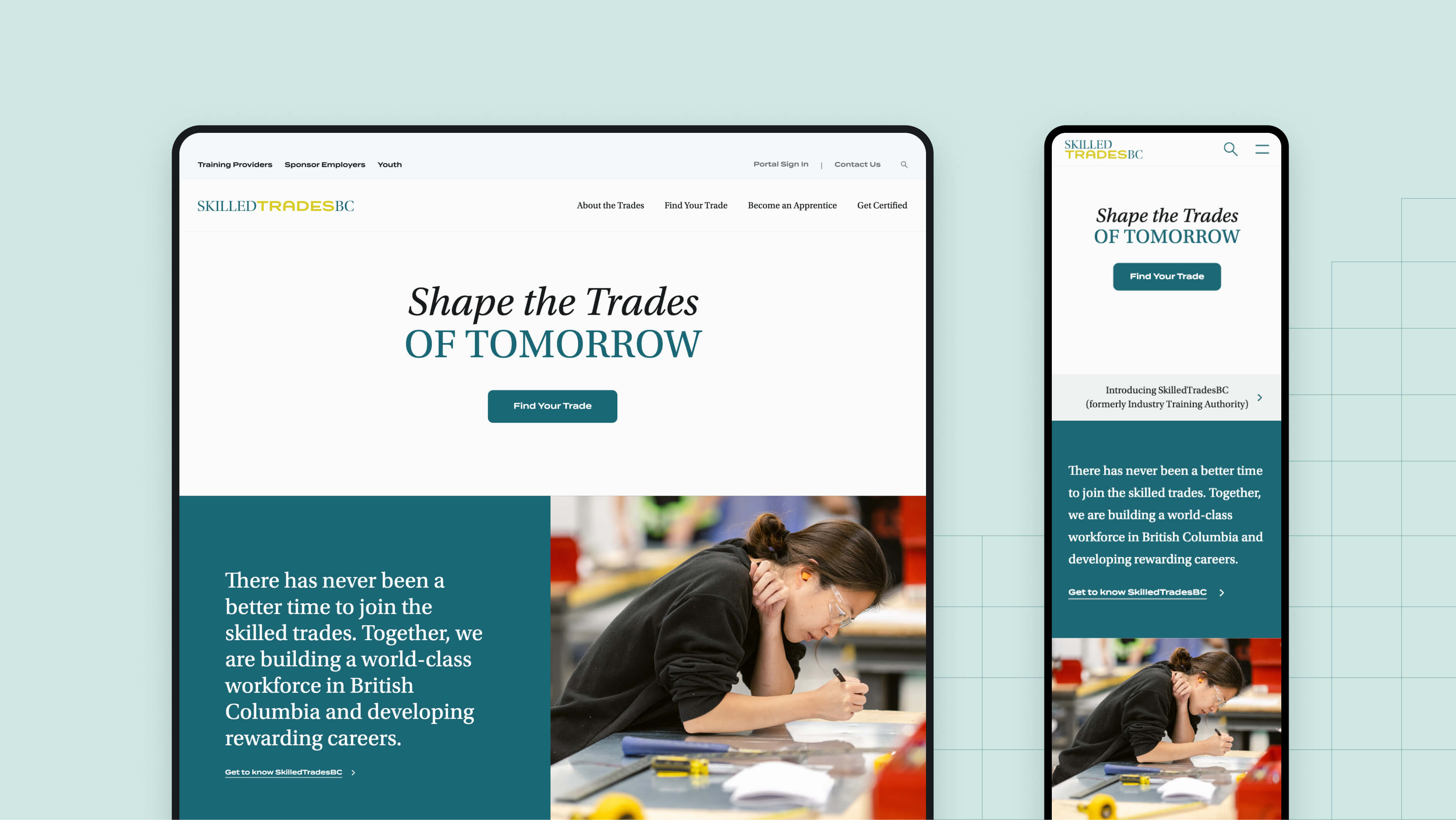 SkilledTradesBC is the organization that advances British Columbia's trades training system. It works with employers, apprentices, industry, labour, training providers, post-secondary institutions, Indigenous communities and government to uphold the highest standards for training, issue credentials, support apprentices, fund programs and promote a wide range of rewarding careers in the trades SkilledTradesBC aims to build the most diverse and sustainable workforce in Canada by supporting equitable access to skilled trades and helping British Columbians unlock their potential.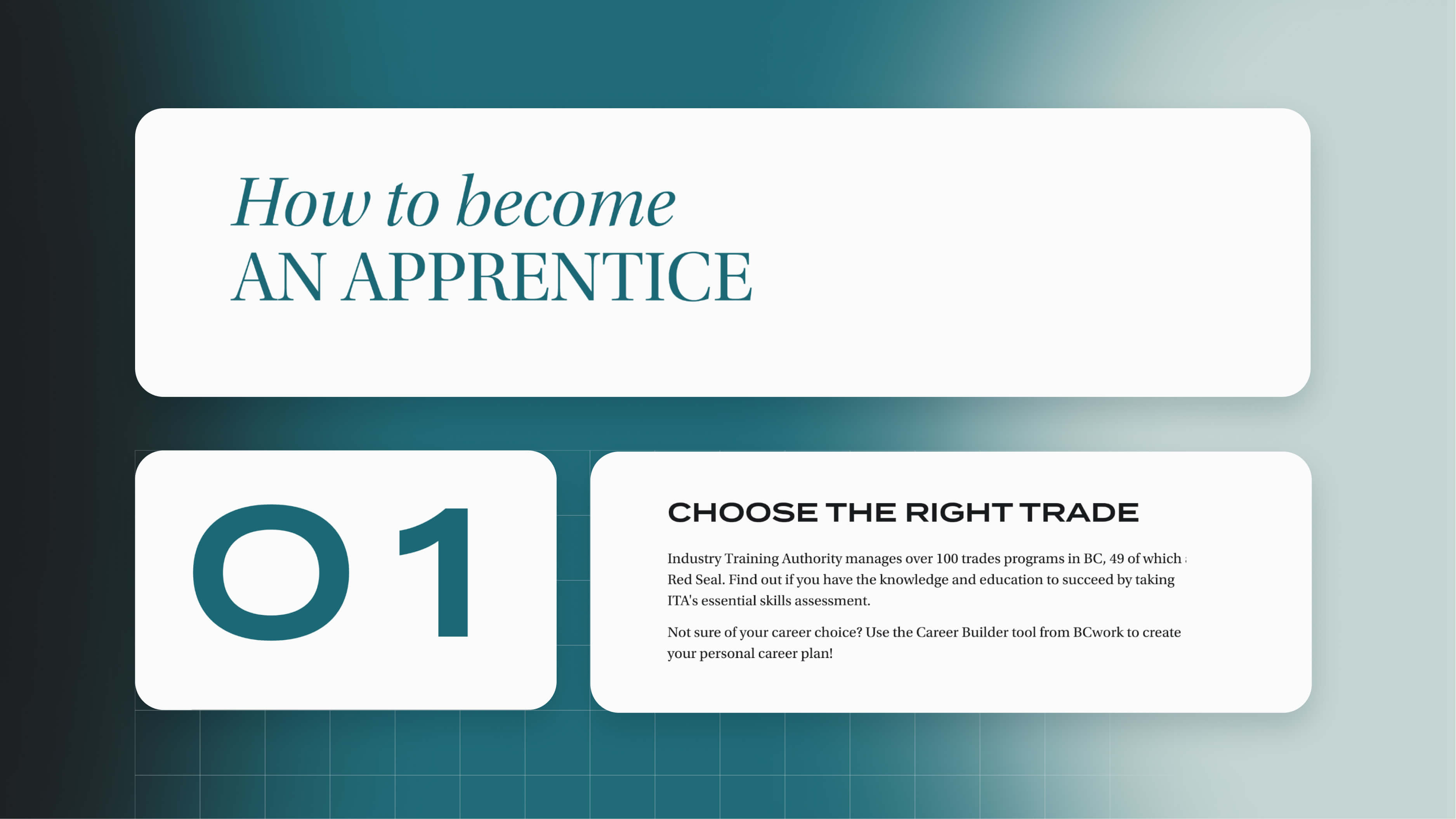 The goal of the project was to create a brand new Drupal 9 website for SkilledTradesBC. The objectives for this project included:
A flexible platform built in Drupal 9 using existing modules and adapted components
A transition to cloud hosting on Pantheon
A website redesign to create an engaging picture of careers in trades
Planning and design to merge content pages to reduce total number of pages
A redesigned sitemap and navigation to make it easier to find information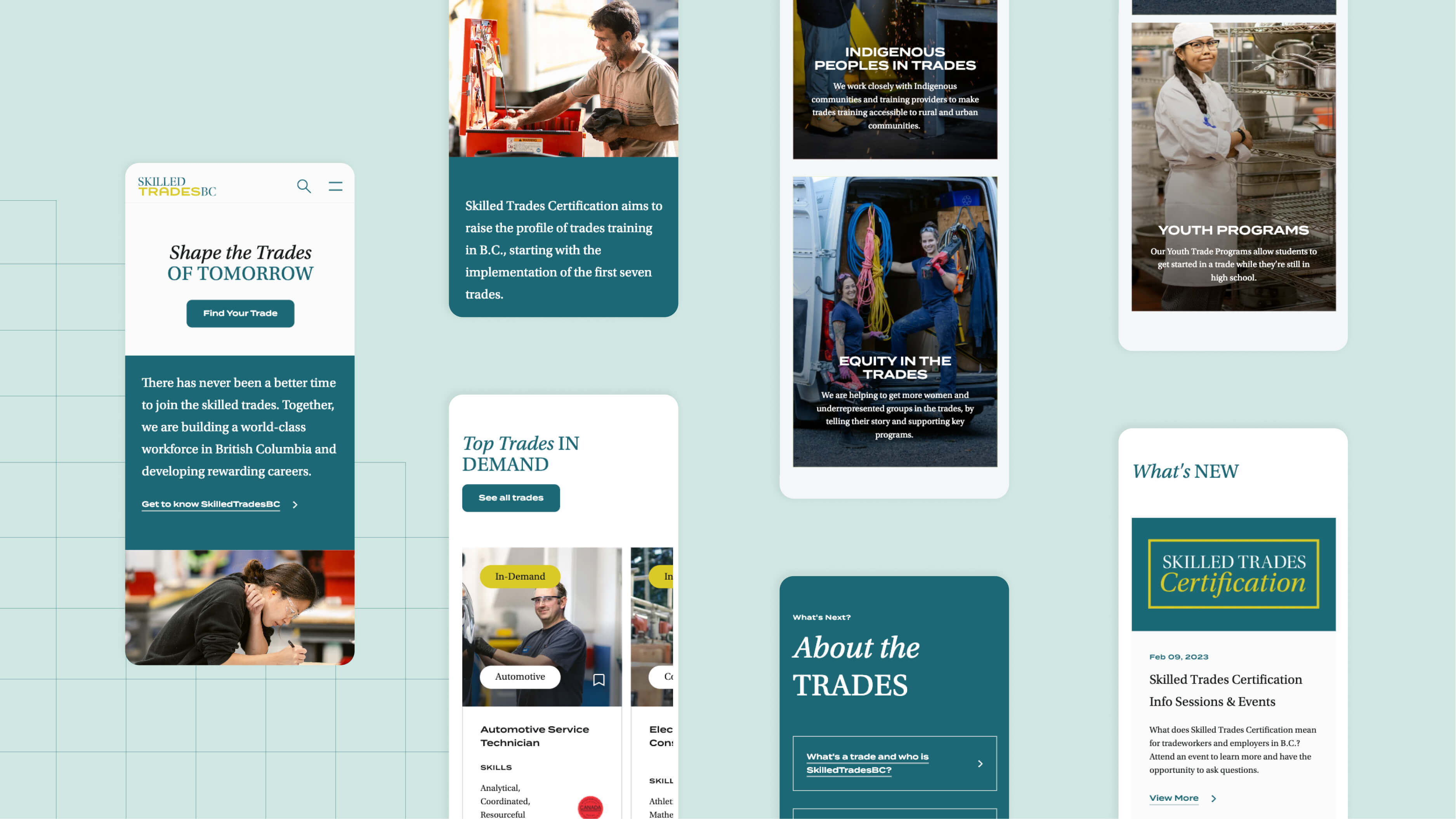 The main challenge was coming up with a design that helps the site's primary audience – would-be apprentices - to select a single trade from the hundreds of trades on offer. The challenges in this process made it necessary to optimize the site's search functionality.
In addition, SkilledTradesBC's previous website's information on how to become an apprentice had usability issues and needed clarification. There was also a need for more simplified wayfinding and content reduction since the various trades contained their own set of content ranging from foundation courses to financial support, including a large library of PDFs that were not readable on mobile devices.
A further challenge from a branding and marketing perspective was to shift the conversation around perceptions of the trades. The new site would be instrumental in SkilledTradesBC's mission to raise the profile of the skilled trades and demonstrate that they are rewarding and inclusive career pathways.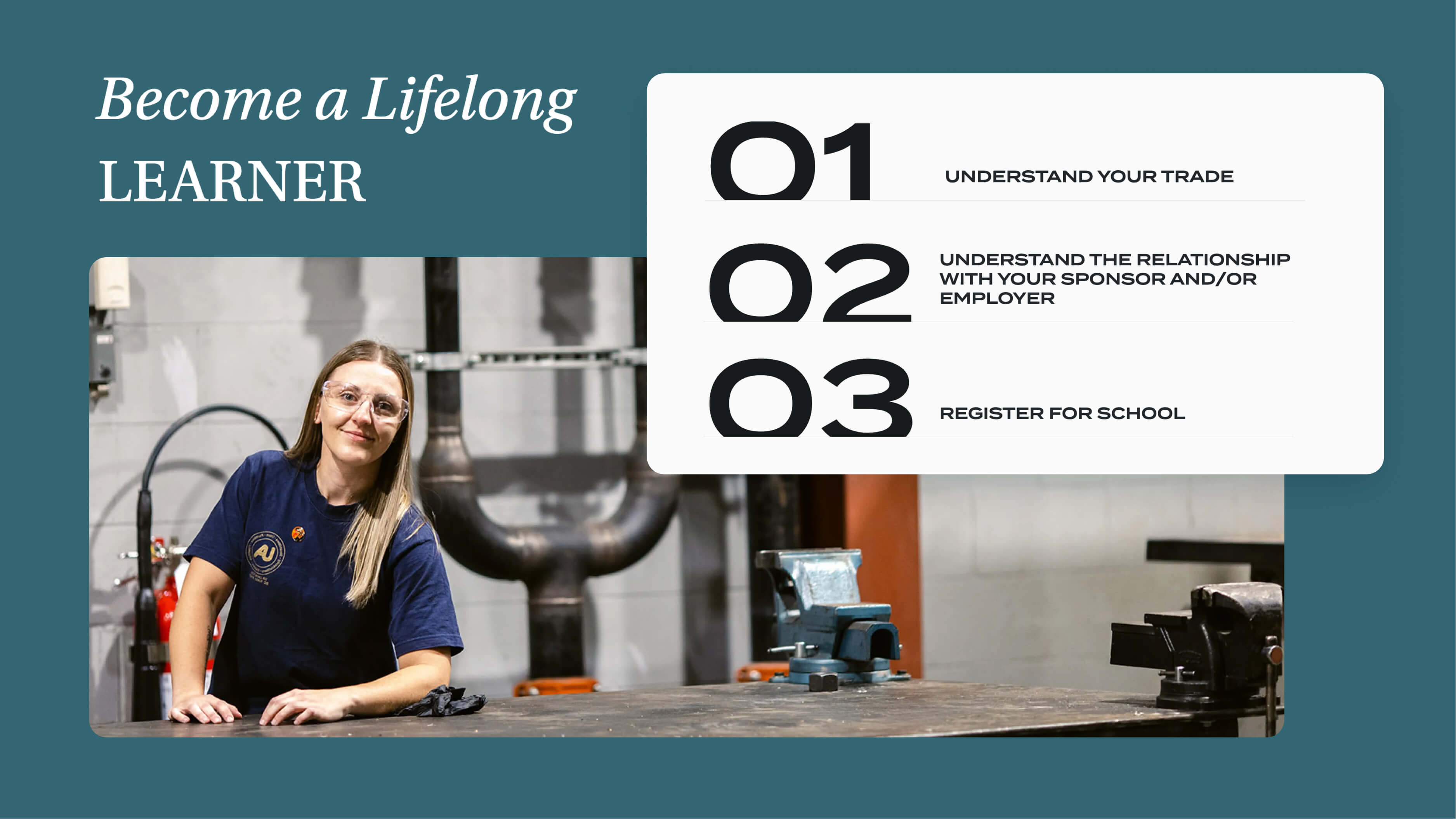 We began with a full discovery phase with the client, starting with a stakeholder questionnaire and followed by a user journey workshop. We also conducted a benchmarking study that analyzed the websites of similar organizations to understand their approach to streamlining apprenticeships into specific trade. Through the discovery process, we established UX strategies and channeled the new art direction along with redesigned screens.
With a new name, logo, and a style guide to incorporate into the website, our designers interpreted their updated branding into the design with a fresh colour palette. The newly designed site also features updated photography to highlight the diversity and inclusivity of SkilledTradesBC. 
The main project deliverables included:
Focused workshops to identify technical and design needs of the project
A flexible platform built in Drupal 9 using existing modules and adapted components that is easy for content editors to edit
Cloud hosting on Pantheon
Collaboration with the brand agency to translate the style guide into the design of the website
A fresh visual identity with iconography based on imagery from the trades
A search design leveraging on a quiz meant to help pre-apprentices find a trade
A range of comparison tools for trades, including salary range and level of market demand
Design of a simplified process for finding an apprenticeship, enrolling for courses and exams and other necessary steps
Simplified language guidelines and messaging with plain language, headings and subheadings, bulleted and numbered lists, tables, graphs and infographics
Design of embedded success stories aimed at presenting an engaging picture of careers in trades
Content governance strategy outlining standards, policy, processes and workflow recommendations
Search engine optimization (SEO) and analytics
Accessibility testing and related fixes
A Drupal training session and a customized documentation guide to empower their team towards digital independence and get the most out of their new website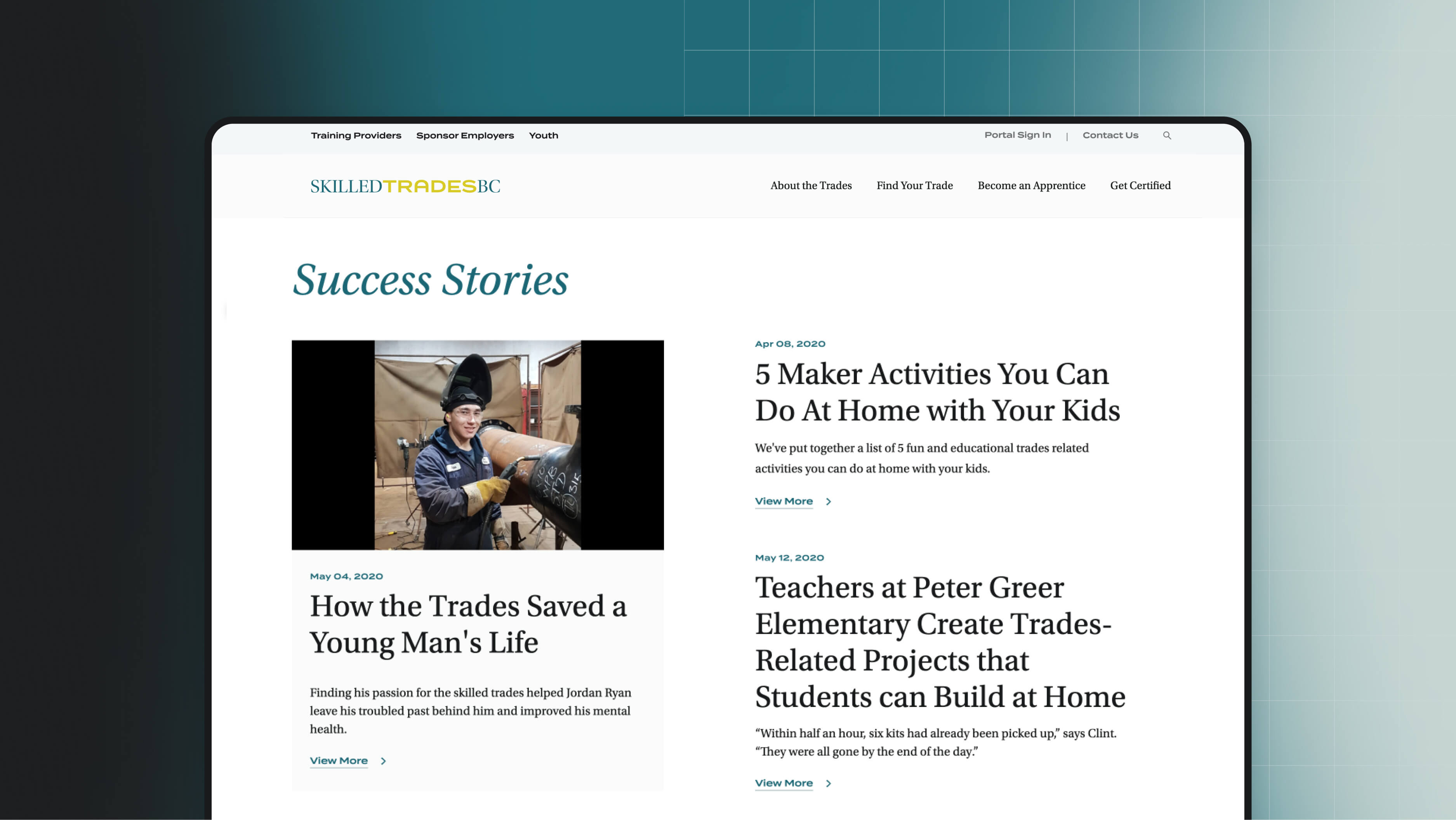 SkilledTradesBC now has a refreshed digital experience to empower their mission to support equitable access to skilled trades in British Columbia - one career at a time. With an intuitive search and filter experience and an appealing visual identity, the result of the new website is professional and user-centered with the look and feel of a print magazine.