Evolving Web provided Pieux Vistech with visual design, information architecture, SEO consulting, and development and migration support services. It helped the client create an online presence that best reflected their products, character, and values while supporting their clients' needs.
Pieux Vistech's online presence had some critically vulnerable points. They were looking into improving usability and SEO performance, as well as reducing their operational costs. They were also going through a brand refresh and saw this as an opportunity to overhaul their WordPress website to make it the centrepiece of their new digital strategy.
Services: Web Design, Web Development, Maintenance & Support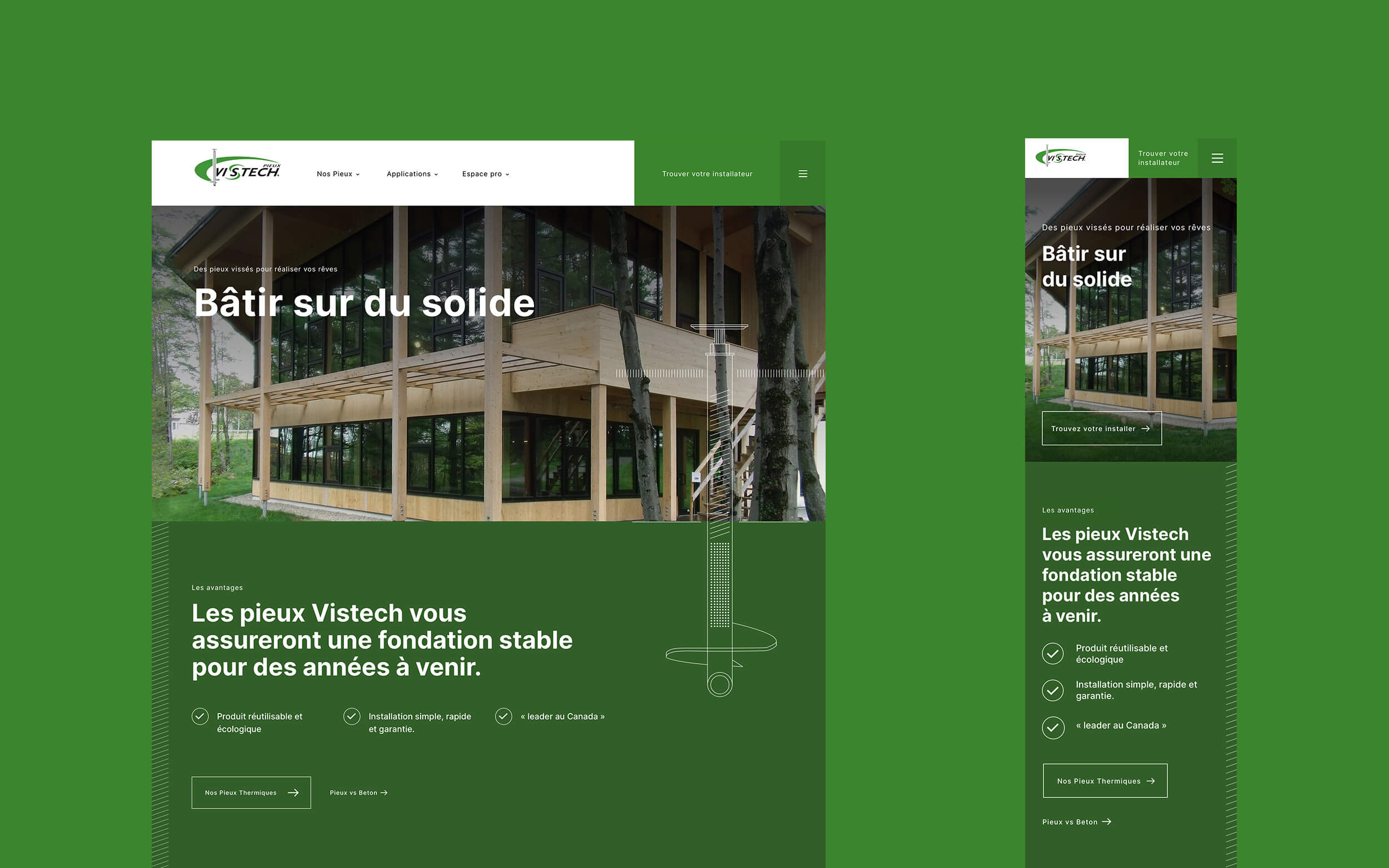 Pieux Vistech (Postech outside of Quebec) manufactures, distributes, and installs galvanized steel screw piles—a versatile, cost-effective alternative to traditional concrete foundation methods.
Based in Quebec, the company operates a network of over 100 franchisees, representatives, dealers, and installers throughout North America under the Postech and Pieux Vistech brands.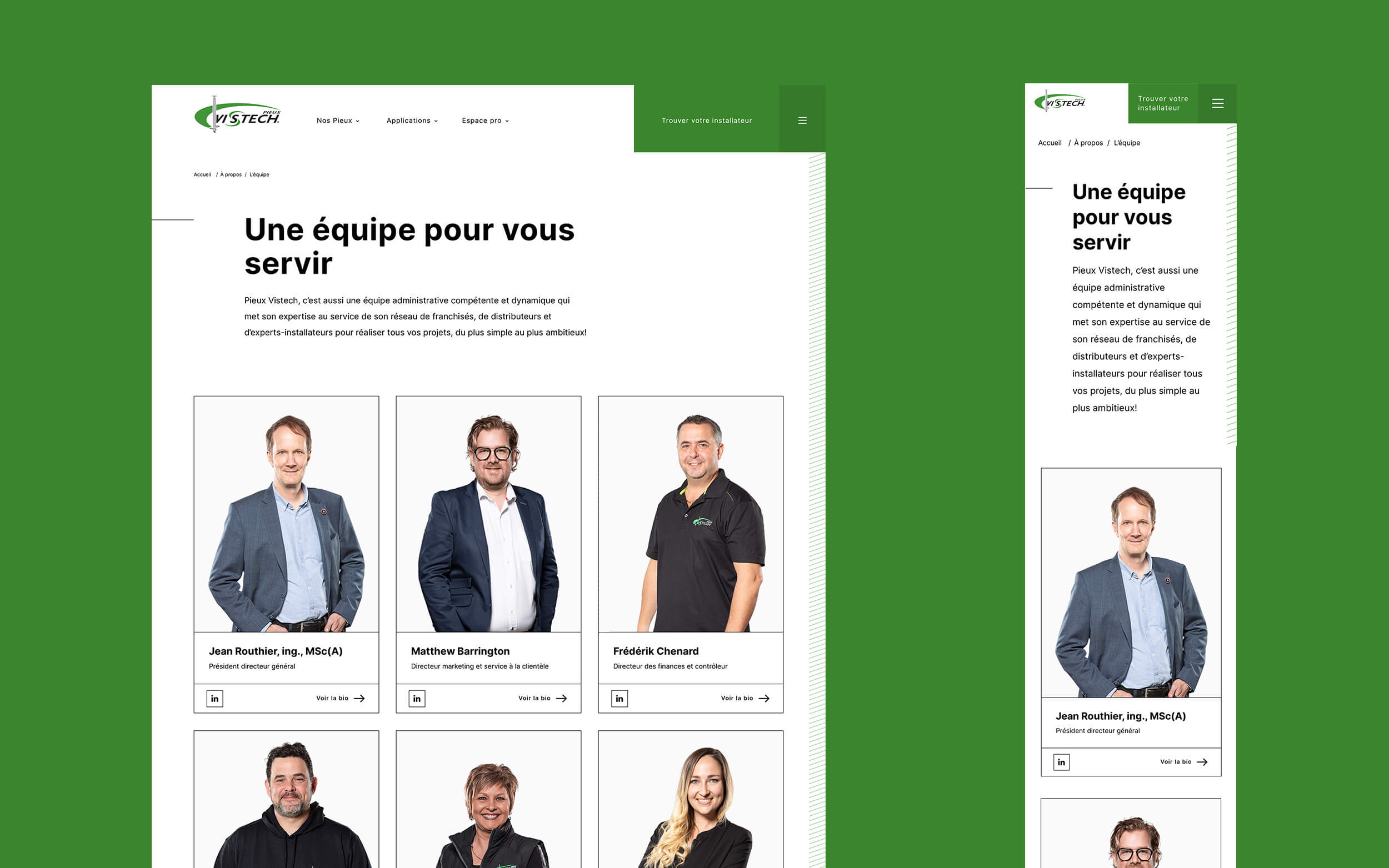 The Pieux Vistech team envisioned an easy-to-use, informative, mobile-friendly website that was also optimized for search engines. They also aimed at a website that drove sales, complementing their sales team's work. The new design needed to express their core brand traits, including trustworthiness, professionalism, and quality, while showcasing its products and relationship stories.
Information architecture and SEO would be central to the project, as Evolving Web's UX research showed that the existing site was not user-friendly. Top priorities were more effective user paths, better surfacing of key information, and a simple, immersive design.
Additionally, Pieux Vistech sought to reduce their operating costs and implement the project on an aggressive timeline.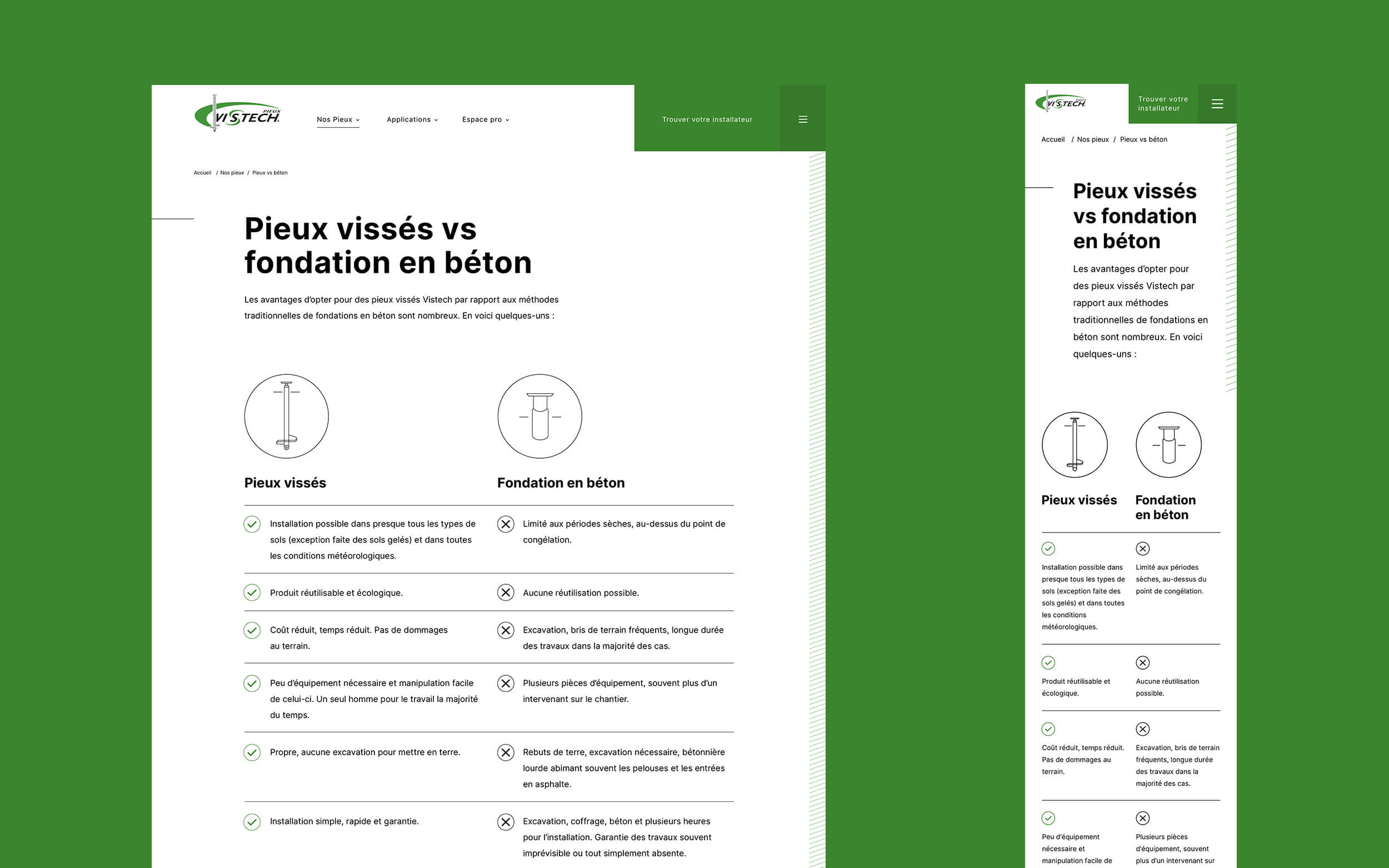 Pieux Vistech serves diverse audiences with different characteristics and priorities. Their audiences run the gamut from professional contractors and DIY-ers to current and potential franchisees and distributors. In addition, the company has English- and French-speaking clients in Canada and English-speaking clients in the US. 
A key challenge in this project was to create an information architecture that provided each user type with clear user journeys and SEO-friendly localization for each market.
Additional project challenges included:
Adherence to a tight, fail-safe deadline
Creating a design with a relationship-oriented feel for an industrial-looking product
A content mix requiring both automated and manual migration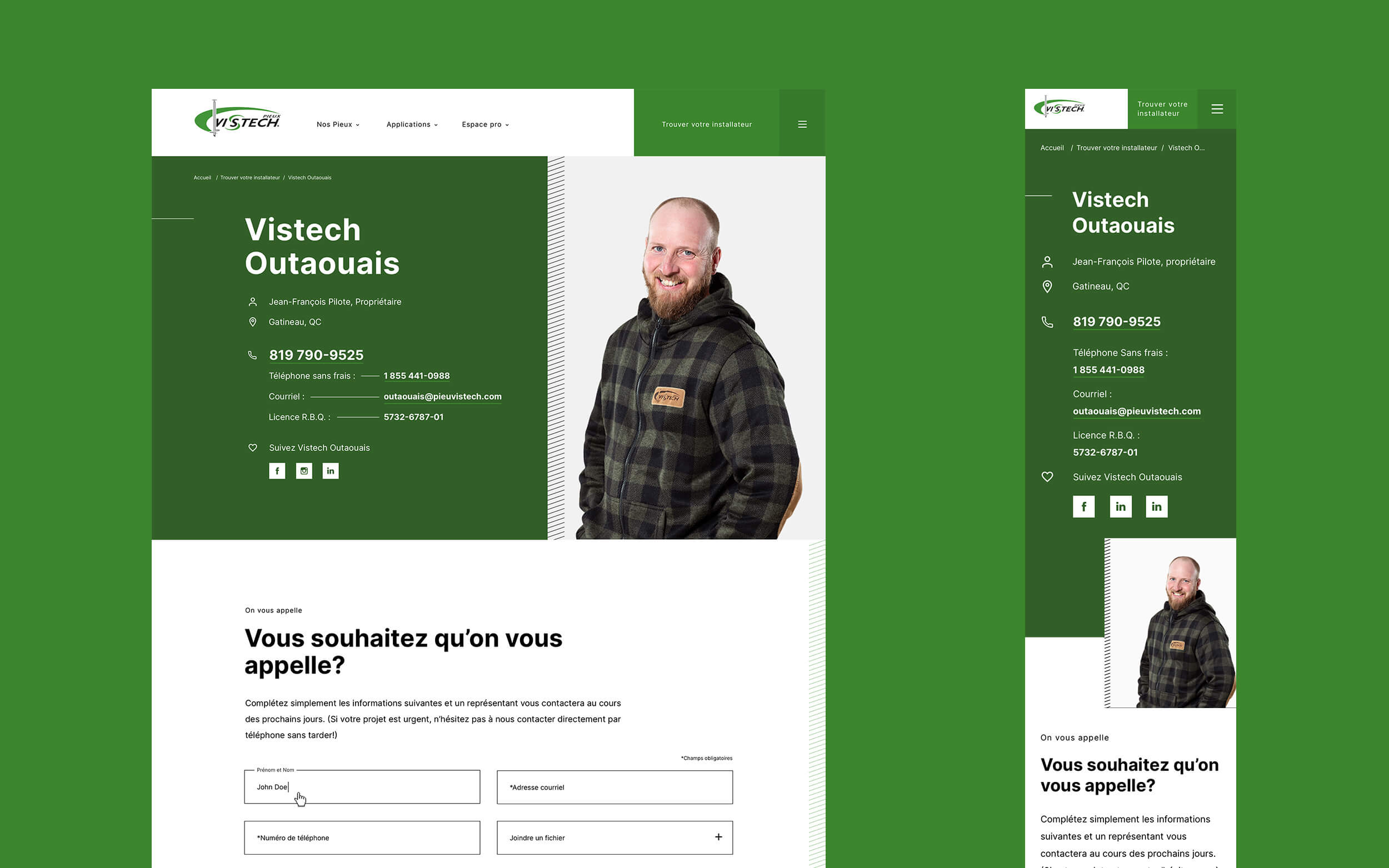 Evolving Web kicked off the project with deep-dive research on Pieux Vistech's user personas, user experience, SEO performance, and broader competitive landscape. From there, it created the information architecture, content strategy, and migration plan for the client's website.
Visual design took a storytelling approach, emphasizing the human side of Pieux Vistech—its values and the stories of its customers, franchisees, partners, and employees—alongside product presentation.
Intensely colourful design to create dynamic layouts, pile illustrations to showcase the product, and careful UX strategies for smooth user navigation
Information architecture that guides visitors through a clear research and decision-making process
Restructured "find an installer" tool using locally stored data instead of expensive cloud-based queries
Three-domain architecture for stronger SEO and localization
Artwork highlighting the people of Pieux Vistech and its franchisees, products, client projects, and company brand elements
Detailed documentation to support ongoing art production and SEO management
A library of redesigned, mobile-friendly page types for quick, independent content creation
Concurrent content entry and development to shorten time-to-launch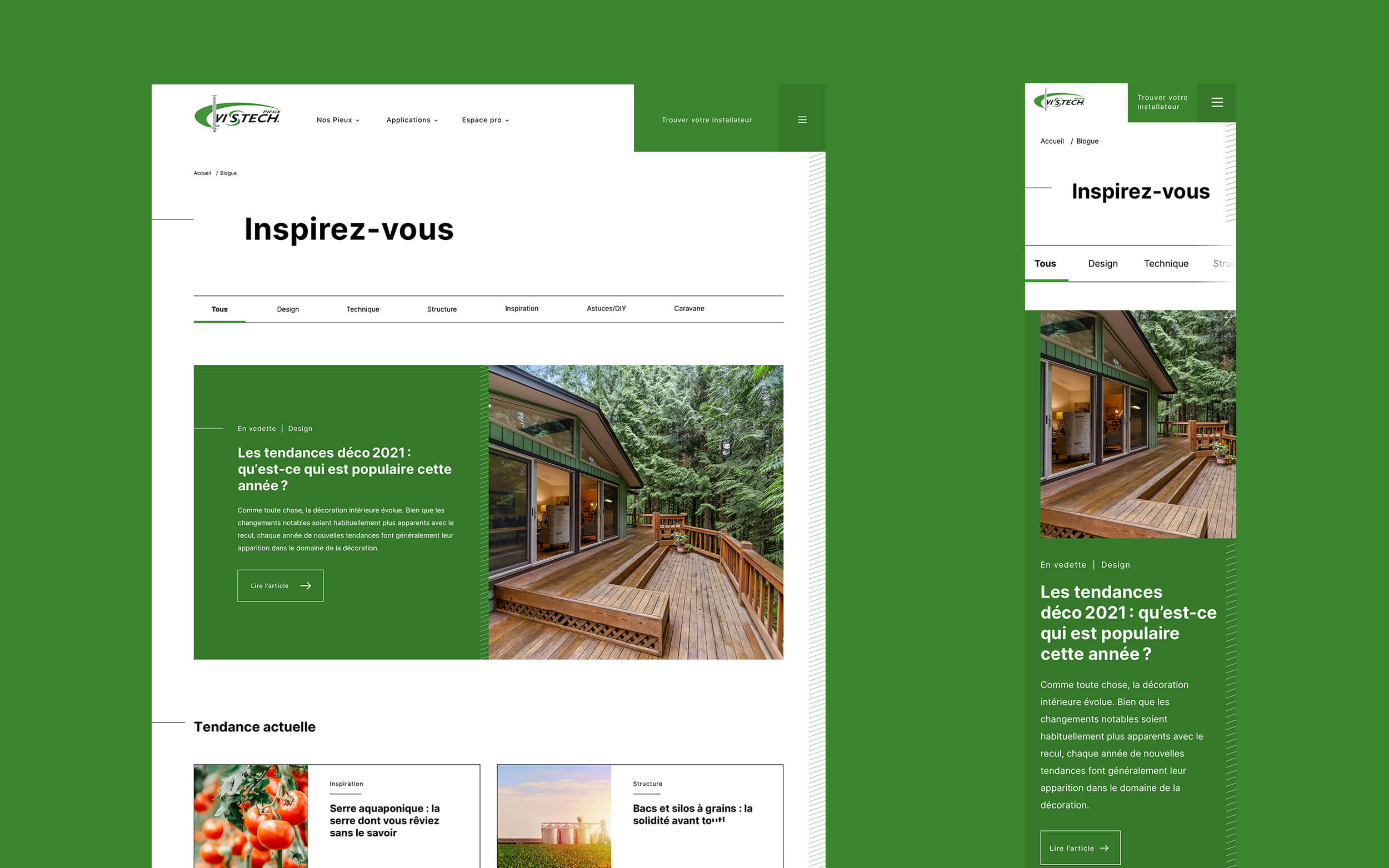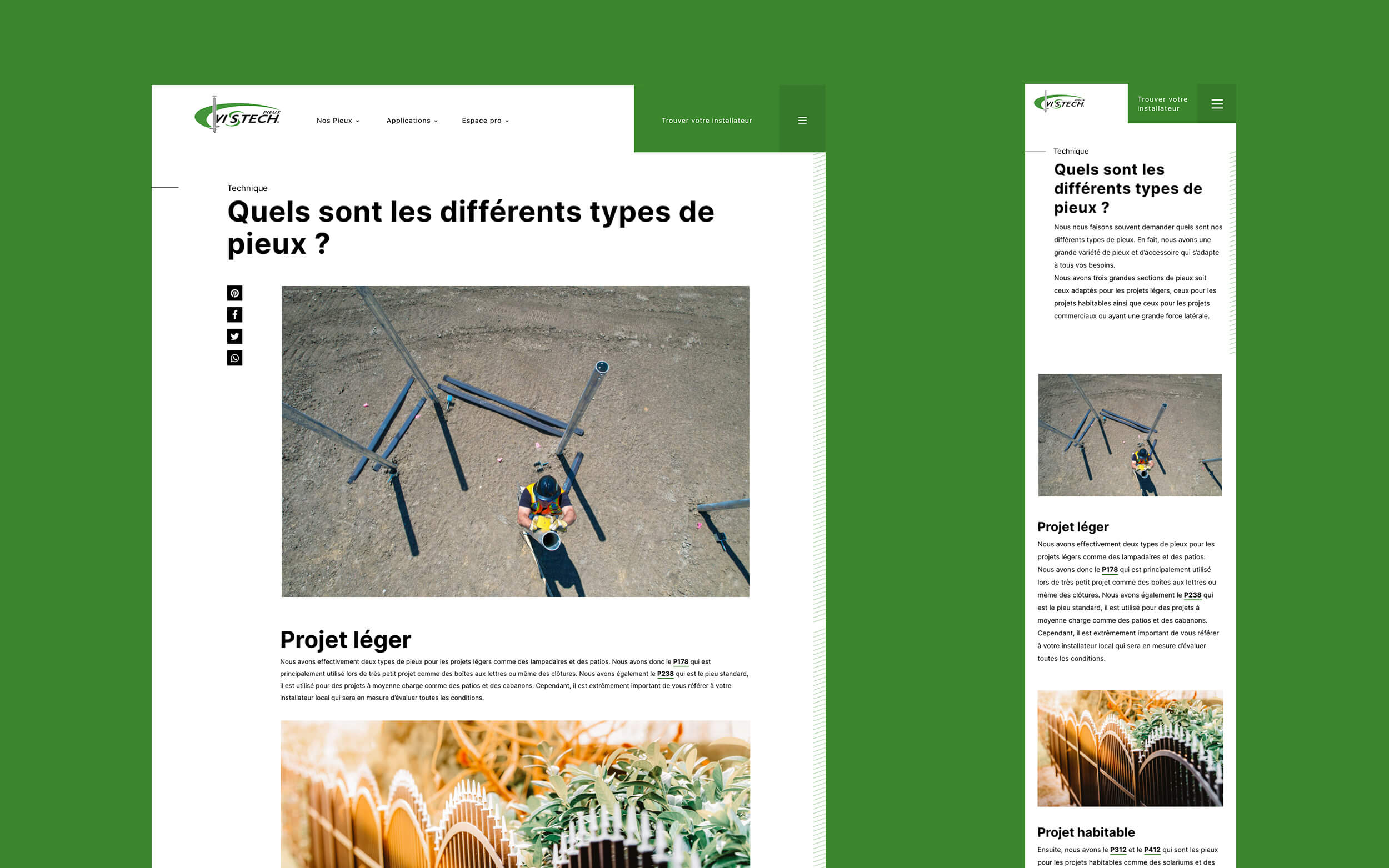 We successfully met the project's tight timeline through careful coordination between the teams. The new three-domain architecture improved SEO with a dedicated domain for each localization while streamlining maintenance with a single database and codebase. Additionally, the new design showcases Pieux Vistech products while also focusing on relationships, giving prominence to the people involved—staff, customers, and partners.
Visual design balances product showcasing with the human element of the Pieux Vistech brand and relationships
Information architecture is tightly focused on customer service and visitor conversions.
Each of the three localized sites can implement the most appropriate SEO strategy.
Greater staff knowledge and autonomy for ongoing content development, art production, and SEO management
Substantial cost savings concerning the "find an installer" search tool