What makes a great Project Manager? Unsurpassed organizational skills to keep projects in check. Excellent people skills to navigate external stakeholder expectations and internal team dynamics. Flexible, adaptable and knowledgeable in a wide range of topics. Able to learn and pivot quickly to stay on top of project developments.
In other words, you want somebody with an eclectic background and a proven track record for organizing projects, dealing with human beings, and making the best of sudden changes of direction.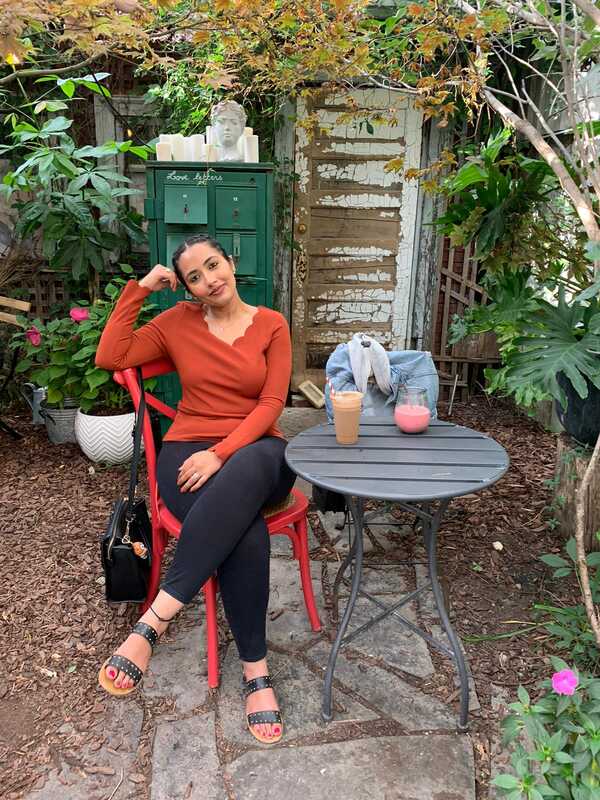 Kushneet in a moment of down time
Evolving Web hires people from a wide range of academic and professional backgrounds. We care more about the unique skills you can bring to our team based on your life and career experiences rather than obsessing about the right piece of paper in the right discipline.
Evolving Web Project Manager, Kushneet Kukreja is a typical Evolving Web hire. Above all, she's a really smart cookie. Born in Hyderabad in south-central India and now based in Toronto, Kushneet speaks four languages: Hindi, Punjabi, Telugu, and English. At her core, she's a scientist, with a master's degree in biotechnology from Kingston University in London, England.
Kushneet's master's education research focused on the genome sequencing of the pathogenic bacteria responsible for the autoimmune disorder Guillain–Barré syndrome.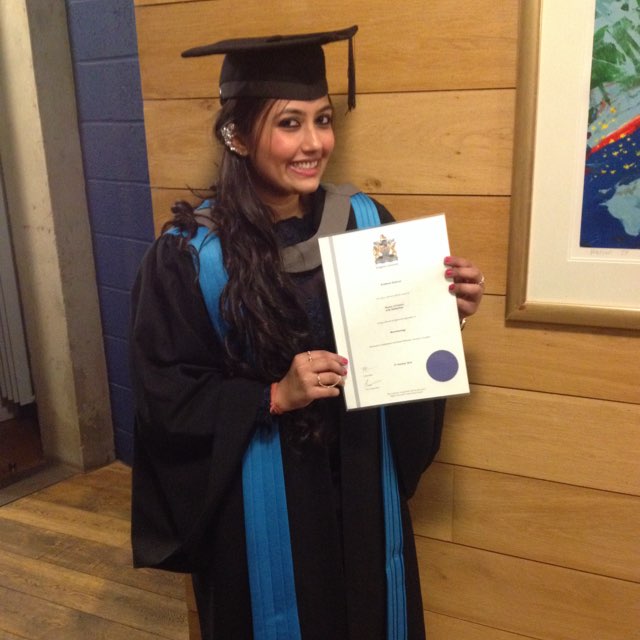 Kushneet with her master's degree in biotechnology
Changing Directions: Scientist > Writer > Manager 
After graduation, Kushneet planned to return to India and begin a career in biotechnology. But it was her secondary focus – her love of writing – that would take her on a very different career path.
"I was always writing content to make pocket money while I was studying," she says.
"After completing my biotech degree, I went back home to try to get into the field, but this wasn't working out. However, people were noticing my writing and I was offered a role writing content for a web company."
Kushneet was prolific, authoring more than 300 articles in less than two years with this company and amplifying traffic by over 200%. Some of her content from this time still achieves first-page ranking on Google many years on.
She then went on to work as a content manager at the head office of a chain of dermatology clinics. She was responsible for editing, proofreading, scheduling content. And by way of foreshadowing – ensuring quality control, punctual delivery of content, and coordinating with freelance writers, the dermatology team, SEO manager, and digital marketing lead.
When the opportunity to move to Canada arose, Kushneet succeeded in landing a role as a digital copywriter at a digital marketing agency in Toronto. Three months later, the company recognized her organizational and people skills and offered her a position as project manager – a role in which she thrived for the next two and a half years. "It felt like a natural transition," she asserts.
"I had gotten used to managing stakeholder relationships, teams of writers, content calendars and expectations,"she says about her time being a Content Manager before moving to Canada. "I wanted to do more than just copywriting, and so this was a great opportunity."
Enter: Evolving Web
After two and a half years' experience as a digital project manager, Kushneet began looking for new opportunities for career growth. This is when she stumbled on a job posting for a Project Manager at Evolving Web. She secured an interview and was immediately impressed with what she saw.
"I saw the opportunity to grow in my career here, which was lacking at my previous job," she explains. "Also, I was impressed with the streamlined processes that the company seemed to have in place, which were evident during the interview process."
Joining Evolving Web was a learning curve for Kushneet as she had limited experience with Drupal, with nearly all her previous project management work being in a WordPress environment. Among her first projects as an Evolving Web PM was a major Drupal website redesign for the Capital Markets Tribunal site for the Ontario Securities Commission (OSC). This challenging project was the perfect opportunity to accelerate Kushneet's learning – and, paired with our internal training and knowledge sharing, the experience brought her firmly up-to-speed.
A year and a half later, Kushneet has managed a fleet of new web designs. She has worked on ambitious projects for various clients, including:
"There's no monotony," says Kushneet of her role at Evolving Web. "I like a lot of variety in my work, and the sheer diversity of the projects I manage keeps my interest level high. That and the people I work with – it's a wonderful team!"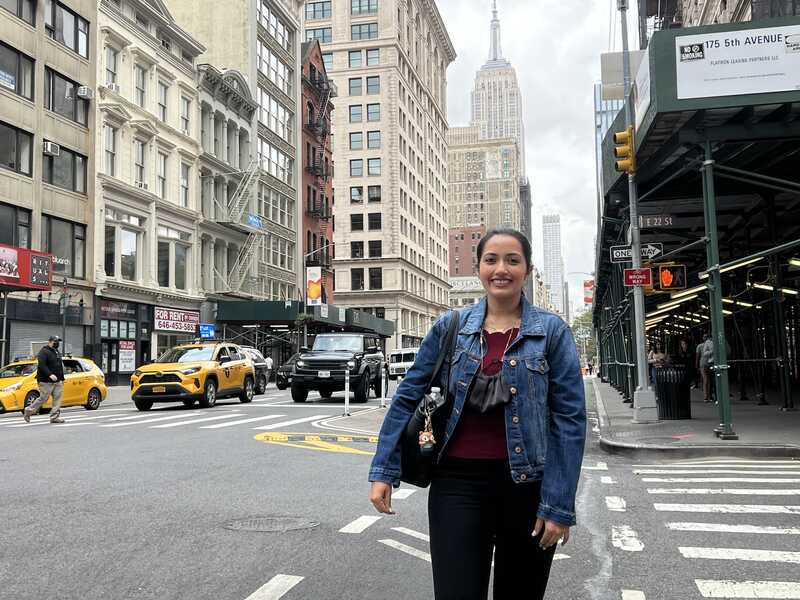 Kushneet in New York City
Scientist At Her Core
In her off-time, Kushneet enjoys exploring new coffee shops, reading, painting, dancing, and binge-watching new series on Netflix. She also travels a lot – and having recently returned to India to get married, she has plans to relocate to New York to join her husband, a computer hardware engineer at PwC.
"I love how mobile my work is at Evolving Web," she notes. "I was able to take an extended trip to India and work from there, which meant some weird hours but otherwise it was just fine."
Her personal life, she asserts, is much like her work life – she's always making lists and ensuring everything is organized.
"This comes from my science background," she explains. "Scientific research trained me to be very diligent when it comes to note-taking and organizing information. My master's thesis contains between 80 and 90 references. That's a lot of information to keep track of."
This penchant for staying organized, as well as an appetite for doing research, has translated smoothly into her role as project manager.
"Organizational skills are key when you're managing different projects simultaneously," she says.
"When you're managing calendars and project deliverables, managing workflows, managing expectations and stakeholder temperaments, and so on, being highly organized and adaptable is crucial, as well as having good people management skills. Also, you need to be ready to do a lot of research so you can efficiently manage a project – something I love to do. In that sense, my scientific background was perfect training for this role."
Join Our Team
In addition to project manager Kushneet Kukreja, we've built an eclectic team of designers, developers, marketers, and PMs. Our team not only spans the globe, it also represents a wide range of academic, professional, and artistic backgrounds.