We can't tell you how excited we are to meet the Drupal community again at DrupalCon Portland 2022, the first in-person DrupalCon since 2019. And travelling to such a cool, vibrant city as Portland, with its lovely parks, trendy districts, and scenic bike rides (and much, much more), only adds to our excitement!
As always, the Evolving Web team will be at the conference delivering training, presenting sessions, volunteering, and sponsoring the event. Now let's check out all the activities we'll be involved in at DrupalCon Portland 2022!
Hang Out with us at DrupalCon
For starters, come visit us at our booth! We'll be near the entrance to the Oregon Convention Center at booth #339,. You can drop by, chat with the Evolving Web team, share insights, or ask questions about how you're using Drupal.
What's more, if you visit us with your Expo Hall Passport, you'll be entered into a draw to win a free registration to any Evolving Web training track you choose. Our Drupal training program has something for everyone, including Site Building, Front-end Development, Back-end Development, and Content Creation tracks!
Due to the war in Ukraine, members of the Ukrainian Drupal Community and our colleagues in Ukraine are unable to attend DrupalCon this year. So, we'll be showing our appreciation and solidarity with the Ukrainian Drupal Community at our booth. Come by to show your support!
Immerse Yourself in Learning Drupal
Each DrupalCon is a unique opportunity for community members to upskill and get some great insights for their work projects. In that sense, the Evolving Web team will do its part by sharing its knowledge and experiences in a few learning activities.
One of them is the "Drupal 7 to Drupal 9 Migration" workshop, where our expert trainers Franz Vanderlinde (Solutions Architect) and Dharizza Espinach (Senior Back-end Developer) will do a hands-on training to get you ready for planning and executing Drupal migration projects, upgrading modules to Drupal 9, and much more.
Quick note: if you're already signed up for the conference and want to add this training to your ticket, just email registration@association.drupal.org with the name of the training you'd like to attend, and they can help you add it to your ticket. If you haven't signed up for DrupalCon yet, you can buy a combined ticket for the conference and a training.
Moreover, on Tuesday, April 26, Evolving Web's co-founder Suzanne Dergacheva will present the session "Future of content management: using Drupal as a content strategy platform," where she'll discuss the future from a content strategy perspective and the role Drupal will play in it. The session's topics will include:
The benefits of a content-centric digital experience platform and how Drupal stands out
The future role of the content editor
The right way to integrate content strategy into a redesign project and measure content success
What it means to provide flexible content management tools and why that's important
The continued importance of a strong content model
How to use Drupal as a content strategy platform rather than just a content management system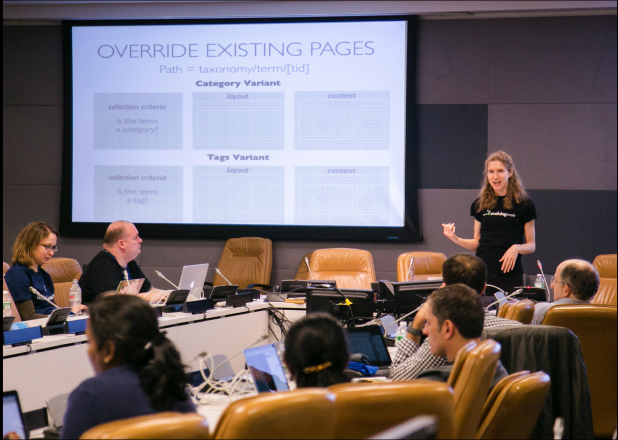 Give Back to the Drupal Community
Being part of the Drupal community means finding ways of giving back to it. At DrupalCon, you can contribute or volunteer—and the Evolving Web team is involved in both ways. Let's see how you can help:
Get Involved in Building Drupal - If you're curious about the open source project, DrupalCon is a great way to see it live. You can attend contribution events at the conference to get involved and see how you can help improve Drupal itself. If you think you're not skilled or experienced enough, don't worry: everyone's welcome to contribute, and we assure you that your skills are needed!
Be a Volunteer - Volunteering is an amazing way to contribute to the Drupal project while doing your part for the success of DrupalCon. By being a volunteer, you'll gain valuable experience, earn official contribution credits, and grow your network within the Drupal community. You can check all available opportunities on the DrupalCon website.
DrupalCon Means Fun!
Between sessions and workshops, there's also time to have lots of fun at DrupalCon Portland 2022!
Here are a few activities where we can have a good time together:
Trivia Night - There's no DrupalCon without Trivia Night! Be there on Thursday (28) to meet old friends, make new ones, learn more about Drupal and take a chance at winning some amazing prizes—including an Evolving Web training for you and your Trivia teammates!
Expo Hall Stage - This is the perfect place to learn about Drupal and connect with other Drupalists. On Wednesday (27), we'll be delivering a 10-minute "lightning talk" called "The Live Usability Testing Challenge," where our team will perform a quick, live usability test that will be food for thought and help you plan user research for your projects. We'll also host two other activities: an Interactive UX Help Desk (on Monday, 25) and a DrupalCon Portland Mini-Trivia (on Tuesday, 26).
Social Events - DrupalCon is great for hanging out with old and new friends, and attending the community-organized social events is one of the best ways of doing it—especially if this is your first DrupalCon. Explore this bulletin board to check all the social gatherings beyond the main conference.
All About DrupalCon Portland 2022
When: 25-28 April, 2022
Where: Oregon Convention Center - Portland, Oregon
Check the full program