A Chance Encounter with an Exciting Community
It all started with COVID-19. As someone with both personal and professional aspirations to travel abroad, the onset of the pandemic first came as a major setback. However, I was still determined to do whatever I needed to achieve my goals, so I started looking for a remote job. One that would help me gain experience in a global, multicultural context without needing physical travel. 
Soon after, I was offered an interesting position mixing marketing and relationship management to bridge the gap between an agency and the Drupal community. Back then, I had heard of Drupal as a content management system, but I had no idea about the open-source world behind it.
Since that first remote job, I've continued to advance my career and I accepted a position as a Drupal Community Manager at Evolving Web in 2021. I make many connections and get to learn from experts from around the globe, and to this day, I am continually amazed by the Drupal community's openness.
I'll celebrate my 1st anniversary working at @evolvingweb in a couple of weeks 😲! It's just amazing how much I've learned so far. I guess time flies by when you're having fun...proud to be part of this world-class team <3 pic.twitter.com/GOoYeINVOZ

— Pieri (@pieriwww) April 12, 2022
Community Building at Evolving Web
Communities start with conversation. They are built when people can collaborate and share inspiring stories without constraint. 
Evolving Web was born from the open-source community, and since day one has sought to create a community where members can learn from experts and share that knowledge with others. Our roots in Drupal's open-source community teach us how to disseminate its values to grow as a team and as a full-service digital agency, centred on the values of openness, innovation and diversity.
 
Image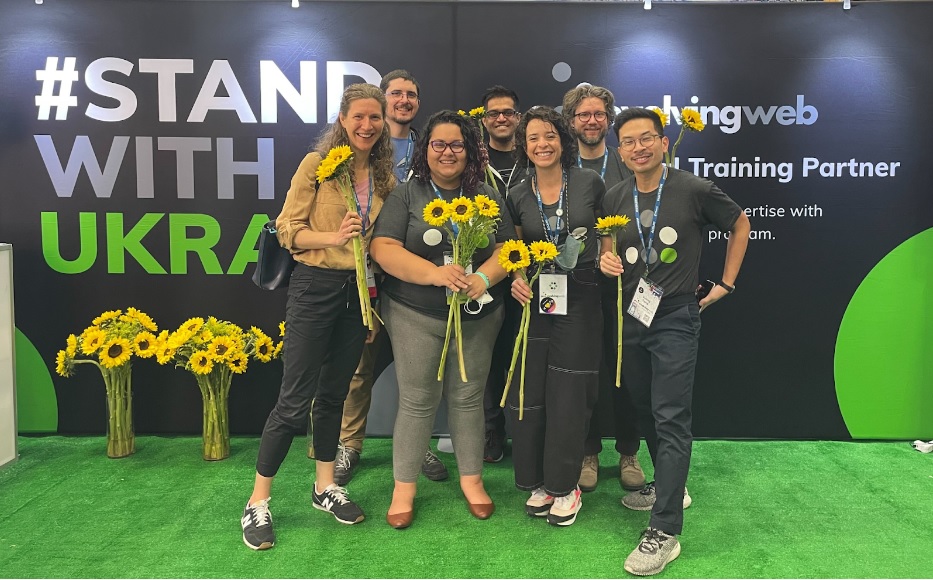 Being Makers in Open Source
One of the greatest features of Drupal is that it's free from lock-in and licensing fees. It's free to use by everyone, and you can access its code and customize it to your needs. However, the open source nature of Drupal is only sustainable through agencies like ours understanding the value of giving back "product" contributions to innovate and improve the platform. 
This year alone, we support 16 projects, and have been credited over 200 times for a wide range of tasks, from reporting bugs to event organizing. We also encourage all our team members to get involved and contribute while making sure to assign fixed time for key team members to invest exclusively in contributions. Additionally, we support the Drupal Association, the non-profit organization in charge of fostering the Drupal community through various initiatives.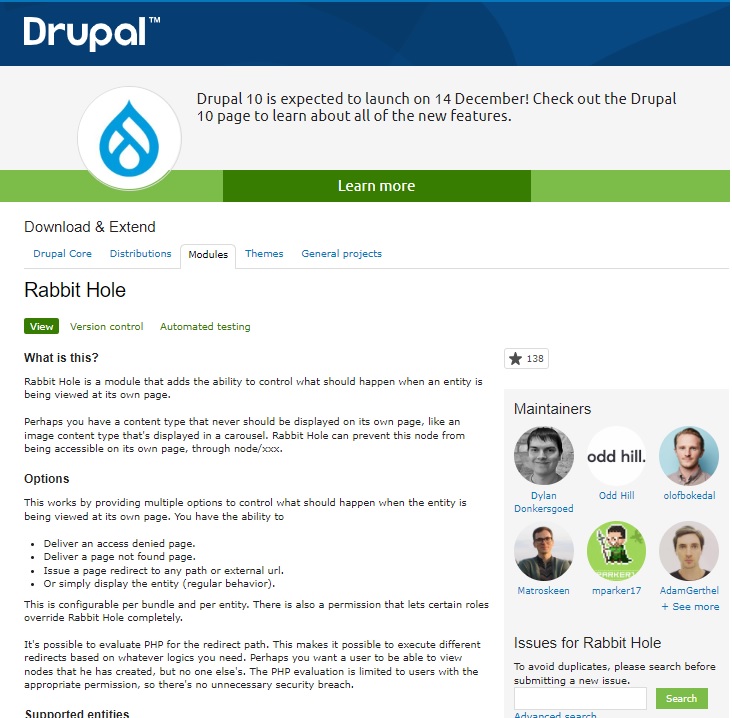 All of this earned us the badge of Platinum Drupal Certified Partners, and we're proud to be makers in the community. 
"If you are an [Drupal] end-user looking for a company to work with, Platinum Drupal partners are some of the companies I'd work with first. Not only do they know Drupal best, but they also help improve your investment in Drupal. If you are a Drupal developer looking for work, these are some of the companies I'd apply to first" – Dries Buytaert, Drupal Founder and Acquia's CTO
If you want to learn more about the contribution and credit system behind the Drupal community, check out Dries' blog post Who sponsors Drupal development? (2020-2021 edition)
Open Source Marketing: the Promote Drupal Initiative
Most people associate open source projects with software and developer communities. There are, of course, other fields where this or similar kinds of collaborative networks get organized, but open source marketing stays mostly in uncharted digital media territory. 
The "Promote Drupal Initiative" has been an ongoing project within the Drupal community since 2019. The project brings together a group of marketers working for Drupal agencies who combine their marketing intelligence and industry insights to develop business materials targeted at the decision-makers who adopt Drupal for their business.
Suzanne Dergacheva, Evolving Web's co-founder, is the project lead for this initiative, and other marketers and designers from our team regularly contribute to this group. I'm personally involved, and right now, we're working on several exciting projects, including a complete redesign of Drupal.org, which encompasses UX and content strategy work. 
Last Friday we had a #DrupalFest event for @DrupalBA
3-hour long conversation about tools, best practices, recruiting and business.
23 people from 5 countries in LatAm 🙇‍♀️💙
I'm still smiling.
Check the upcoming events in your timezone & #CelebrateDrupalhttps://t.co/PiniT0NtXe pic.twitter.com/pNZ8Xb3mff

— Pieri (@pieriwww) April 13, 2021
For me, it's been a great opportunity to fast-track my learnings on the latest trends in promoting Drupal, its competitive landscape and value propositions, which is valuable knowledge I bring back to my team.
If you're reading this and want to contribute to open source without having to write code. It is an excellent opportunity to learn from expert marketers. Volunteers are always welcome, you too can be part of this initiative.
Onboarding New Members From Diverse Backgrounds
At Evolving Web, we strive to offer inroads to the project. This is one of the reasons why our training program was developed in the first place. In the past 15 years of experience teaching Drupal, we've put together a course catalogue that caters to all roles needed in a web team, from content editors to developers. During the pandemic, we pivoted to a virtual environment, which has enabled us to reach a broader audience than before. Our classes help veteran Drupal users refresh their knowledge and support freelancers and career-changers in acquiring tangible skills to help them advance their careers.
For two years in a row now, Evolving Web has been a sponsor and training partner for the Discover Drupal program, a Drupal Association's talent growth initiative. This program provides full scholarships to members of groups historically marginalized in the tech industry, to close the "talent gap" through access to resources, skills, and connections.
I've been lucky enough to see two cohorts of Discover Drupal students progress from complete newbies to landing their first Drupal jobs. I've seen students express infinite gratitude to our trainers and make friends in the process.
If you or your agency is interested in supporting this initiative or would be interested in hiring from our alumni, find out how to get involved.
Empowering our Team through Knowledge Sharing
As I said previously, open source communities rest on two pillars: people and knowledge. Altruistic knowledge sharing is the fuel that powers this movement, creating a virtuous cycle where teachers, learners, and the community all win.
For the team at Evolving Web, sharing valuable content is key. From training to blog posts, webinars and conference sessions, we strive to give back, sharing what's worked and what we've learned.
We have presented at countless Drupal conferences, community camps and other events in the higher education, government and technology spaces. We all start with internal activities, such as our "Weekly Watercooler" sessions. During these sessions, anyone can share their experience on a given topic to empower others in their career. These evolve into opportunities to write blog posts or host webinars, and, eventually, submit presentation proposals for a conference.
Those who get selected as speakers are sponsored to travel and attend the event, with all the exciting opportunities that come with that. Last year, members of our team presented at DrupalCon Portland and DrupalCamp New Jersey in a slow post-pandemic return to in-person events. And for the year to come, we have already submitted over 20 sessions to events in 2023 and are excited for what is to come.
These week at #DrupalConPortland I finally dared to speak and go talk to people I admire! I'm glad I did because I got the chance to meet @TearyneG and @sugaroverflow, it was super exciting, they were super kind and sweet! Thank you so much for everything! ❤️ pic.twitter.com/4MuXq8MttF

— Dharizza Espinach B (@Dharizza) April 29, 2022
Giving back, as a Growth Strategy
As someone who studied Political Science, I'd never imagined I would end up in STEM. Neither would I have dreamt I would experience such a sense of belonging from being part of a worldwide community of people building a safer web for all. 
Being part of a thriving industry while finding a sense of purpose is not a combination you find in most jobs. I recently celebrated my second anniversary as part of the Drupal community, and I know it's just the beginning. The opportunities to learn and build connections are simply endless.
If what you've read here resonates, then we want to hear from you!