Evolving Web worked with Emory University to redesign the Climate Talks website, launched in July 2021.
Emory University is part of a select group of US institutions that send delegations to annual climate negotiations, strengthen global climate change research, and take an active role in our communities. The new website is the centrepiece for their students to showcase their experiences and engagement on climate change.
The website has an immersive visual design. Content focuses on telling stories, and the calls to action invite student involvement. The website highlights student research and features podcasts and video interviews with inspirational climate scientists, community leaders, and social scientists who study the impacts of climate change.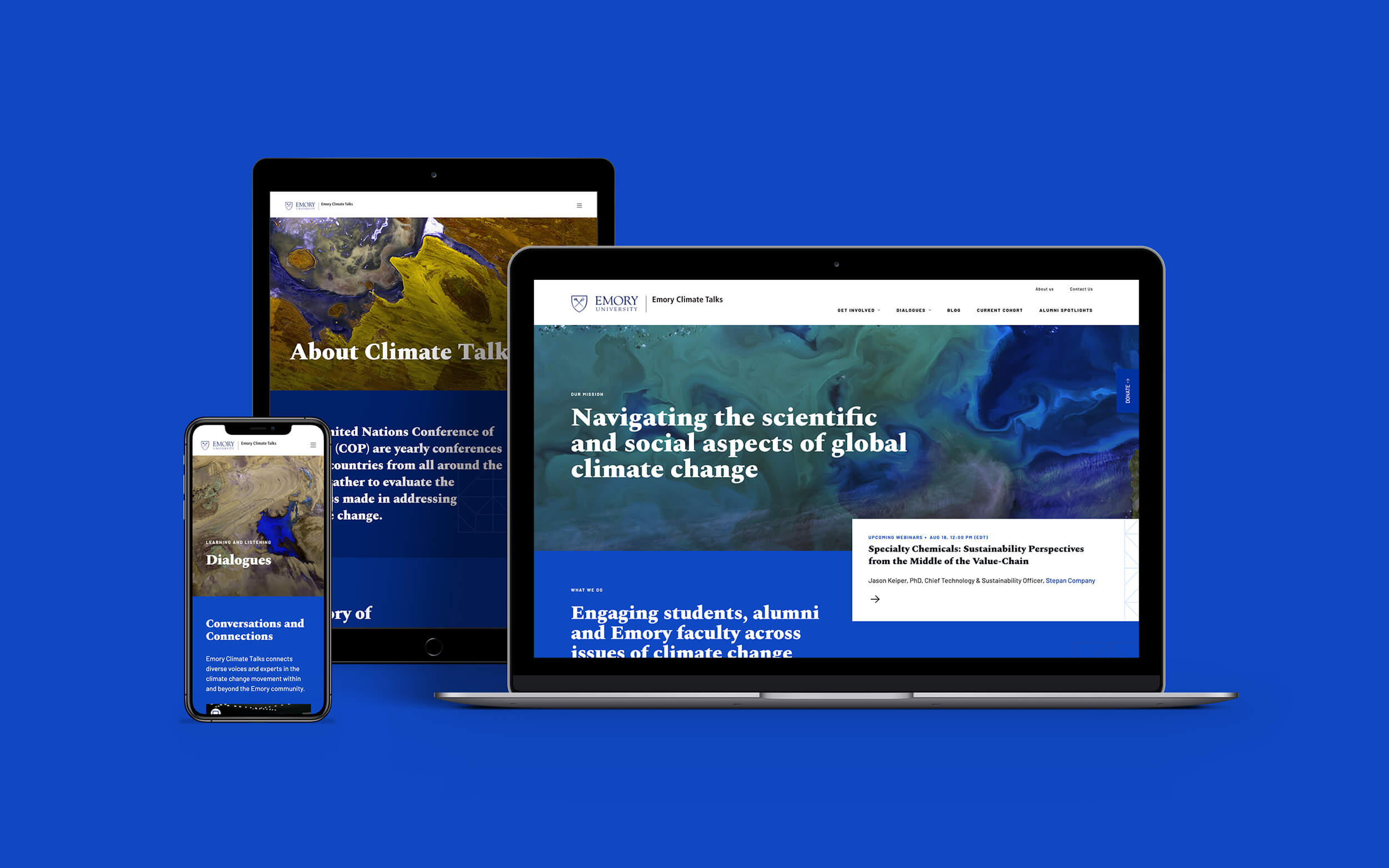 Our goal was to transform the Climate Talks website into a professional and compelling resource that inspires interest, participation, and action from the Emory University community and beyond. Specifically, we set out to:
Revamp the design and user experience of the Climate Talks website to make it more friendly to external users: potential Emory students, and faculty and students from other institutions
Greatly increase the number of visitors and the reach of the website beyond the current community
Clearly communicate the purpose of the Climate Talks project
Promote key calls to action (newsletter subscriptions, webinar sign-ups, podcast downloads, content sharing, applications to participate in the project)
Launch and promote the new AmpliFIRE podcast to equip listeners to accelerate climate action by providing accessible information; amplifying diverse voices; and highlighting the intersections of environmental issues
Increase webinar signups and attendees
Improve website performance for quicker page loads
Use existing and new content more effectively
Optimize content for social media visibility
Use page-building tools to provide flexibility over the content, visuals, and structure of key landing pages
Prepare the site to incorporate content from the University's Resilience and Sustainability initiative in the future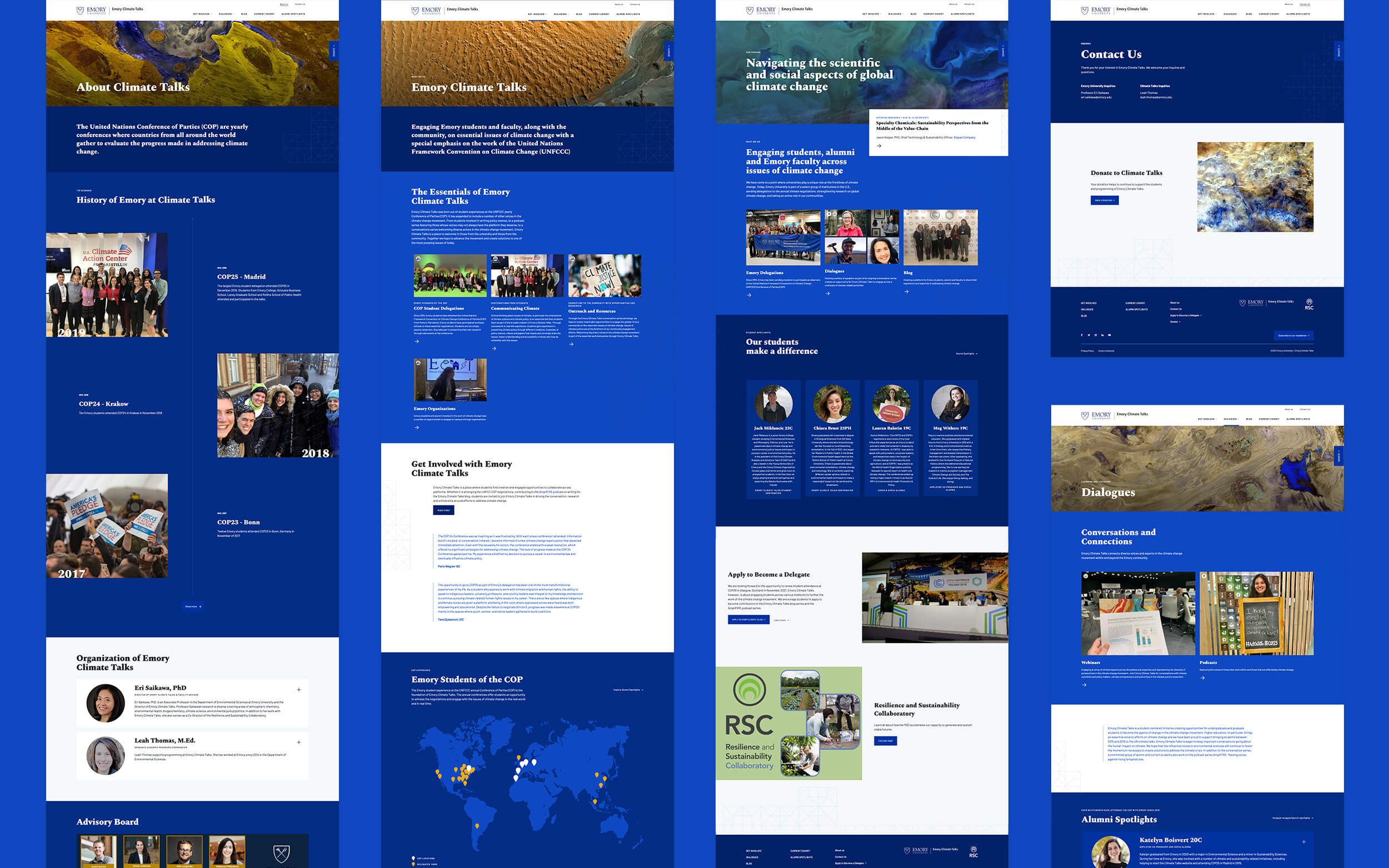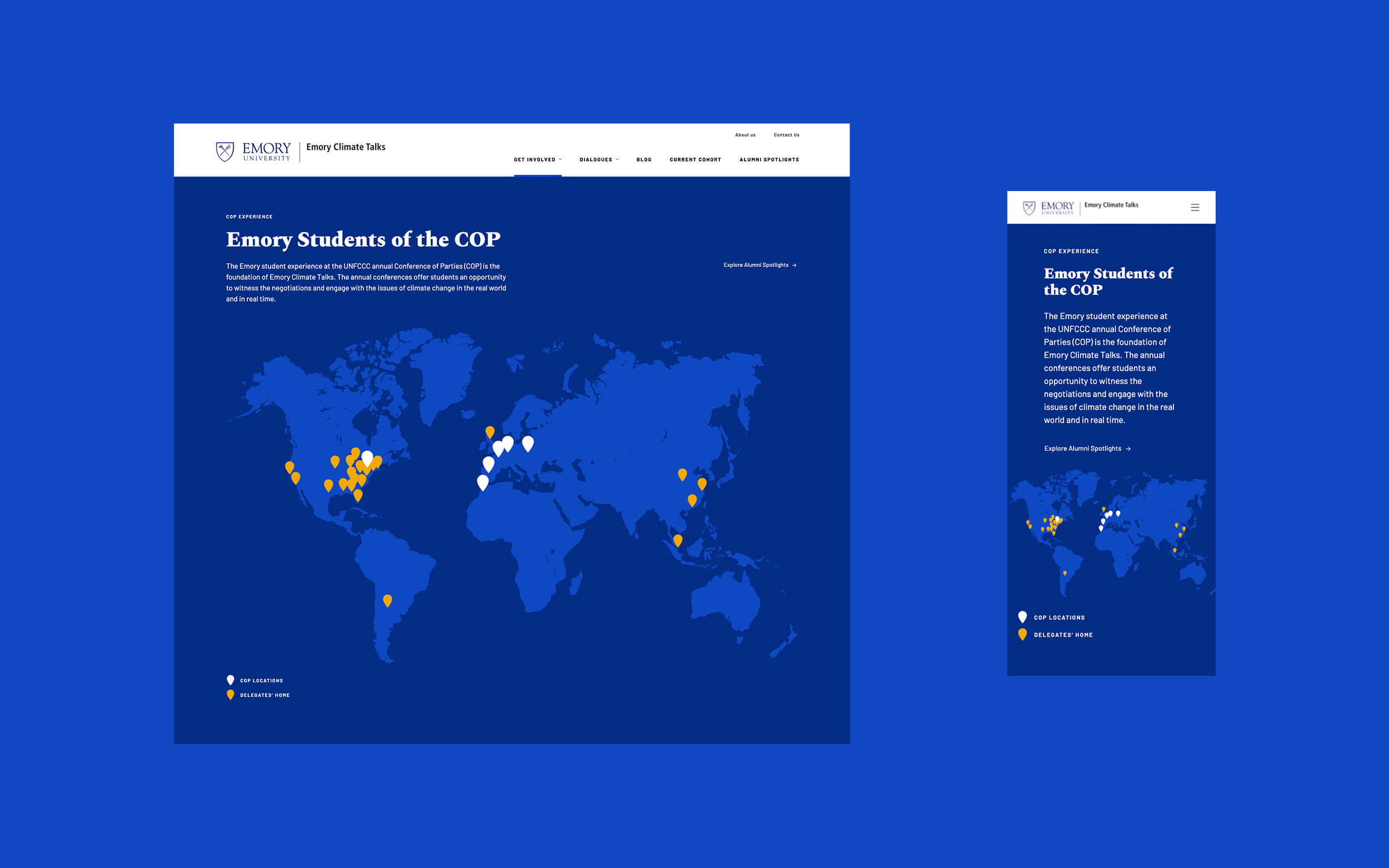 Balancing the Emory brand with a unique look for Climate Talks
Featuring both prominent speakers and students who are part of the United Nations' Conference of the Parties (COP)
Ensuring smart UX and visually engaging UI while adhering to a relatively small budget
Client's not tech-savvy, so they needed more guidance to understand how the user experience phase translated into the visual design. Through online work sessions, we helped to direct the client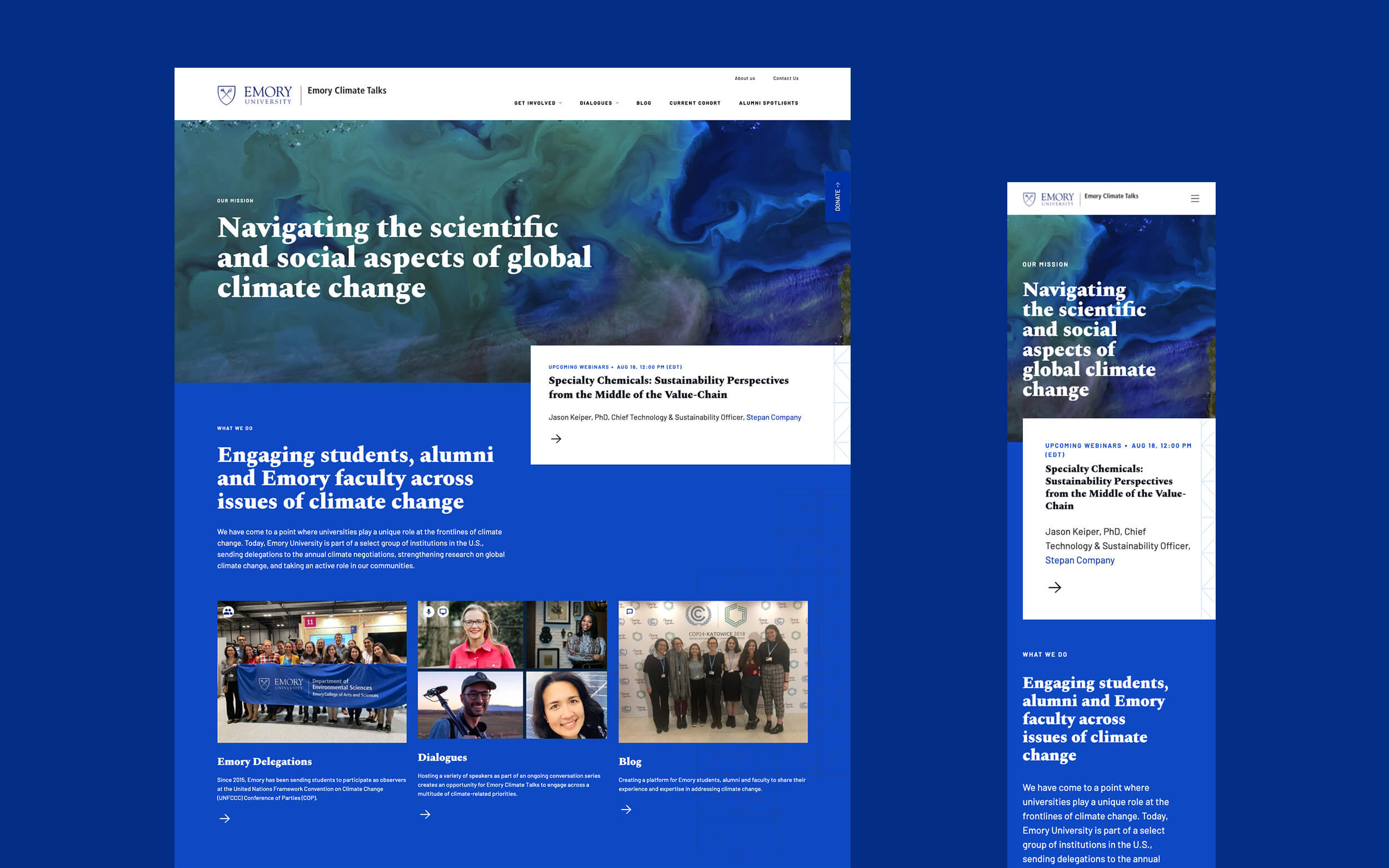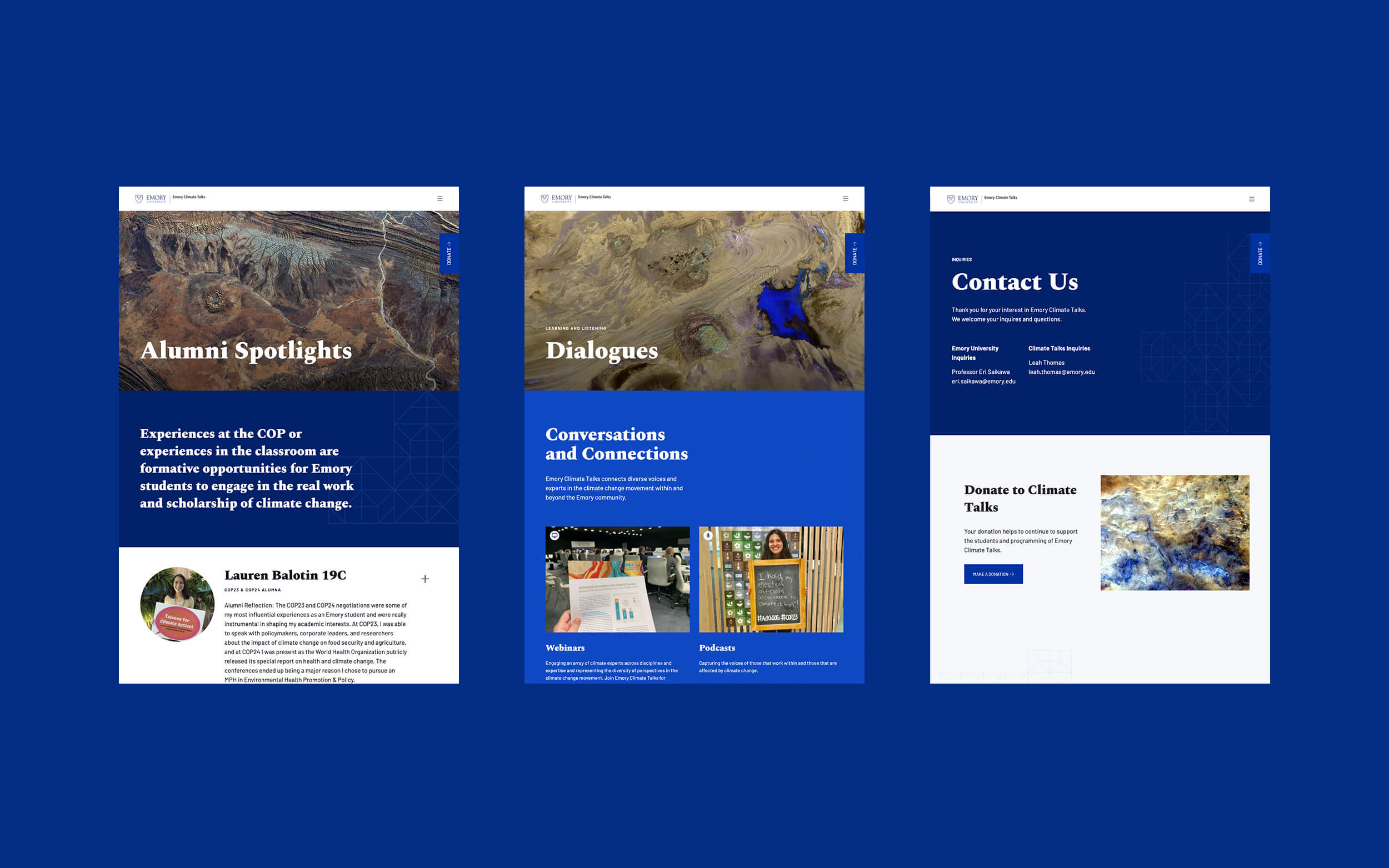 We redesigned and reimplemented the Emory Climate Talks website on Drupal 9, a flexible, secure, and accessible platform. By increasing the visibility of the website's rich media, like recorded webinars and podcasts, we emphasized the relevance of Climate Talks and the students, bloggers, and speakers who contribute to the initiative. We used our workshops to plan out the website's new information architecture and content strategy.
Improved navigation and content organization
More user-friendly integration of podcasts, videos, and blog posts
Use of engaging, visually appealing web banners with beautiful textural open-source images of the planet Earth
Creation of reusable components to make it easy for content editors to create engaging content
New, attractive content, such as student spotlights
A new visual framework within the Emory brand that reflects the environmental and social values of the initiative and attracts students and academics
Intuitive, responsive user interface
Imagery that is inspiring and suggestive of change and flux
Media library and management features to simplify incorporating and reusing images, videos, and documents
Accessibility and performance review
Deployment to Pantheon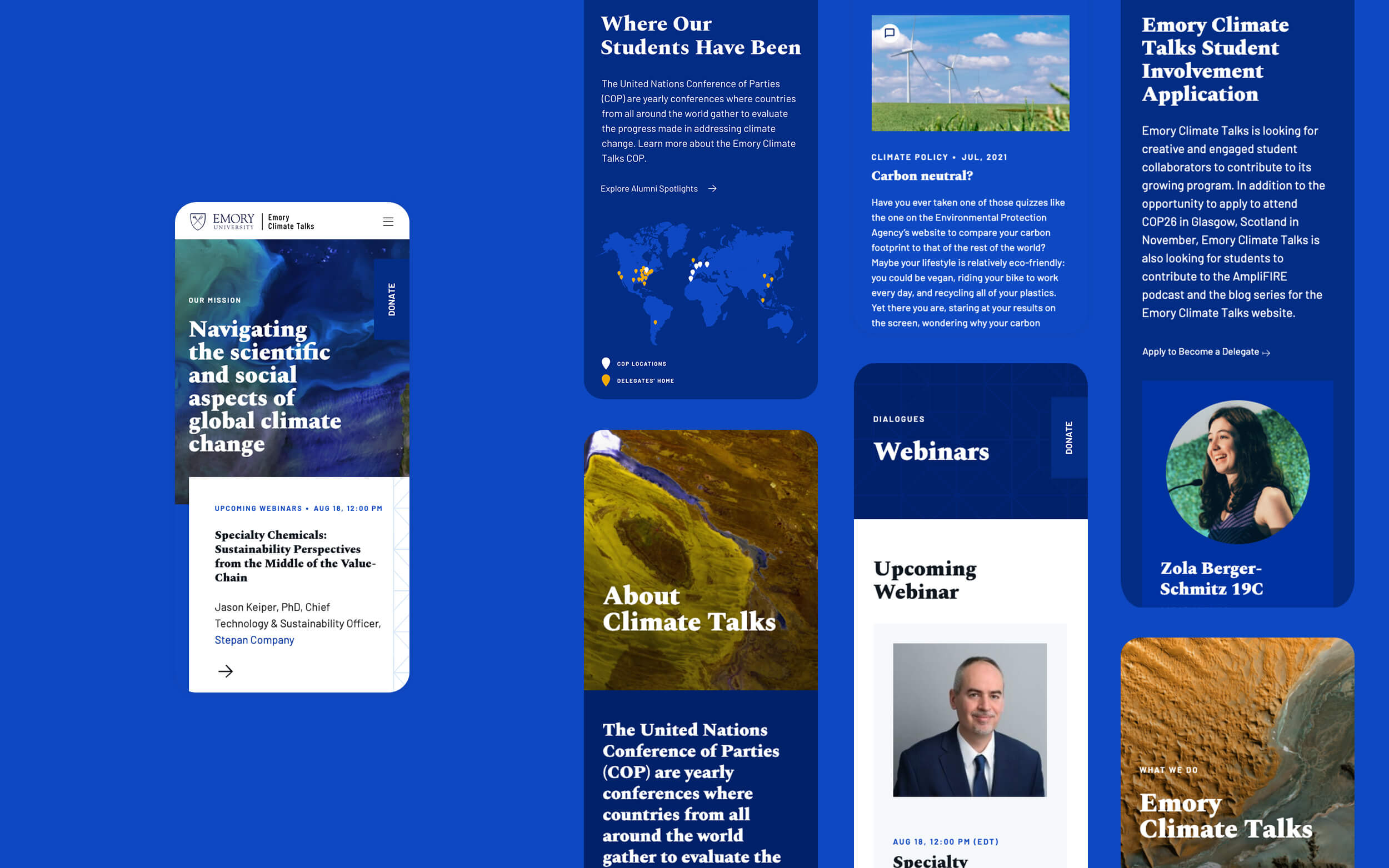 The higher education sector has been a major force behind Drupal's evolution from the very start. More than 70% of the world's main universities have Drupal-based websites, for a good reason. The platform is API-driven, highly scalable, and fully customizable. Besides, it efficiently integrates with the most popular digital tools and services and aligns with the current best practices in online security.
In the case of Emory University, Drupal 9 provided a much faster website than the previous CMS and a more structured content architecture. Moving the website to a flexible platform like Drupal enables Emory's team to create landing pages that showcase key research themes, allows content editors to update the site easily, and add new articles as needed.