The City of Hamilton approached Evolving Web to redesign its website, migrate its CMS from Drupal 7 to Drupal 9 and transfer its hosting from on-premise to Pantheon cloud hosting. We improved the user experience by conducting extensive work on content organization, navigation, search functionality, and visual design. We also transformed the look and feel of the website with a clean, modern design that showcases unique photography of the city. This project was a vast undertaking with many moving parts for a major municipality in Ontario.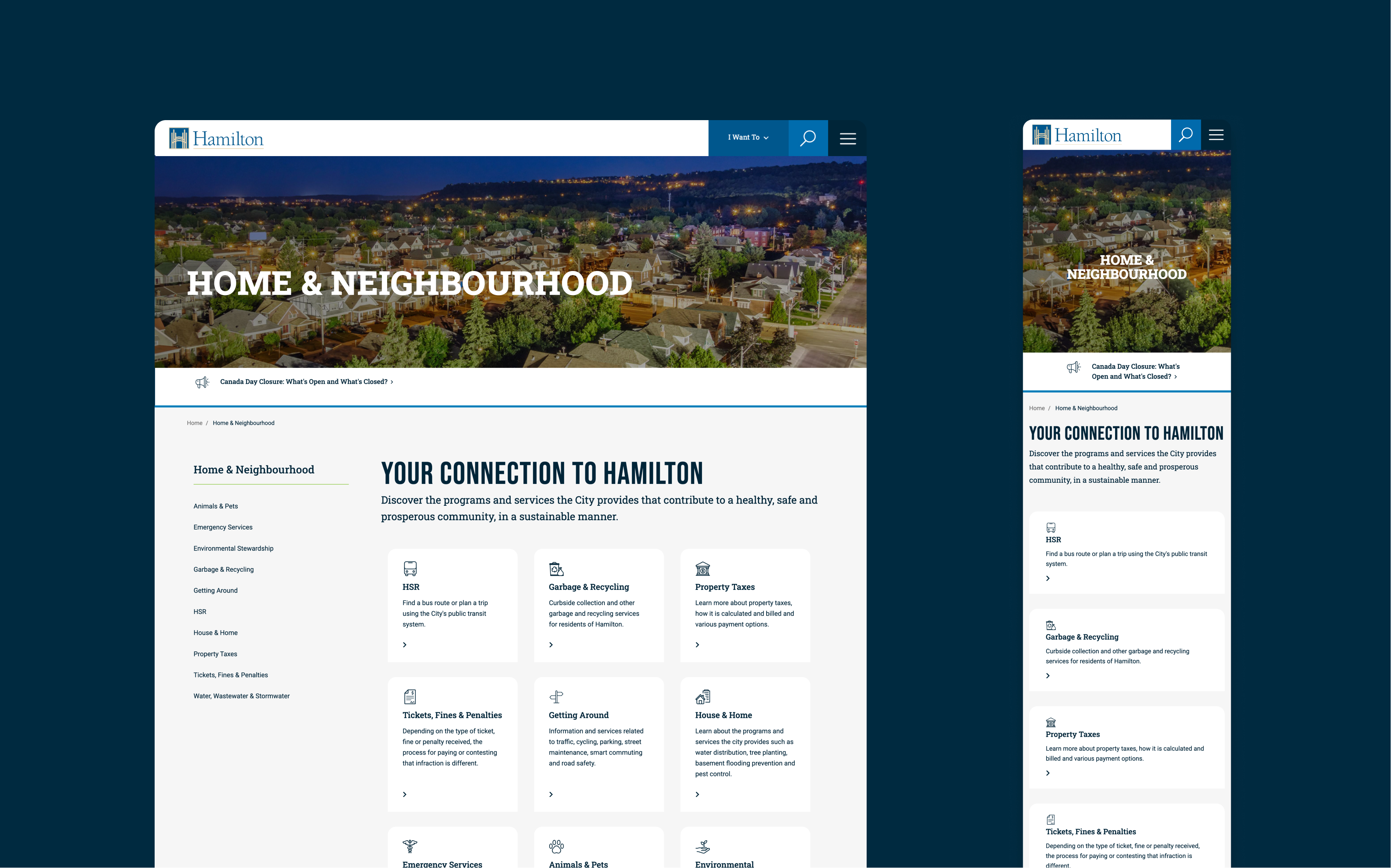 Hamilton, Ontario is a port Canadian city on the western tip of Lake Ontario. It is situated 45 kilometres southwest of Toronto, Canada's largest city, and together with Toronto, forms part of the Greater Toronto and Hamilton Area (GTHA). It's Canada's ninth most populous urban area with a total population of over 1.3 million and an annual rate of 5.2%. It's a major magnet for immigration, with some 25% of its population born outside Canada.
Hamilton has been ranked as one of the best Canadian cities for doing business. While traditionally centred on the steel industry, the city has become economically diverse with a growing presence in transport, logistics, science, education, financial services, construction, and healthcare. Hamilton is home to Canada's busiest air cargo hub and the busiest port on any of Canada's great lakes. Despite being an industrial powerhouse, it is also known for its nature, boasting 11 distinct conservation areas and over 100 waterfalls.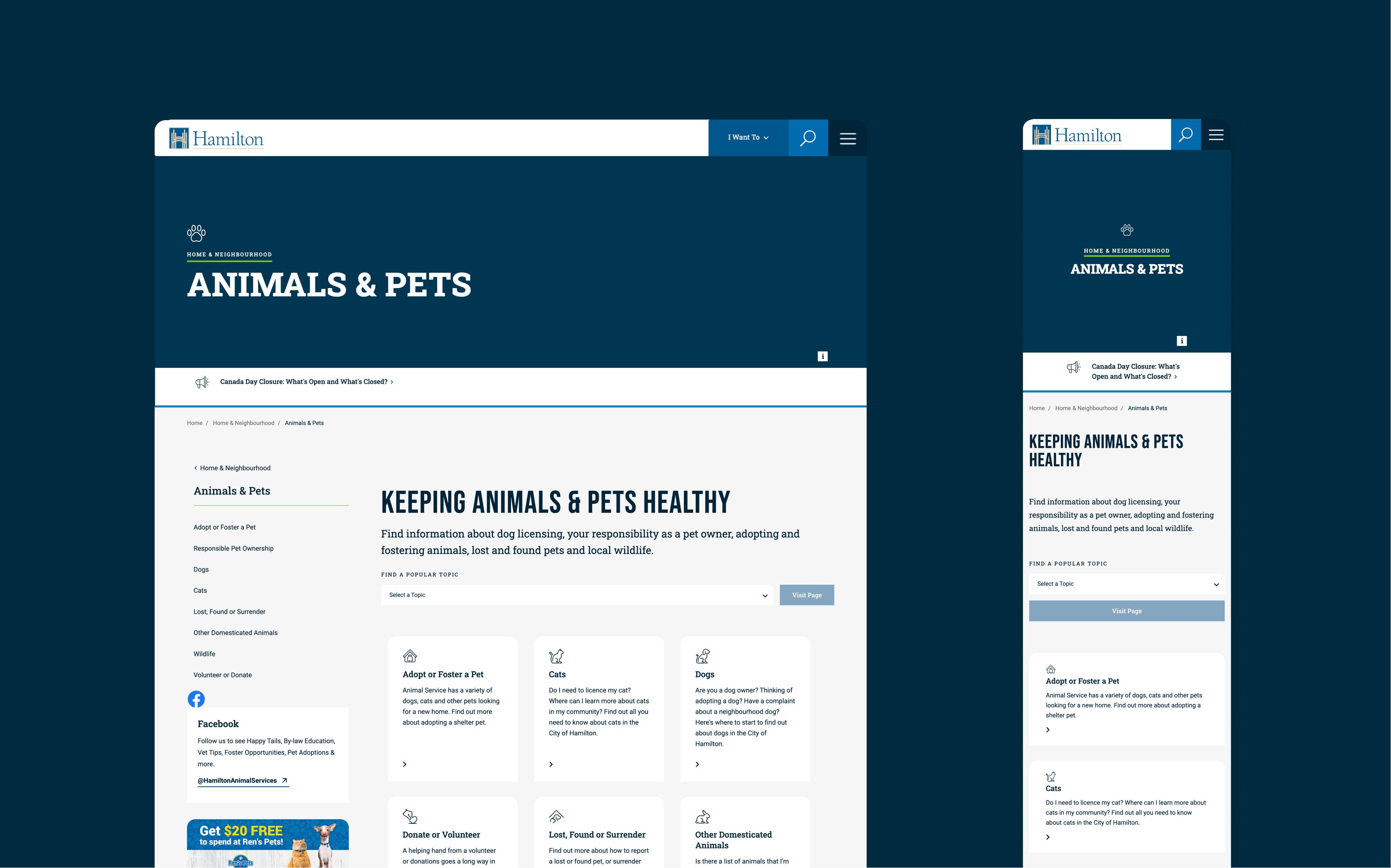 In addition to a Drupal upgrade, the site needed an overhaul to make it more user-centric and easier to navigate. The client also wanted a fresher look befitting of a trend-setting city.
Specific goals of the project included:
Migration from Drupal 7 to 9
A clean and inclusive website design that engages users and keeps them coming back
A Drupal framework that's simple and flexible for the client to update and manage over time
A site that's modern and eye-catching while still speaking to an older demographic
A customized search experience to make it easy for users to find content quickly
A new calendar design with advanced filters to better organize and promote the City's news and events
SEO-friendly configuration to ensure visibility on search engines
Original photography that inspires new perceptions of the city
A lobbyist registry section separate from the main site
Adherence to the WCAG AA accessibility standards
Transfer of hosting from an on-premises hosting setup to a Pantheon cloud hosting environment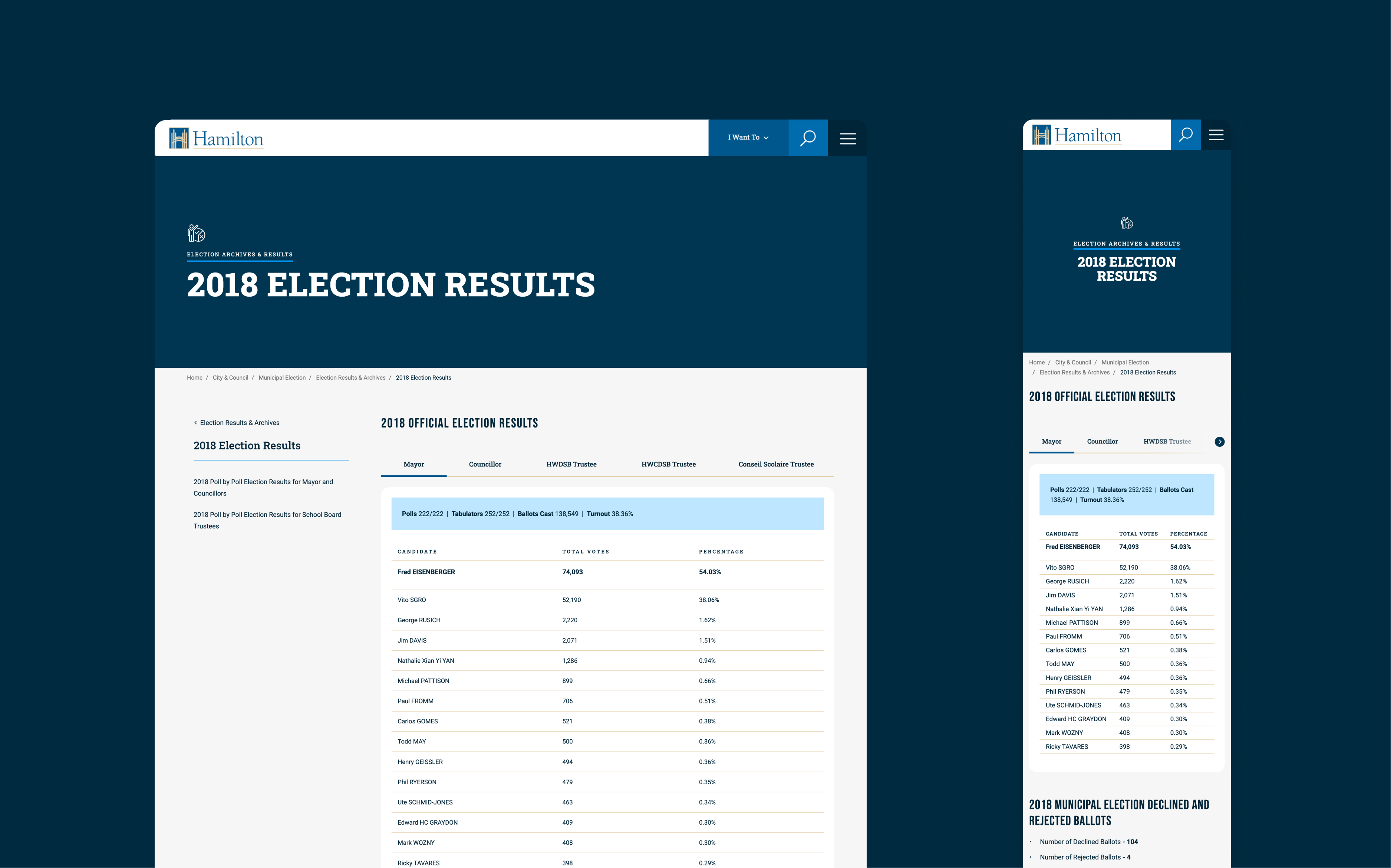 Early on, the client identified poor search capability as a core problem. The City of Hamilton website is substantial with thousands of pages and several connected sites. Its lack of proper SEO structure led to inconsistent search results, and users typically resorted to Google to find site content. 
The City specifically requested a site that operated more like a library—one capable of filtering a vast sea of content to deliver users exactly what they need. This was a challenge given the wide array of systems that needed to be integrated. Several sections of the site were third-party services. The client also wanted several non-Drupal sites to show up in their search results. Some of these had an API, while others were simple WordPress sites.
Creating a consolidated list of web components was another major challenge due to the sheer number of pages and their specific functionality needs. We put a great deal of thought into designing a set of components that would adapt to various content types. Due to the substantial sitemap, a lot of work was also required to identify core issues needing UX/UI redesigns.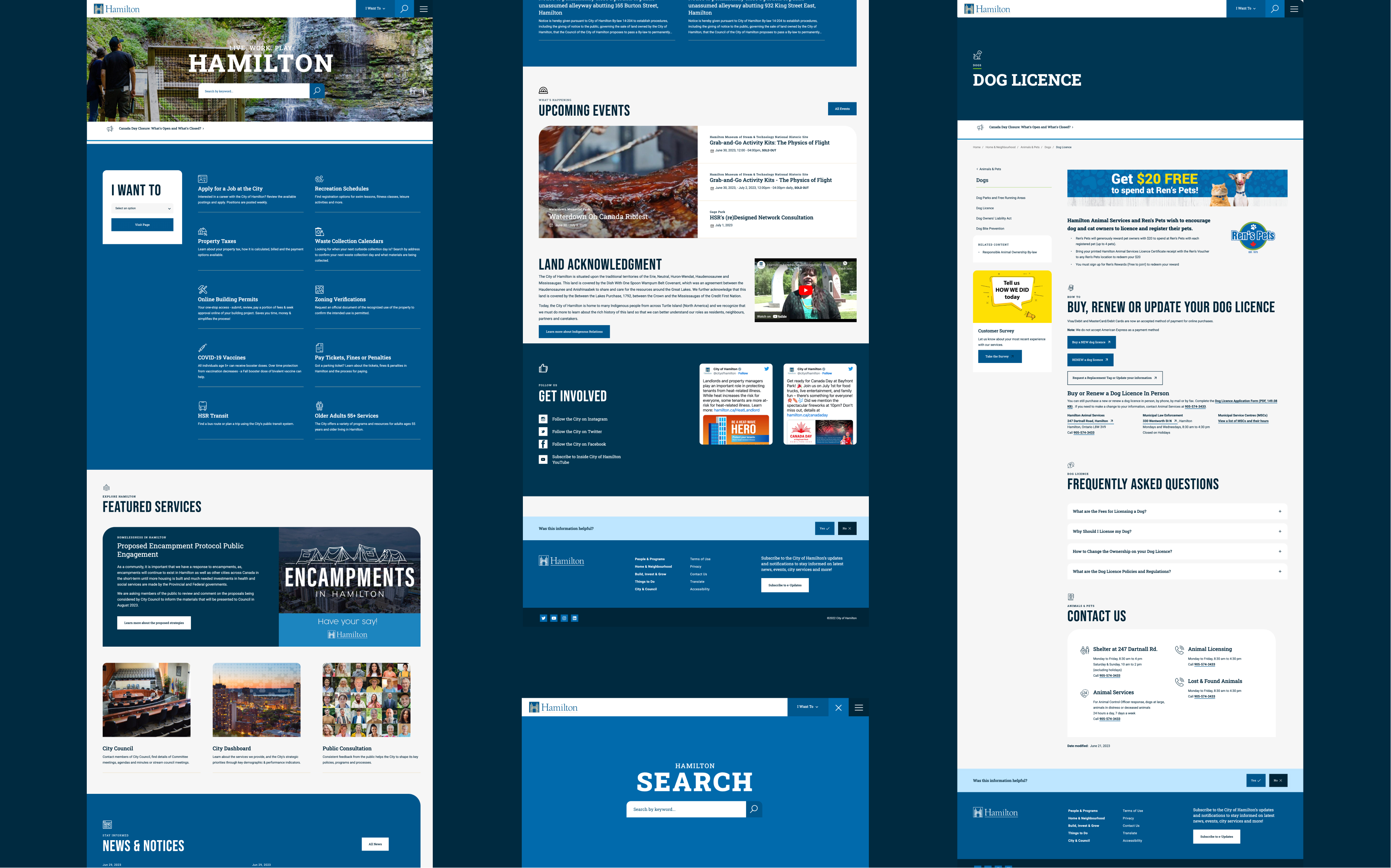 The process of refining this mammoth site began with a sitemap of the existing site. This included thousands of pages, all of which had to be indexed. We held a series of workshops with the client to kick off UX discovery, redo the sitemap, and reorganize content. Our team collaborated closely with the City of Hamilton's IT staff to integrate the multitude of pages and sites operating on different platforms.
Specific solutions included a site that's:
Easier for the client to maintain by providing: 

Giving the client access to Drupal Layout Builder so that content creators can see how content will be laid out 
An extensive resource library that gives the client greater flexibility and control when extending and maintaining the site
A "Was this information helpful?" poll to solicit user feedback
A transfer from an on-premises hosting setup to Pantheon cloud hosting
Easier for the user to navigate by providing:

A robust search tool with multiple ways to categorize and filter information
A large image banner and invitation to "Explore Hamilton" that directs users to a simple search bar
Dividing the content into five key areas and assigning each a unique brand colour to create visual differentiation
Meaningful icons that help readers navigate between sections more easily
A compact navigation sidebar consolidated by section that ensures users aren't overwhelmed by choice
Extensive use of breadcrumbs to help users orientate themselves
An "I Want To" section that leads users to popular CTAs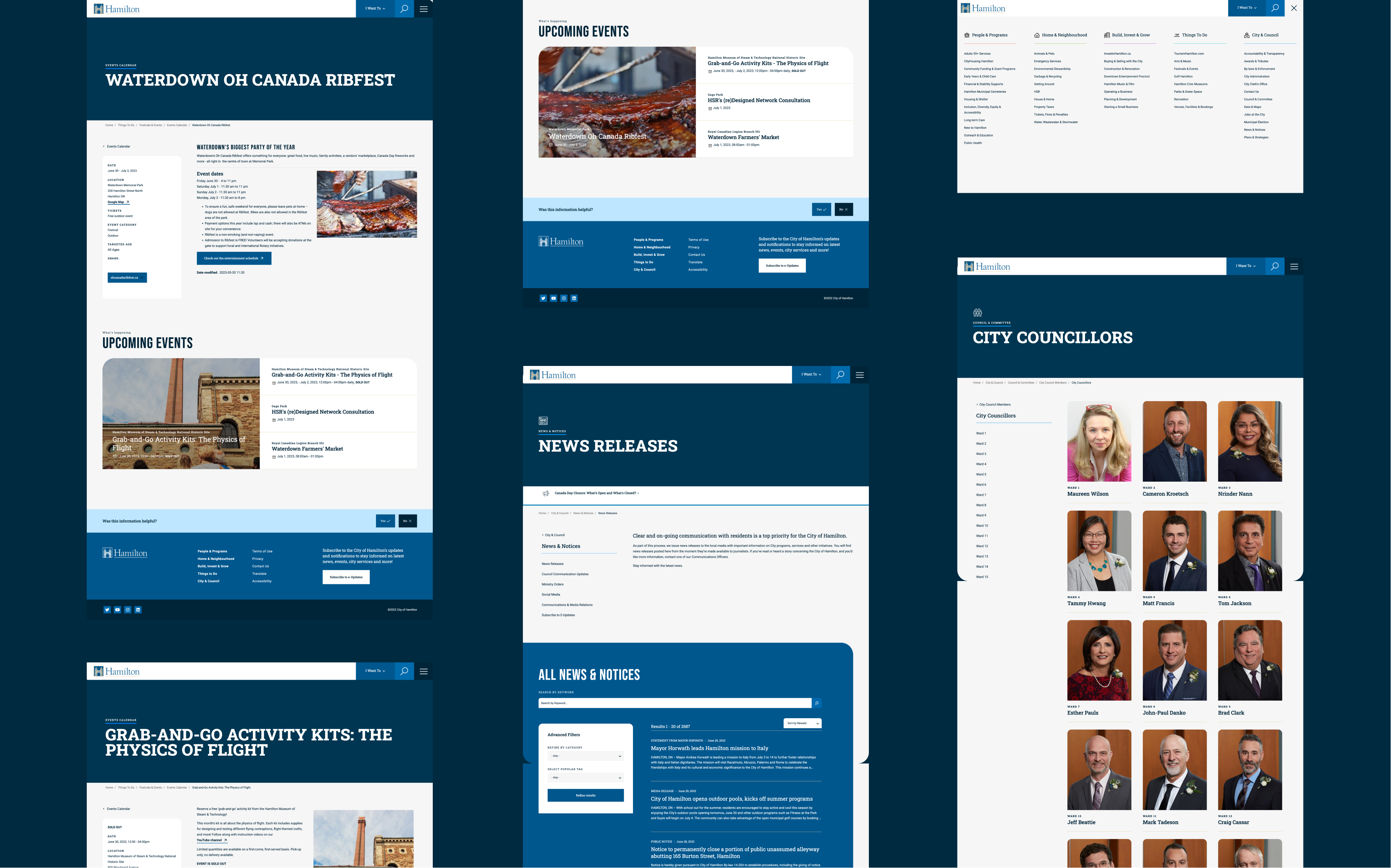 Creating the new City of Hamilton website was a huge and challenging undertaking. However, we were able to deliver a solid product that will enhance the lives of Hamiltonians for years to come.
The revamped website represents a new look for the city—one that exudes optimism, community-orientedness and a focus on the future. What's more, the new site represents a drastic improvement over the old in terms of search functionality and navigation. It's much easier for people to find what they're looking for and orient themselves within the site.
A lot of effort was put into accessibility, including fine-tuned colour contrasts and large text geared toward an older demographic. The new site achieved WCAG 2.0 AA compliance as a result. The platform is also mobile-friendly and oriented toward social media. Moreover, it's easier for the client to grow and maintain thanks to Layout Builder (a standard Drupal 9 feature) and Google Analytics 4 readiness.